Posted 20th January 2020 | 6 Comments
Cost of HS2 could rise to £106bn, according to leaked report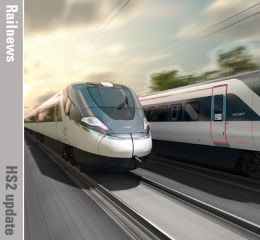 A LEAKED copy of the forthcoming Oakervee Review into HS2 is reported to be warning that the costs of the project could rise again, to £106 billion. The original budget still being confirmed by ministers last summer was £55.7 billion, including substantial contingency margins.
The total then rose to between £72 billion and £78 billion at 2015 values in early September when transport secretary Grant Shapps revealed the new figure, which had been calculated by HS2 chairman Allan Cook. Mr Cook also said that the timetable for construction, which included Phase 1 between London and Birmingham opening in 2026, did not appear to be achievable, and he set the dates for a 'staged opening' of the London to Birmingham section as 2028 to 2031.
The Financial Times now says it has seen a leaked copy of the Oakervee Review which was commissioned by Boris Johnson. The Review was due to be published late last year, but may have been delayed by the general election.
According to the story in the FT, the Oakervee Review gives 'lukewarm support' to the scheme as a whole and recommends that Phase 2 beyond Birmingham should be 'paused' while the possibility of replacing HS2 with improved classic lines towards Manchester and Leeds is explored.
Meanwhile, with the project still uncertain, 15 Conservative MPs are continuing to press for the scheme to be abandoned, but co-executive director of policy at the British Chambers of Commerce, Claire Walker, has told the BBC that HS2 must go ahead.
She said: 'Business communities are united that this project should be delivered in full. There is no project that has been proposed that will go so far in delivering the transformational change to the Northern business communities as this project will.'
Major construction companies are also warning the Prime Minister that scrapping the scheme would cause 'irreparable damage' to the construction industry and jeopardise an 'industrial renaissance' in the regions.
Just before the weekend, Grant Shapps said a decision about the future of HS2 could be expected 'very soon', while a report on HS2 progress from the National Audit Office is also expected by the end of this month.
Reader Comments:
Views expressed in submitted comments are that of the author, and not necessarily shared by Railnews.
Apologies if I'm largely repeating things adressed before., but

1/ Capacity relief is indeed needed in the WCML corridor, but 250mph isn't.
Any additional line between Manchester ,B'ham and London ( centred on a rebuilt Great Central, for example) could be built to 140 mph standard , allowing the Pendolino fleet to attain its design top speed and bringing Manchester to London in under 2 hours ( do we need anything quicker, anyway?).

2/ TGV type speeds only become cost - effective for distances over ~ 240 miles with lower cost , more sparsely occupied country between ; the only such route serving major cities in Britain is the ECML corridor , all the way to Glasgow , via Yorkshire, Teesside, Tyneside and Edinburgh.

3/ What is really most needed in Northern England and the Midlands? Probably more efficient and reliable commuter and iinterurban service. How would a transpennine LGV give this ? Perhaps it would facilitate intercity service Liverpool / Manchester to Newcastle? But a different type of investment seems most appropriate for trnsformation of the more local operations.

4/ One "gap" in current provision is the lack of connecivity between the Midland cities outside B'ham ( eg Nottingham, Leicester, Northampton, Milton Keynes, etc) and Northern cities . Often superb service to London, but very little to the North.Perhaps Cross Country could spread its services more widely again?

The Electrification to Cardiff was complete last week, 3 years late and 3 times over Budget. This was the best laid out route in the UK which as you all know was done by Brunel, with plenty of extra space after the Broad Gauge was replaced. If that project can't be done on anything like the original estimates what price HS2 ? The question now is can better, more profitable, and helping more ordinary people, Railway projects be done for the same or less amount of money. And the answer to that is now 'Yes'.

Nobody has mentioned the fact that with a suitable high speed link down to Heathrow we can do away with the third runway which would save masses of carbon emissions. All connections out of Heathrow should be by rail, not air. The only other thing I want is comfortable seats. Not hammering along at 200mph perched on ironing boards.....

Why is the Media putting a negative slant on anything and everything that is not in keeping to the monologue of turning back time to the 19th century?
The article could have stated HS2,3,4,5...99 etc will eliminate X amount of CO2 being created and how the tree planting will remove Y amount of CO2.
The cost as a monetary figure is irrelevant. HSxx railway lines because stronger, faster, better railways will remove the need for internal flights. When almost all internal UK and BENELUXFRDE flights are replaced by trains... LIST the benefits of faster more frequent travel between anyone's A to B destinations.
Fact is in a post brexit England, when the hyper-inflation arrives, £106 billion will be lucky to buy a single roll, bap... as it will be insufficient to buy a basic loaf of bread.
The amount is Totally irrelevant. It it were to be £Trillions... or Quadrillions, spending on Infrastructure Now pays Long Term benefits for Centuries.
The way a country spends on such projects is totally different from how individual households function fiscally.

Tipping point reached?