Posted 29th January 2020 | 3 Comments
Scrapping HS2 'would cause 30 years of delays'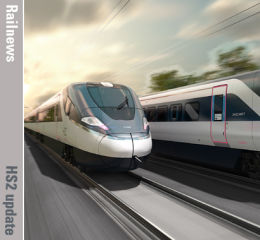 A LEAKED letter from Network Rail is said to be warning the Government that abandoning HS2 would mean expensive upgrades of existing classic lines, some of which could take almost 30 years to achieve.
The letter from Network Rail chief executive Andrew Haines adds that without HS2 planned improvements to the rail network in the north of England would cost another £15 billion, while the prospect of three decades of upgrades on existing routes means almost endless disruption at weekends, and even when the upgrades were complete only two-thirds of HS2's capacity would have been gained.
Mr Haines is reported to have warned the Department for Transport that plans to improve the network without HS2 would force a 'fundamental' rethink, and that the three main lines running north from London are already effectively full. Additional running lines have already been needed on the Midland Main Line between Bedford and Kettering, partly so that the electric service to Corby can run every half hour.
According to This is Money, Network Rail had been asked to set out the arguments in favour of keeping HS2, as the need for a decision becomes more urgent. Transport secretary Grant Shapps has yet to publish the Oakervee Review of HS2, which is believed to come down on the side of keeping the project going, even if the cost could now be £106 billion.
Mr Haines is quoted as writing: 'On the East Coast Main Line where, assuming continuous weekends of closures to complete the works, the route would be closed at one location every week for between 26 and 29 years. If closure at two locations were assumed, this would take 13-14 years.'
Services at the London end of the East Coast Main Line are currently being disrupted at weekends so that more running lines can be laid on the approaches to King's Cross. This work includes restoring a disused tunnel bore from which the track was lifted in the late 1970s during electrification of the Great Northern route.
Meanwhile, the government's developer HS2 Ltd has responded to the reports of a leak.
The company said: 'HS2 is the only shovel ready solution to the immense strain being placed on our over-stretched rail network. Investment in a state-of-the-art, high-speed line is critical for the UK's low-carbon transport future. It will provide much-needed rail capacity up and down the country and is integral to rail projects in the North and Midlands which will help rebalance the UK economy.'
Opponents of HS2 are unimpressed. Joe Rukin from Stop HS2 said: 'HS2 delivers capacity where it is needed the least, decades in the future at maximum cost. The real need for capacity is in short-distance journeys in and around left-behind towns and cities.'
Lord Tony Berkeley had been the deputy chairman of the Oakervee Review team, but he has since published his own dissenting report. He said upgrades of existing main lines would be a better use of public money, adding: 'Quick wins on services in the North and Midlands are essential, as part of a 20-year programme of improvements.'
Network Rail has declined to comment.
Reader Comments:
Views expressed in submitted comments are that of the author, and not necessarily shared by Railnews.
Joe Rukin from Stop HS2 is right when he says: ' The real need for capacity is in short-distance journeys in and around towns and cities.'
BUT there is a reluctance to use what little spare capacity remains because long distance travel is growing much faster than short distance and generates higher increases in fares.
Proper discussions can take place about using that spare if the long distance capacity increase is guaranteed by HS2 Phase 1 and HS2 Phase 2 is controlled by/subservient to Northern Powerhouse Rail.

A far as capacity relief is concerened, a lot of the cost could be minimised by building to a lower max. speed and by utilising parts of currently closed lines.