Posted 24th January 2020 | 1 Comment
HS2 still faces 'significant risks', says Audit Office report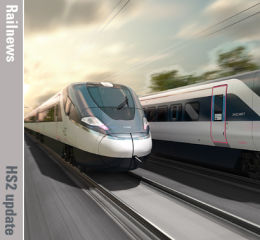 THE project to build high speed lines between London, Birmingham, Manchester and Leeds is falling years behind schedule and costing a lot more than forecast, because both the Department for Transport and the government's developer HS2 Ltd 'widely underestimated' the budgets and completion dates, according to a new report from the National Audit Office.
The DfT and HS2 Ltd also failed to manage the risks adequately, the report finds.
It says: 'If these risks had been recognised and managed earlier, then the significant activity in a pressured environment over the past year trying to understand and contain cost increases may not have been necessary.'
The DfT had already spent £7.4 billion on HS2 up to 31 March 2019, and the eventual costs now vary considerably, depending on the source. The still unpublished Oakervee Review is said to put the total bill at as much as £106 billion, but the NAO quotes the 'emerging' DfT estimates of between £65 billion and £88 billion at 2015 prices, compared with the previous forecast of £55.7 billion. The NAO also warns that 'at the time of publishing this report, it is not possible to say with certainty what the final programme cost may be'.
While the costs of HS2 have risen sharply, the planned opening dates have been slipping back significantly. Phase 1 between London and Birmingham, which had been set for 2026, is not now expected to be ready for even a partial launch, between Old Oak Common and Birmingham Curzon Street, until some time between 2029 and 2033. Services onwards from Old Oak Common to Euston are now forecast to begin in 2031 at the earliest, and may not be achieved until 2036.
The remaining phases to Manchester and Leeds may not be complete until 2036, which would be three years later than planned, but might not be ready before 2040. The NAO warns that there is still 'significant uncertainty' about these dates, and that 'significant risks' still surround the whole project.
It concludes: 'We welcome the increased realism … [but] while the estimated cost and schedule for Phase One are now on a stronger footing, the challenge of getting Phase One into construction, and of monitoring and managing the programme as it progresses, is considerable.
'Phase Two is at a far earlier stage of development with many important decisions to be made before HS2 Ltd and the Department can improve cost and schedule estimates. Completing High Speed Two will require sustained focus and support from the Department and across government to ensure the programme is re‑established on a sound basis, balancing cost, time and benefits, and delivered in a way that achieves long-term value for money.'
HS2 Ltd responded: 'The vast majority of the NAO's findings were revealed in HS2 Ltd's 2019 stocktake – a year's worth of deep dive investigation into the underlying costs and timescale of the project. As such, the revised costings and schedule are already widely known.
'After being appointed HS2 Ltd CEO in 2017, Mark Thurston identified the serious challenges of complexity and risk in the project, and he made several significant changes and improvements to the organisation, its governance and processes. As the NAO recognises, this work – along with a greater understanding of the ground conditions and build requirements – means Ministers have robust cost estimates for Phase One.'
Meamwhile, the supporters and critics of HS2 are continuing their debate. Some backbenchers who had supported HS2 are now in favour of scrapping it, such as Conservative Owen Patterson, who represents North Shropshire. He said: 'That money would be far better spent in improving the current rail and road connections in the region, rather than cutting off a few minutes travel time between the cities.'
But Lord Adonis, who began the scheme when he was transport secretary in 2009, told the Yorkshire Post: 'It could not be more vital to our economic future. Rail demand has doubled in the past 15 years alone.
'HS2 does not just meet this demand for intercity travel: by freeing up substantial capacity on the existing lines it will make it possible to run far more freight trains and commuter and regional passenger services.'
Labour shadow transport secretary Andy McDonald said: 'Today's NAO report is a reminder of the woeful lack of political leadership High Speed Two has had under the Conservatives and a lack of honesty about rising costs. The project urgently needs to get back on track and its delivery needs to be much more cost-effective and efficient.'
TSSA general secretary Manuel Cortes believes the report is welcome: 'This is a positive and practical report which provides yet more reasons to push on with this vital infrastructure project,' he said.
He continued: 'Our union completely agrees with the National Audit Office's call for transparency from the Department for Transport and HS2 Ltd to ensure the success of this project.
'We must end the paralysis and seize the ambition of HS2 which will cut our carbon emissions, massively upgrade our rail infrastructure, and bring investment to the Midlands and North of England. And it must be built through to Scotland for its full ambition to be realised.'
Robert Nisbet of the Rail Delivery Group said: 'It's time to inject some realism into the debate about HS2. There are no shovel ready alternatives. To cancel it would be to worsen punctuality and overcrowding on the railway for years to come, throttling future economic growth and damaging the environment by encouraging car travel. By acting like a road by-pass, HS2 will shift long-distance trains to a separate new line and enable the more frequent, punctual commuter services on existing tracks that people are already crying out for.'
Reader Comments:
Views expressed in submitted comments are that of the author, and not necessarily shared by Railnews.