Posted 30th January 2020 | 8 Comments
Prime Minister to host important HS2 meeting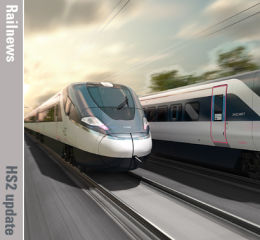 SPECULATION is growing that HS2 is set to be approved by the Government – possibly as soon as next week.
Chancellor Sajid Javid is meeting the Prime Minister today, and it is reported that the Treasury will support the project.
The scheme to build High Speed lines has been put under the microscope by a review team, with former HS2 chairman Douglas Oakervee in charge. Although publication of his conclusions has been delayed, a leaked version of his report has suggested that he is broadly in favour, although warning that the cost of all the phases, which would link London and Birmingham and later from Birmingham to Crewe, Manchester and Leeds, could be £106 billion, or almost double the 2015 estimate of £55.7 billion.
His review has caused fresh controversy, partly because his deputy Lord Tony Berkeley was stood down at short notice last October, and he has since produced his own dissenting version of the report.
Lord Berkeley published a supplementary paper setting out alternatives to HS2 two days ago, saying that the greatest potential for 'quick wins' was in the centres of Manchester, Sheffield, Birmingham and Leeds, 'given that they have the greatest proportion of overcrowded trains during rush hour outside London'. He continues: 'These "quick wins" will only have a small disruptive effect on passengers, unlike the much greater, more widespread and longer lasting disruption to both rail passengers and motorists which HS2 could cause.'
The debate has been heated still further by a letter from Network Rail chief executive Andrew Haines to transport secretary Grant Shapps, which was also leaked earlier this week. Mr Haines warned that alternative upgrades to existing main lines, which are virtually full already, could take almost 30 years, and that there would have to be regular and disruptive weekend possessions on the East Coast Main Line alone until the 2040s unless HS2 is built.
No 10 said a final decision about HS2 will not be made today, but the meeting is expected to help with reaching a conclusion soon.
Reader Comments:
Views expressed in submitted comments are that of the author, and not necessarily shared by Railnews.
We face a choice. We can do nothing and accept our overcrowded trains and roads, we can widen roads and build more roads, which will be very land hungry and will probably destroy more SSIs and ancient woodland than a new railway would or we can build a railway. The second option is probably the least desirable - but that is what will happen in an insidious way if we don't expand the railways.

The disappointing thing about HS2 is its poor connectivity with the existing rail network. There is no link with HS1 so there is not the possibility of through trains - for example - from Birmingham to Paris and Brussels. The locations of two of the stations is very poor: The new station in Birmingham is some distance from main rail hub at New Street. The idea of a station at Toton to serve Derby and Nottingham is laughable. Are the planners really thinking that someone in Nottingham will sit in a tram, with all the stops, to catch a train at some out of town station rather than ride on a slower (diesel) train to St Pancras? The station at Leeds is to be a terminus which spoils the prospect of through journeys to other cities in the area. There is the possibility of a cord at Hunslet - is that opportunity going to be taken, is there platform capacity at the existing station?

Is possible, even at this late stage, to reconsider the location and design of some of these stations?

Is HS2 about increasing Capacity - which is a Good Idea. Or is it about providing a prestigious High Speed Line because France, Germany, Japan and China have got one ? If it is the first, then speed is not a major factor and the current 125 mph with no intermediate stops would do nicely.

You know, I am always put in mind, sadly, of the Swiss Railways project Rail 2000 whenever I see HS2 mentioned. Have a look at the Wikipedia entry on "Rail 2000" and ponder on the Swiss Railway's objectives, on their budget and that it was 20 years ago..

The Chinese throw up a hospital in a week and we spend years discussing HS2. The rest of Europe is getting on with building hundreds of miles of high speed rail lines at present, whilst the only solution we have to capacity is to squeeze more people onto wafer thin seats on long distance trains so the people standing are not jealous of the unlucky ones who are seated. As far as I'm concerned, it's time to stop talking and time to start digging. And has been for a long time.

The Nimby's demand tunnels so their pristine back yards don't have to look out on a railway line 2 miles off in the distance, which the government adds to the project (scared of losing votes), which drives up the costs, which the Nimby's then use to complain it's too expensive.
No HS2 is far from perfect (what do you expect, it was basically designed by the government), but it's the only game in town that won't add another 20-30 years of delays to resolve the capacity problems that exist today. At some point you just have to get off the fence and get on with it. If the Victorians ran things this way we'd still be taking horse and carriage from London to York on a Roman road while arguments continued about the route of the ECML.

Much of the cost increase is attributable to pandering to the Chiltern NIMBYs, by the House of Commons insisting on additional tunnelling. That is in the past, thankfully.

Without HS2 there is no chance of preventing Heathrow Runway 3, and its deluge of climate-destroying CO2. And the road lobby will be clamouring to 8-lane the M40, serving only to worsen the gridlock at either end.

We need HS2. It needs new management.

I'm a bit puzzled how a railway can come with such an astonishing price tag. It would be interesting to see the breakdown of that £106 billion, the bulk of which I am sure is swallowed up by bureaucracy and red tape.

Is there anyone left who thinks HS2 is a good idea? It was a project designed by politicians with a worryingly London-centric view of the world, and the reduced journey times to the capital may well do far less to rebalance the north-south divide and only draw more people and commerce to the south east. But once a project of this size gets going it's a bit like a steamroller and is impossible to reverse. Despite the fantasy protestations that high speed broadband and 5G will one day render physical transport obsolete (there is no evidence of this happening any time soon), there is a real transport crisis in the UK and a major project is needed, but cancellation of HS2 would render major transport projects politically toxic for a long time after.

So it seems we now find ourselves in a situation where it's HS2 or nothing.