Posted 15th January 2020 | 3 Comments
Report claims HS2 would cause 'vast destruction' to wildlife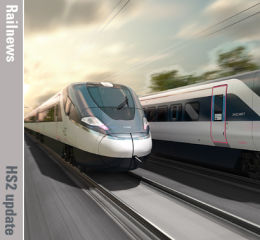 Updated 13.15

A REPORT from the Wildlife Trusts published today claims that HS2 would cause destruction to natural habitats in England on a 'vast scale'.
The report, entitled 'What's the damage? Why HS2 will cost nature too much', alleges that 'HS2 will divide and destroy huge swathes of irreplaceable natural habitat and important protected wildlife sites up the length of England. This will cause permanent loss of nature, increased fragmentation of wild places, and the local extinction of endangered species'.
It says that the casualties would include five wildlife refuges of international importance, 33 sites of Special Scientific Interest, 693 classified local wildlife sites and 21 local nature reserves.
The report has used data from 14 Wildlife Trusts along the route.
The Wildlife Trusts' director of campaigns and policy Nikki Williams said: 'The figures are grim and the reality is worse. The potential loss of so many really important wild places and the wildlife that depends on them has never been revealed before – nor has the damage that will be done to taxpayer-funded, nature recovery projects. HS2 will destroy precious carbon-capturing habitats if it's allowed to continue in its current form – it will damage the very ecosystems that provide a natural solution to the climate emergency.
'The data also shows that HS2 Ltd's proposed mitigation and compensation is inadequate and the small measures that they have suggested are inappropriate – amateurish suggestions of paltry measures in the wrong places.
'Nature and our climate are already in big trouble and we must not make a dire situation even worse – that's why we are calling on the Prime Minister to stop and rethink the entire development.'
The report adds that if HS2 'has to go ahead' it should take a greener approach that 'leaves the natural world in a better condition than it was before'.
TSSA general secretary Manuel Cortes has challenged the report's conclusions, saying that HS2 would make a 'very significant contribution towards cutting our carbon emissions' while actually 'safeguarding our plants and wildlife'.
He added: 'The time for debate on HS2 is well and truly over. It should be given the green light and should go all the way to Scotland so that we are able to shift people and freight from road to rail.
'HS2 not only builds much needed rail capacity and puts rocket boosters under regional economies – but crucially will also make a very significant contribution towards cutting our carbon emissions.
'These are a major cause of climate change which is itself the greatest threat to our plants and wildlife.'
Reader Comments:
Views expressed in submitted comments are that of the author, and not necessarily shared by Railnews.
I don't remember all this kybosh when motorways were being built and they take.up far more land than a twin track railway that will have more capacity than 2x15 lane motorway especially when you remember that HS2 will be built to allow duplex double deck trains of the kind that operate all over the world !

The same nonsense was spouted about HS1 but it now runs through Kent countryside will millions of trees planted when it was built and the same will apply for HS2

So what would they prefer, new motorways instead to deal with the increase in travelling? More domestic flights?
Seriously, they'll come up with any nonsense excuse they can think of to try and stop HS2. As Manuel says, that debate is over and done. The only thing to stop it now would be the escalating costs, or the government's usual penchant for changing its mind.
How much wildlife did HS1 destroy - apart from killing probably a few hundred thousand flies on windshields?