Posted 16th January 2020 | 13 Comments
Doubts grow over future of HS2 between London and Birmingham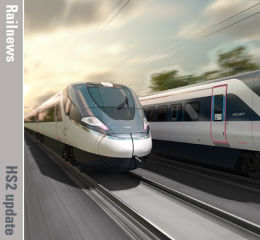 THERE are renewed concerns from council leaders that Boris Johnson could be poised to scrap Phase 1 of HS2 between London and Birmingham, diverting the money to other transport projects further north. The eastern spur from Birmingham to the East Midlands and Leeds could also be at risk.
A meeting of politicians in Westminster has been told that the choice should not come down to better railway services in the North of England or HS2, because both are needed.
The Government has been holding fire over the publication of the Oakervee Review into the future of HS2. The final version, along with the separate but equally significant Williams Rail Review, were both intended to be published some weeks ago, but the December election caused various projects in Whitehall to be paused.
Government sources are insisting that there is still no final version of the review led by former HS2 chairman Douglas Oakervee yet, although his colleagues, including his deputy Lord Berkeley, were controversially stood down at the end of October. Lord Berkeley has since said that he does not agree with the likely findings of the Oakervee Review, and has published his own dissenting report.
The prime minister has acknowledged that he has an affection for big infrastructure projects, and is known to have been reluctant to scrap HS2, in spite of much higher costs. However, some sources are claiming that Downing Street has been cooling off since the election, and that the most likely casualty will be Phase 1.
At this week's meeting in Westminster, Manchester City Council leader Sir Richard Leese said he and his counterparts in West Yorkshire and the West Midlands are all 'singing off the same hymn sheet' over the need for HS2 in full.
He continued: 'When we get down to what investment we need, we should not be making choices between local services, between Northern Powerhouse rail and HS2. The north of England is absolutely fed up of getting the crumbs from the table.'
Andy Street, who is Mayor of the West Midlands, told the meeting: 'I'm probably the only person in the room that knows exactly what … Oakervee says because I sat on the review ... What I am utterly confident of is that there is a strong economic case that will eventually win through. The reason there is a strong economic case is that we can already see the benefits on the ground in the West Midlands.'
The same story is being told in West Yorkshire. Leeds City Council leader Judith Blake also chairs the Core Cities project, and she said: 'What we've seen in Leeds is just the promise of HS2 coming in has been transformational in itself. I want to make it absolutely clear that we can't talk about Northern Powerhouse rail or HS2. We need the two together.'
Support for HS2 in full is far from unanimous outside Downing Street. As well as the opposition voiced by Lord Berkeley, a group of new Tory MPs has called on Mr Johnson to scrap the project, while long-standing HS2 critic Dame Cheryl Gillan, who is the MP for Amersham and Chesham on the route of Phase 1 in the Chilterns, has called for a rethink. She said: 'We've got routes from London to Birmingham; that shouldn't be a priority. It's Birmingham northwards that should be the priority. I would absolutely freeze the London to Birmingham stretch and put it on ice.'
Rail minister Chris Heaton-Harris is insisting that no decision has been made. He would say only that 'the transport secretary has spoken to Doug Oakervee and is now waiting for the final report. Only once we have the data from an independent source can we make a decision about its future. We hope to make that decision shortly.'
Reader Comments:
Views expressed in submitted comments are that of the author, and not necessarily shared by Railnews.
My information is that Manchester business people already make the day return journey to London at the current two and a bit hours timing, the competing BA air service having been withdrawn some years ago. Nowadays, they can also do useful work aboard the train, too.

For a real "sea change " in business travel day return opportunities,it seems we need to target centres further North.

No HS2 = No Northern Powerhouse Railway as much of NPR uses HS2 and NPR would not be financially viable without link to London which brings in the real money !

Time to get on with HS2 which is simply a double track railway using same track gauge as existing lines making through journeys possible with HS2 cutting journey times by an hour thus halving London to Manchester time making a business day return viable!

So has HS1 turned Kent into a wilderness or is it still The Garden of England!

As for complaints about HS2 trains well they are already being used in classic compatible mode on ECML and GWR because they are just faster versions of the new ICE trains now being introduced!

Yes, extra capaciity is the main justification for HS2, but is it automatially better to combine this extra capacity with very high speed ?

I would maintain that in a British context the lines that need capacity relief most are generally not the best targets for very high speed ( only likely to bring substantial extra benefit for journeys of at least 240 mils ) .

So if HS2 isn't built what are the plans to increase north south capacity in it place? That is why HS2 is required. I have seen suggestions that we will run out of capacity London to Birmingham in 2025-30. HS2 has been planned to provide increasing capacity to meet demand, it not a vanity project. I suppose options are to fully 6 track the west coast mainline or would people prefer more motorways ? I though we are being encourage out of our cars on on to railways.... Martin

HS2 is a conundrum. In the bigger picture, HS2 is not popular with the public. If the go-ahead is given, it will attract a lot of well informed opposition which will not go away. This will add extra cost to the building of HS2. This will distract the Government from its more urgent tasks like raising number of nurses and police, and other beneficial polices. On the other hand, if HS2 is cancelled, then there will be a transport vacuum that will difficult and very expensive to fill. If the scope of HS2 is reduced, such as terminating at Old Oak,, there is the danger that what is left gives less value than the original project. It would be far better to follow in full the recommendation of Greengauge 21 in 'Beyond HS2' and get much better value from the project. Rail transport priorities have changed substantially since HS2 was planned 10 years ago and it would be a very good idea to look at current priorities to determine what is most urgent with views from a parts of the rail industry, not simply the DfT as with HS2. Indeed there is a good case for removing the DfT from its position as client for HS2, and give that responsibility to the CEOs of the rail companies whose services HS2 can relieve congestion..

The Liverpool-Hull high-speed line, NPR, with a Pennines 'base' tunnel is needed ASAP. It has needed a base tunnel for 150 years. NPR would be a linear hub with the mainlines branching in.

Capacity? The Gt Central has only 14 miles obliterated. Network Rail own the trackbed land, which is one of the biggest costs of HS2 - so CHEAP to build!

So:
1. Build NPR - which is also a linear hub;
2. Remove bottlenecks on the WCML, ECML and MML;
3. Have trains that run at 140mph plus, not 125mph as we have now;
4. Move Birmingham trains back onto an electrified Chiltern Line freeing up the WCML;
5. Reinstate the Gt Central line for passengers and essential freight.

Voila!


A number of contributors to these columns have suggested making use of the ex - Great Central route south of Nuneaton / Rugby to give extra conventional - speed capacity to relieve the WCML.

A retired former BR civil engineer told me that it is easier and cheaper to build or work on a line with no traffic on it ; the northern half of the above GC project would fit this criterion, whilst south of Calvert it gives a ready made route into London, either via Aylesbury or via the Grendon - Ashenden link.

Probable costs around £ 4 bn. , compared to HS2 phase 1 at £ 26 bn.

Could the wild life trust please explain why the wildlife and flora didn't disappear when the Victorians built the original railways, why little or nothing is said about motorway building or currently the lower Thames project, the railway infrastructure is a haven for wildlife and a main corridor for it to transit large urban areas, I think there's an element of NIMBYisum here, remember you people in the South burnt the coal we're just getting rid of the slag heaps up North what goes round comes round, or use more industrial route along the M1 corridor

Please scrap HS2. It is hugely destructive of the environment for very little benefit!

It is surprising how many quick wins have been overlooked in terms of new railway infrastructure, and the government's answer to the country's transport woes is HS2 - a hugely expensive and disruptive project that has, at best, questionable value for money.

Investment of this magnitude should be improving east-west connectivity and extending the network to areas that are currently either poorly served or entirely cut off from the rail network and wholly reliant on car transport. Rail freight is also largely forgotten about when it should be central to future transport policy.

The biggest railway vanity project...ever (if) it ever gets built it will end in Birmingham and stay there the money would be better spent on projects like the Woodhead Tunnel route over the Pennines and undoing the shaambles that Beeching left us .i.e closing the Great Central route from Marylebone and Harold Wilson's daft decision to close the Waverley route.
Agree with all the above comments too

One has to wonder whether any of the regional politicians actually understand what is proposed to be delivered for £88bn (and counting).

Leeds will effectively be on a branch line off the section between Toton and York, part of this section running on the ECML. For Birmingham, Curzon Street (on a spur from the main line) is resurrected forgetting the reason why it closed in the first place.

Derby and Nottingham aren't served. Manchester, like Sheffield and Liverpool, doesn't get a new high speed line but the existing line is doubled here and there. There is no Manchester-Sheffield/Leeds direct connection.

In short, a line which Beeching would have been happy to close and I would have fully supported him. This nonsense has to be shelved asap and the project sent back to the drawing board. The country deserves better.