Posted 30th May 2019 | 6 Comments
Five days of strikes called on South Western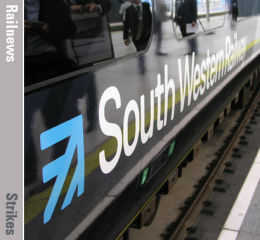 Updated 31 May 08.19

MORE strikes are to be staged on South Western Railway in June, after talks with the RMT failed again.
Further talks are planned, but the union said there would be five consecutive 24-hour walkouts by drivers and guards between 18 and 22 June inclusive.
The RMT has also accused SWR of 'rowing back on their public pledges', which had said there would be 'a guard with safety critical competencies' on each train.
The union's general secretary Mick Cash said: 'Our members are angry and frustrated that despite suspending action in good faith, and entering into talks in a positive and constructive manner, South Western Railway have dragged their heels and failed to bolt down an agreement that matches up to our expectations on the guard guarantee.
'For more than three months we have sought to negotiate a conclusion to this dispute and it is wholly down to the management side that the core issue of the safety critical competencies and the role of the guard has not been signed off. It is because of that crucial failure by SWR that we have had no option but to lift the suspension and move back into strike action.'
South Western Railway said: 'With further ACAS talks already in the diary for 17 June, for the RMT to call a week of strikes starting the following day shows there is not a genuine commitment to finding a solution.
'The union has always said it wanted us to keep the guard on every train which is what we have offered as part of a framework agreement. Now we want to move the conversation on to how we operate our new trains and take advantage of the new technology on board to benefit our customers.
'We remain committed to finding a solution that will help us build a better railway for our customers and colleagues alike. If these strikes go ahead, they will cause needless disruption. We are calling for the RMT to call off this unnecessary industrial action so that planned ACAS talks can go ahead.'
Reader Comments:
Views expressed in submitted comments are that of the author, and not necessarily shared by Railnews.
Yes, I've seen a few genuinely good guards on SWT/SWR, especially between Weymouth & Bournemouth. Warm, friendly, engaging the passengers in conversation and genuinely appearing to enjoy their jobs. I won't name names as I'm sure the RMT and their lazier cohorts would bully them and make their lives miserable.

Unfortunately there seem to be too many "read cab seat warmers". You would think if you didn't like your job you'd look for another line of work, but I guess it's just easier to shirk your duties and insult the passengers, knowing you have the RMT to protect you. If anything makes a good argument for breaking the RMT that's certainly high up there on the list.

Having been a long term SWT/SWR passenger, I have ben repeatedly dissapointed by the actions of the guards when 'emergency' issues arose. Typically they at best put a message on the train PA requesting assistance from passengers (medics or off duty police being the norm). Meanwhile, passengers were getting far better response using twitter(!) and where necessary direct from the emergency services.

And sadly, I have seen my fair share of guards literally reading the paper rather than focussing on passenger safety (and put two together in the guard space when they think no-one can hear them, and you would be unsurprised but somewhat disturbed by their views on the passengers they are supposed to be protecting).

There are a small number of geniunely good guards, and if even just half of the total were of a similar standard, I could support the RMT approach. But the reality based on more than 20 years as a passenger is that this is just jobs for the boys and girls, who will in turn line the pockets of the RMT leaders through their dues.


It may be obvious to many, but it strikes me there are political axes being ground in all this, both left - wing and right - wing.

On the left, there seems to be a wish by the Union leadership to, amongst other aims , alienate passengers from the railway, so they will clamour for nationalisation ( which appears to be happening ).

On the other hand , the current government may well be wanting to see the destruction of the Unions, and see these conflicts as useful in bringing that about.

On this we agree Neil!

Good luck SWR. Hope you defeat the passengers' enemy: RMT.

If I were the RMT I'd be wary of calling 5 continuous days of strikes. That gives SWR plenty of time to fine tune their plan for replacement staff, and maybe by the 5th day they'll determine they can get by without their RMT staff completely. After all, how difficult is it to train a replacement to sit in the back cab and read the newspaper. ;-)