Posted 23rd November 2018 | 3 Comments
RMT accuses Northern, SWR of 'snubs'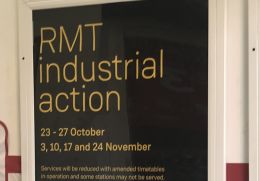 Updated 09.00 Saturday

MORE walkouts are disrupting Saturday services on Northern and South Western Railway as the disputes over the roles of conductors and drivers continue.
The RMT has repeated its invitation to both operators to restart negotiations, but the union's claim that it has been 'snubbed' has been denied.
RMT general secretary Mick Cash said: 'RMT members will be taking action again on both Northern and South Western Railway in the continuing fight for safety, security and access on our trains.
'It is frankly insulting to both passengers and staff alike that these companies have not even had the common courtesy to respond to the union's most recent written call for serious talks.
'It is a national scandal that while other train operators have been prepared to engage seriously with RMT on the crucial issue of the guard guarantee both ARN and SWR have dragged their heels and made a mockery of the talks process to the point now where they refuse point blank to engage in any meaningful negotiations at all.'
Railnews has learnt that talks were taking place with South Western Railway earlier this month, and that letters were last exchanged with the union during the second week of November.
SWR has accused the union of 'cynically targeting' passengers, such as those travelling to sporting events.
The company said: 'We have repeatedly guaranteed to roster a train guard on every single service we run. Our plans mean more guards, not fewer. It's time for the RMT union to commit to resolving their dispute which only causes misery for customers.
'We will do everything we can to keep customers moving and reduce disruption whenever the RMT strikes.'
On Northern, meanwhile, the Saturday walkouts are set to continue until the end of the year, unless a breakthrough occurs.
Northern deputy managing director Richard Allan said: 'We have written to RMT several times in recent weeks asking them to suspend industrial action and come back to talks at ACAS, which Northern asked for and set up in September. We encourage RMT to suspend its strike action and invite them again to talk to Northern about the agreements that RMT has reached at other train operators.
'The RMT strikes are affecting customers who want to enjoy Christmas markets and important seasonal events and damaging the economy. Talking costs nothing so we urge RMT to come back to ACAS talks.'
Reader Comments:
Views expressed in submitted comments are that of the author, and not necessarily shared by Railnews.
I'm sure if Mick Cash and the RMT had anything "seriously new" to offer in their offered proposed "serious talks" that the TOCs would listen. It seems they just do this to then be able to claim the TOCs refused to offer anything different and the talks broke down, when in fact the RMT is the one refusing to budge an inch. If you have an offer of a guard rostered on EVERY service, and a commitment to hire MORE guards, then what on earth is wrong with defining a few limited situations when a service can run without a guard? If they are rostered it is then because the guard doesn't show up (and that doesn't mean they didn't try, it could be a matter out of their control like late running inbound services, road traffic congestion, police action, etc.) that a service might run without one. It boils down to the blatantly obvious, the RMT care about nothing but their power to continue to cause disruption on the railways whenever they choose, and they're going to continue to battle for 19th century methods of operation in the 21st century.

This has gone on so long SWR & Northern may as well take the Southern approach. Here are new terms of employment for a new job position. Sign up or not, the old positions are being eliminated. That triggered a recommendation from RMT that their members sign up for the new positions. That was painful, but eventually ended the action against Southern, admittedly not until after you had the ridiculous situation of the RMT continuing to strike after they had recommended their members sign the new agreements - there's obstinacy for you).

This is becoming more pathetic with more strikes to happen on Northern and South Western Railway not just this year. But next year and beyond. What a joke.
[I should perhaps clarify that no strike dates have been announced (yet) for 2019.--Ed.]