Posted 8th December 2018 | 11 Comments
RMT Christmas strike on SWR will cause 'maximum misery'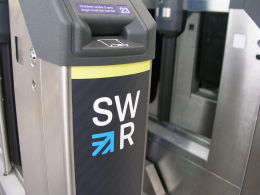 SOUTH Western Railway has accused the RMT of 'ensuring maximum misery' by calling a fresh 24-hour strike on 22 December. The operator also rebuked the union for 'scaremongering' over railway crime figures.
The union has claimed that SWR has 'refused to make any progress' in the continuing dispute over on-train staffing.
RMT general secretary Mick Cash said: 'The company are hell bent on opening up a loophole that would allow them to run services driver only at their discretion.
'Recent figures have shown a shocking surge in violence on our railways across the festive season and it is frankly appalling that South Western Railway are looking for a green light to throw the guard off their trains as and when they see fit in the name of profit.'
SWR responded: 'By targeting the last Saturday before Christmas when people are trying to travel to be with family and friends the RMT is ensuring the maximum misery is inflicted at what should be a time of relaxation and enjoyment.
'This action is totally unnecessary. We have guaranteed to roster a guard on every train, and we need more, not fewer guards – 70 more by May 2019 – and we have an opportunity with the introduction of the new suburban trains to operate these trains differently to maximise the customer benefits.
'The RMT is scaremongering by using crime in its statement. The number of crimes on the SWR network has reduced by nearly 6 per cent since April. SWR's team of 35 Rail Community Officers work on trains and at stations to prevent and detect crimes. They work closely with BTP officers to help reduce incidents on the network, engaging with customers and highlighting suspicious activity.
'Should this action go ahead, we will do everything we can to provide the best service possible.'
Meanwhile another strike has started on Northern, as the latest in a series of Saturday walkouts by the RMT.
A fresh bid to end the Northern dispute failed last week, when the RMT offered to cancel the outstanding strikes so long as Northern agreed to conditions set out by the union. The hopes of peace had also risen when both the Department for Transport and Transport for the North said they supported the presence of a second staff member on Northern trains.
Recent failures to resolve both disputes have often been caused by disagreements over when, if at all, it would be acceptable to run a train with only a driver.
Reader Comments:
Views expressed in submitted comments are that of the author, and not necessarily shared by Railnews.
A second member of staff HAS been guaranteed by SWR. It's just that, in the rare occasion where that second staff member may not show up on time (injury, inbound service or traffic delay, etc.) SWR (& Northern) want to run the service DOO in those conditions, instead of turfing those thousand passengers off the train in rush hour and have it run empty anyway. Or maybe only a dozen or so passengers but on the last service of the day on a particular route. That would be a definite benefit to the passengers, but of course not to the RMTs power to disrupt services for whatever trivial reason they dream up on the day. It's that power to disrupt on demand the RMT want to maintain - nothing to do with the safety of passengers or whatever else they spout. Turning down a guaranteed 2nd member of staff being rostered on all services proves that.

If TOCs can be allowed to operate a train driver only because they can't find a guard then isn't it obvious that they will be less willing / able to find them in the future?

These strikes are political ! they are are engineered to try and bring down an elected Government by the communist RMT.Any SWT workers who wanted to work are bullied and attacked by RMT bullies!

Surely we should be able to fund a second member of staff on a 10 or 12 coach train from a Health and safety perspective.? You could have over 1000 people on that train with one member of staff. What happens if that person is incapacitated who then is in charge of those 1000 people....
Or have a missed something?

We know the RMT'a preference. Cancel the service, passengers be damned. They want the absolute power to cause service cancellations whenever they feel like it. Same if a guard took ill at Piccadilly in evening rush hour. Turf out hundreds of passengers and cause service disruption for the rest of the day. Mick Cash is the new Grinch that stole Christmas for many long suffering passengers.

The sooner we have driver-less trains the better.
The MTR Corporation(Hong Kong based) & FirstGroup(Moir Lockhead) could not care less about the people who work for and who are forced to use their awful train service.

If the choice is between cancelling the last train home because of no 'guard,' or running under DOO to get people home safely... And if there is an incident involving that last train such as the one in London where passengers evacuated themselves onto a live 3rd rail running line? It was only good fortune that nobody was killed in that case.

If the choice is between cancelling the last train home because of no 'guard,' or running under DOO to get people home safely.... what's the RMTs preference?

What's the Association of British Commuters preference?

We want modern trains with visible staff. Not fiddling with door buttons.

And this is why us commuters will face more disruptions as more strikes will become more extensive over the new year and beyond.

I am starting to get the impression that SWR, GTL and Northern are being leant on by the DfT - and ultimately the Government - to stick firmly to running trains with only a driver if a second "safety critical" person is unavailable. In other words, Driver Only Operation is still the official goal that TOCs must aim for.