Posted 29th May 2019 | 4 Comments
Frustrated mayors call for Northern franchise to end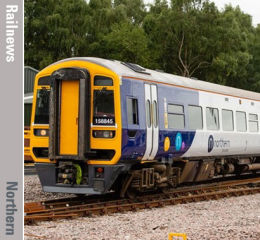 TWO city mayors have called on the Department for Transport to scrap its contract with Arriva to run Northern, a year since the timetable changes of May 2018 were followed by major disruption.
Northern said many of its problems were due to late-running electrification work by Network Rail, while it was also badly affected by a long-running dispute with the RMT over on-train staffing which cancelled many Saturday services for 46 weeks. The walkouts were suspended after talks made progress in February this year.
However, the mayors of Greater Manchester and Liverpool, Andy Burnham and Steve Rotheram, have accused Arriva Rail North of failing to improve the service enough.
Mr Burnham said: 'We have been extremely patient with Northern but enough is enough. They promised us things would be significantly better by May 2019 and that hasn't happened. Train services remain unreliable and overcrowded. Sunday services are still subject to widespread cancellation and promises of new rolling stock have not been kept.
'The people of Greater Manchester deserve much better. That's why, together with the Mayor of Liverpool, I am calling on the transport secretary to strip Arriva Rail North of this franchise.
'We wish to make clear that we do not blame the staff of Northern who have worked hard over the last year in very difficult circumstances. We believe they, and the travelling public, have been let down by Northern's management who have had plenty of opportunity to show how they will meet franchise requirements but have failed to do so.'
His Liverpool colleague Steve Rotherham said: 'We believe it is now time for Chris Grayling to terminate the franchise and move to that operator of last resort, as soon as possible.
'Stripping Northern of the franchise will not solve all of the issues with our railways, but it would be an important signal that the North is no longer prepared to put up with a second class service.'
Northern managing director David Brown said improvements since last year included better punctuality, investment in new and refurbished trains and the introduction of more than 2,000 new services.
He said: 'The unacceptable disruption in May 2018 was caused by delays in infrastructure projects out of our control. We have apologised to our customers for the pain this caused. We have seen two successful timetable changes since then, introducing many more new services.
'Since last year, we have made a large number of improvements. These improvements are still a work in progress, but we are making things better for our customers.'
Both the RMT and TSSA welcomed the calls for Northern's franchise to be terminated, but the DfT has signalled that it is unlikely to heed the Mayors' demands, at least for now.
A spokesman said: 'We have seen much needed improvements in Northern services since last year. At a time when performance is improving and brand-new trains are being rolled out to replace the unpopular and dated Pacers, change could result in significant disruption. We see no reason at this stage to consider making changes to the franchise.'
Reader Comments:
Views expressed in submitted comments are that of the author, and not necessarily shared by Railnews.
There's more than an element of 'I'm a politician who wants more powers for myself" in this from the Mayors!

A lot of the problems they scream about can trace themselves back to Government control anyway - One man operation, electrification scheme delays the trail leads back to DfT..................

Also: Messrs Burnham and Rotherham might want to compare the punctuality figures before and after the December 2018 timetable change. I'm prepared to listen to arguments that it's still not good enough, but again, but implying it's just as bad as it was last May is again dishonest.

Set some measurable targets and stop moving the goalposts, then I might take this seriously.

I am prepared to listen to criticisms of Northern, but when they are saying "promises of new rolling stock have not been kept" when the trains are on the track NOW doing testing, they're pretty much peddling misinformation that the services don't exist at all. That is dishonest.

Come on Burnham, you can do better than this.