Posted 7th February 2019 | 3 Comments
Northern strikes suspended by RMT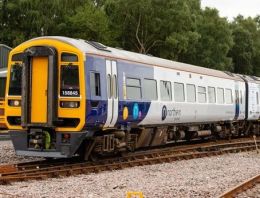 THE long-running series of strikes on Northern has been suspended by the RMT, after progress was made in talks over on-train staffing.
Northern has offered to provide a conductor on all services.
However, the news of a breakthrough has come too late to reset the timetable for this Saturday.
Northern described the talks at ACAS, moderated by ACAS chair Sir Brendan Barber, as 'positive'. Managing director David Brown said: 'We warmly welcome RMT's decision to suspend its strike action and recommence talks about what the future role of the conductor looks like.
'We have been very clear in these discussions that there will be a conductor on all our trains now and into the future. We are looking forward to further positive talks with RMT about operational models moving ahead so that we can resolve their dispute and bring it to an end.
'The suspension of the RMT strikes is good news for customers and businesses across the North.'
RMT general secretary Mick Cash praised his members for their support, saying: 'They are an absolute credit to both this union and the wider movement.'
He continued: 'I also want to thank the travelling public for their extraordinary support and both Andy Burnham and Steve Rotheram for their efforts that have been important in allowing us to break the deadlock.
'Today's offer of a guarantee of a conductor on all services throughout the duration of the franchise, including the new fleet, is the substantial progress we have been pushing for and has allowed RMT's executive to take the decision to suspend the current action and allow for further talks to now take place with all stakeholders around the operational details.'
Northern also warned: 'Changing a strike timetable back to a normal timetable is a very complex task. It is unfortunately too late for Northern to reintroduce a full timetable in time for this Saturday. We will run about 700 services with few services running after 17.00. From Saturday 16 February, we are pleased to confirm that we will be running a full Saturday timetable.'
Reader Comments:
Views expressed in submitted comments are that of the author, and not necessarily shared by Railnews.
To respond to Chris's point. Northern are NOT proposing DOO. They are proposing that door operation passes to the driver. They are proposing that the second rostered staff member is NOT stuck out of sight playing with door buttons, but is instead out amongst passengers, selling tickets, and addressing antisocial behaviour. (Just like Strathclyde, in fact.) That is the whole point!!! They are proposing that in disruption, trains can run with only a driver, to keep passengers moving and to recover the timetable.

What's not to like?! We should all support proposals by TOCs like Northern to improve passenger experience when new fleets are introduced. Don't be a Luddite! .

Hopefully the truce with break out into a lasting peace. Just one sour note a little sad that with the availability of a full compliment of staff & units Northern can't get back to somewhere near normal quicker. Another aspect of why so much inflexibility is hard wired into the modern operational model. Where is the can do attitude?

Having recently witnessed anti social behaviour on a TOC that has also faced on going disruption (not Northern) over the role of guards provided an insight on the benefit of having a strong staff presence on both trains & stations. Too much of the argument over the role on staff members has focused on operational duties. So yes DOO is a long established safe practice. However since the first application of DOO to mainline operations the social climate has changed.

Time to fully reevaluate and appreciate the guards role in front line revenue collection, on train security while retaining safety competence for incident management.