Posted 17th December 2018 | 6 Comments
Christmas present for delayed Northern passengers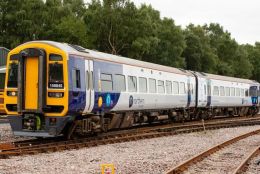 THE Delay Repay window has been reduced to 15 minutes for passengers on Northern from today.
The change follows the first Delay Repay 15-minute window, which was introduced on Govia Thameslink Railway in 2016, replacing the previous 30-minute threshold.
Rail minister Andrew Jones said the move was the 'right thing to do'. He continued: 'Our absolute priority is delivering the reliable services passengers deserve, but when things go wrong people must be compensated fairly and quickly.
'We are also investing £15 million on enhancements for passengers across the North, ensuring we deliver improvements that passengers want alongside more comfortable and punctual services.'
The new Delay Repay threshold follows many months of disruption on Northern routes caused by a combination of timetable problems in May and continuing industrial action in the dispute with the RMT over on-train staffing.
Northern deputy managing director Richard Allan said: 'We are truly sorry for the inconvenience caused by the disruption to rail services earlier this year and have paid special compensation to more than 11,000 season ticket and non-season holders since the summer.
'Now, with the launch of Delay Relay 15, those customers who experience day-to-day delays will be able to claim the compensation they want and deserve. Our team works hard to deliver a consistent, punctual service but delays do happen and extending the scheme is the right thing to do for our customers.'
The reduced Delay Repay threshold is in addition to special compensation which was announced for passengers on Northern and TransPennine Express following the timetable problems in May. The Department for Transport said more 12,000 claims have been received from Northern passengers so far, and more than £1 million has already been paid.
The 15-minute Delay Repay window is the DfT's new standard, and will apply to future franchises when they are awarded.
Meanwhile, the first electric train ran under test between Manchester and Preston last Thursday night, as the overture to providing a full electric service on the 40km route via Salford, Bolton and Chorley. Northern said the late completion of this Network Rail electrification scheme had contributed to many of its timetable problems in May.
Disruption on Northern is not yet a thing of the past, however, because the RMT is set to stage more walkouts on 22 and 29 December. Northern said that if both go ahead there will have been 19 strikes on consecutive Saturdays this year. Daytime services have been reduced on strike days, with almost no trains running after 17.00.
Reader Comments:
Views expressed in submitted comments are that of the author, and not necessarily shared by Railnews.
At last, an electric train has run between Manchester and Preston, two years late but it ran! However, according to the response to a complaint that I sent to my local MP, electric services 'should' start running in April next year. So we have to wait another 4-months before we can start using these trains if this is correct.

Furthermore, I doubt the presence of electric trains on this route will alone address the congestion issues at Manchester Piccadilly, which have and continue to cause delays to services, particularly in the evening peak.

While extension of the Delay repay scheme is a good thing, my experience of using this process in the past has shown that in the event of a cancellation, Northern only consider the delay to the next available service. In my case this meant the first 30-minutes of delay were wiped off the clock and Northern only considered the delay (typically 10-15 minutes) to the next service, which fell below the 30-minute threshold and subsequently declined the claim. Similarly, they did not consider the delay to my journey if I could not physically get on the next service (typically short-formed and over-loaded by the time it reached my embarking station, as the service was available. It is experiences like this and the £2.85 compensation I was lucky enough to get on two or three occaisions, that convinced me the process was largely pointless. I sincerely hope the 'extended' scheme has been improved!

Northern are a disgrace. They need to go! All they have done is cause more misery to passengers across the North of England. And not only that but allowing more strikes to happen aswell. They are a disgrace. Northern trains needs to go ASAP.

This is good news but what of those passengers who turn up at the station to find that they can't travel because the train's been cancelled? They may not have the benefit of travelling on a later service because e.g. their hospital appointment has been missed.

This is all very well, but the problem this doesn't address is that the paperwork involved in the claims doesn't justify the money you get, which for a commuting journey can be no more than a couple of pounds.

I'd rather they got a move on with an automated system. If you already know what train we booked, we shouldn't have to tell you again.

Let us celebrate that over two years later than proposed NR have finally been able to energise the route via Bolton. Hopefully it will not be too long to wait for the benefits of the electrified service to be felt with an uplift in performance & capacity aligned with the ability to cascade displaced diesel units within the Northern operation not forgetting the the start of the Pacer withdrawal programme. That will be something genuine for the customers to celebrate rather than compensation for failure.

Electrification of this section of line has certainly proved challenging. While it should not be forgotten that NR had to contend with the loss of two contractors, Balfour Beatty having withdrawn from the contract & the failure of Carillion, the delay in electrifying 40 km Bolton route has had a profound effect on performance throughout Northern. Compare this with Scotland where Alloa, Dunblane & Stirling have been successfully wired and in addition the Shotts route has been energised early. The delay in delivery of electrification in the North West & GWML has set back the case for investment in a modern electrified railway especially in the eyes of detached transient politicians only eyeing immediate results that bi-modes appear to deliver irrespective of the long term cost.