Posted 8th November 2018 | 1 Comment
Blackpool's economy was hit by Northern disruption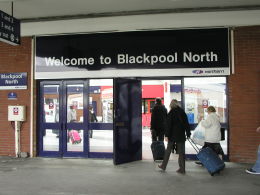 VISITOR numbers at Blackpool were sharply down this year, and the fall is being attributed to the extensive disruption which affected train services in north west England over the summer.
Northern was hit by problems when timetables changed on 20 May which it says were mainly due to late-running electrification work, while a long series of strikes has also been causing many cancellations and delays. The industrial dispute with the RMT over on-train staffing is continuing, and the union has announced further walkouts on every Saturday to the end of the year.
New survey figures show that the number of day trips to Blackpool was down by almost 400,000 this summer compared with 2017. Longer-stay visits remained steady at about 1.5 million, but the total of day visitors fell from 1.7 million to 1.3 million.
The number of people arriving by train at Blackpool this year has been more than 15 per cent lower so far than in 2017.
The deputy leader of Blackpool Council Gillian Campbell said: 'After the long-awaited completion of electrification works and the introduction of new direct services to Blackpool, this summer should have seen an upsurge in inbound rail travel. Instead our passenger numbers have gone backwards.
'Although the fall in day trips is a small percentage of our visitor market and our overall visitor numbers are still higher than 2016, it is disappointing given the level of investment in new attractions this year. Blackpool and its tourism industry bore the brunt of the cancellations and delays after the new Northern timetables came into effect in May and it is hard not to conclude that that has had a significant negative impact.
'Clearly as the summer progressed many potential visitors lost all faith in the rail services as a means of getting here. Fortunately, the level of overnight stays has remained strong.'
Ms Campbell added that she was nonetheless grateful for extra support from Northern. The operator sponsored the annual two-day air show this year, and also helped to pay for marketing and an additional fireworks display.
She concluded: 'The focus for rail operators must be to reach a level of reliability so that visitors can rebuild their trust in train services as a means of getting to and from the resort.'
Earlier this week, a spokesman for Northern said: 'We are delivering on all of our commitments and are investing more than £600 million to transform local rail in the North – with new trains, better stations, more services and faster journeys. This is the biggest investment into rail in the North in a generation. But the franchise has faced a number of exceptional circumstances, notably the ongoing, late delivery of infrastructure upgrades. These delays were out of our control.'
Reader Comments:
Views expressed in submitted comments are that of the author, and not necessarily shared by Railnews.