Posted 2nd May 2019 | 6 Comments
Branson says franchise competitions should be cancelled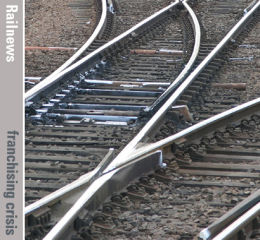 VIRGIN founder Sir Richard Branson has called for all outstanding Department for Transport franchise competitions to be scrapped until the recommendations of the Williams Rail Review have been published in the autumn. He has also claimed that four current franchises are 'struggling'.
Virgin is one of four companies which have had bids rejected on the grounds that some of their provisions for pension funding were 'non-compliant'.
The bids affected had been submitted by Stagecoach, SNCF and Virgin for West Coast Partnership, Stagecoach and Arriva for East Midlands and by Stagecoach for South Eastern.
The DfT announced its decision on 10 April and simultaneously awarded the East Midlands contract to Abellio by default, as the only bidder left on the shortlist, although the DfT now says the Dutch bid was the 'strongest'. Abellio is set to take over East Midlands from Stagecoach in August. Stagecoach has since claimed that confidential documents about the bid were sent to Abellio in error by the DfT.
Richard Branson recalled the failure of the West Coast competition in 2012, when the DfT awarded the next franchise to FirstGroup but then had to cancel it when Virgin successfully challenged the official calculations.
His latest blog says: 'The process was far from robust and the DfT was forced to cancel the competition … now history appears to be repeating itself. Virgin has always been happy to accept appropriate risk and compete for customers, but the DfT has disqualified our West Coast Partnership bid because we refused to take responsibility for risks we cannot control – including the risk of funding unquantified additional pension liabilities. Our partners, Stagecoach, have had bids for the South Eastern and East Midlands franchises disqualified for similar reasons.
'Clearly there are still serious lessons to be learnt at the DfT. Instead of encouraging operators who are focused on customer service and innovation, its priority seems to be outsourcing as much risk as possible. Rather than advocates of customer experience winning franchises, we could end up with an industry run by actuaries. All but the very biggest bidders, who can take these risks, could disappear, with the UK effectively outsourcing areas such as pensions risk to foreign governments. It is notable that the East Midlands franchise has been won by an arm of the Dutch government.
'It is something of an open secret in the industry that four other current franchises are now also struggling. And that's before the £750 million risk of split-ticketing and potential £7.5 billion of pensions risk are applied across the industry. There is also the risk of new open access operators taking significant revenue from franchises. The inescapable conclusion is the government is setting franchisees up to fail.
'When the Williams Rail Review was announced, the government rightly cancelled the Cross Country competition. With two of the three outstanding competitions under a cloud, it is far from clear that any franchise can be let robustly as things stand. The DfT should take a pragmatic view and cancel all franchising competitions whilst Keith Williams does his vital work.'
It is known that Greater Anglia and South Western Railway have both sounded the alarm over the effect of the 'flawed' link with employment levels in franchise contracts known as the Central London Employment clause, while Railnews reported in November last year that Northern was in 'crisis talks' over revenue shortfalls, which were at least partly due to the prolonged disruption which followed the introduction of unworkable timetables caused by electrification delays.
At the time the RMT claimed that TransPennine Express was in similar 'dire straits'.
On 19 October last year, a spokesman for Greater Anglia said: 'The agreement for the East Anglia franchise includes a risk sharing measure known as the CLE mechanism. This was intended to provide protection for the operator and the Department for Transport against revenue fluctuations as a result of dramatic changes in the London economy.
'However, it is now widely accepted that CLE is a flawed mechanism that does not deliver on the intended aims. We are therefore working with the DfT to develop and implement more effective risk sharing models.'
The Department for Transport told Railnews that it has 'total confidence in its process', and that there had 'never been a Crown Guarantee on TOC sections of the Railways Pension Scheme. In the vast majority of franchises, franchisee have been on full risk for changes to employer contributions during their franchise term.'
A spokesman added: 'Abellio were awarded the franchise after presenting the strongest overall bid which delivers the best deal for rail passengers. Stagecoach submitted non-compliant bids for the East Midlands Railway franchise and all current competitions, repeatedly ignoring established rules by rejecting the commercial terms on offer. In doing so, they are responsible for their own disqualification.'
'An expert third-party investigation established conclusively that Abellio did not access any information relating to any other bidders that affected their bid. There was no effect whatsoever on the outcome of the bid process.'
Reader Comments:
Views expressed in submitted comments are that of the author, and not necessarily shared by Railnews.
BR did what it could on a very tight shoestring budget, whilst also avoiding wholesale closures. Lord knows what it would have done with the funds that have been shovelled down Branson and co's throat for the last 20 odd years.

The 21st century equivalent of BR regions? Looking at which lines to close? Ordering Pacers? Expecting passengers to accept bus shelters as stations?

No thanks.

So, person who has benefited from competitions wants competitions banned incase he doesn't win next competition.

Err... Turkey.... asking to ban Christmas.... gobble gobble??

Franchises should be binned indefinitely. Let them all expire and hand control back to state-run bodies which can then become the 21st century equivalent of the BR regions.

None of the Franchises seem clear at the moment what is expected of them. Companies who can't calculate the costs and profits won't be able to make bids that are realistic - and therefore risk making losses and bankruptcy should they rely on Guesswork. It does seem to indicate that a period of reflection on the whole process is needed.