Posted 15th March 2019 | 2 Comments
Edinburgh tram extension gets go-ahead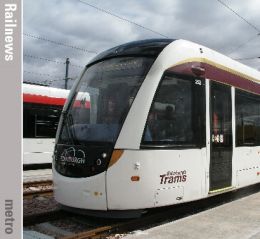 COUNCILLORS in Edinburgh have approved plans to build a further section of the city's tram line from the city centre to Newhaven.
A full meeting of Edinburgh City Council gave the green light to the scheme last night, having heard that the cost is likely to be just over £200 million.
The 4.6km extension will follow the alignment of part of the original proposals for a three-line network. These proposals were drastically cut back after construction costs spiralled out of control, and the opening between York Place, just off Princes Street, and Edinburgh Airport was also several years late.
The delays had been worsened by a bitter dispute over costs between the council's development company TIE and the contractors. TIE itself has since been wound up, and a public inquiry into the problems is still continuing.
The projected price of the Newhaven line has already risen by 25 per cent, triggering concerns that history could repeat itself.
Harald Tobermann, of the Community Councils Together on Trams group, is calling for controlled parking along the route. He said: 'We recognise that a strong feeling exists among many people in our communities that this project is being pushed through with undue and unnecessary haste.'
The project will be paid for by borrowing against future fares income plus a £20 million 'dividend' from the council's bus company Lothian Buses, and trams should be running by early 2023.
Edinburgh City Council's transport convenor Lesley Macinnes said: 'This is a crucial decision for Edinburgh – for today's residents and for generations to come.
'Taking trams to Newhaven will allow brownfield development sites to be transformed, opening up the whole of north Edinburgh to a wealth of opportunities in terms of jobs, housing and local facilities.
'I firmly believe the tram project is in the best interests of the city's current and future residents and, as an administration, we will do everything in our power to make sure it's delivered on time and on budget.'

Reader Comments:
Views expressed in submitted comments are that of the author, and not necessarily shared by Railnews.
Controlled parking will not work on Leith Walk a total ban is required as the trams and buses will be snarled up this has to include blue badge holders. So some off street parking has to be provide on the Walks many side streets with 30 minute stay. On an aside noticed how many blue badge holders park in recharging points! has to be stamped out you wouldn't be allowed to park at a petrol pump would you.