Posted 31st October 2018 | 2 Comments
ORR gives green light to Network Rail's £35bn plans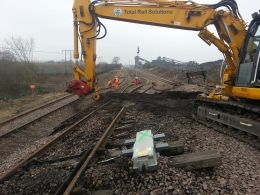 THE rail regulator has approved Network Rail's £35 billion budget for Control Period 6, which starts in April.
Network Rail has been required to place reliability higher up its agenda, and the Office of Rail and Road has now approved a budget which includes £7.7 billion for maintaining the railway and £16.6 billion for renewing it.
The remaining £10 billion will fund Operations (£3.4 billion), Support (2.6 billion) and miscellaneous schemes (£4.3 billion) such as the Performance Innovation Fund (increased from £10 million to £40 million) and the System Operator costs (almost doubled since CP5 and now standing at more than £270 million).

The additional money will fund an increase in the System Operator workforce from 700 to 800, and is intended to improve timetable planning. Another £245 million will fund research and the development of new technology. The ORR said 'it is vital that innovation keeps pace with changing needs'.
The ORR also said Network Rail is set to become 'much more locally focused, with each of its eight geographic routes having its own budget, delivery plans and scorecards'. The Routes will also be able to buy goods and services within their territories rather than centrally, when local suppliers would be cheaper.
Industry charges and incentives will be simplified, and some 'outdated mechanisms' will be scrapped.
What is missing from the deal is funding for new works and major enhancements, such as electrification.
After budget problems in CP5, particularly when electrification costs rose dramatically, the Department for Transport will now fund such schemes on a case-by-case basis.
ORR chief executive John Larkinson said: 'Network Rail, its routes and its system operator can now press forward with their plans to deliver a service which passengers and freight customers rightly demand and deserve.
'These plans are focused on improving performance for passengers and freight operators by getting the basics right – ensuring that the railway is properly maintained and renewed, and on improving the daily operation of the railway.
'There is no time to lose; Network Rail and, in particular, the routes and System Operator must make sure they are ready to deliver from day one of the new control period. That is why we have and will continue to report on – and where necessary challenge – Network Rail's readiness.'
Network Rail chief executive Andrew Haines said: 'We welcome the news from the regulator which secures increased investment in the railway and shows confidence in our plans. We know that it's been really tough for passengers recently and we have an opportunity to bring about real change, focusing on putting passengers and freight users at the front and centre of what we do. There are challenges ahead, but we will make this funding work hard over the next five years to deliver a better and more reliable railway.'
Reader Comments:
Views expressed in submitted comments are that of the author, and not necessarily shared by Railnews.
Electrifying the railways is a better choice. Not only helping the environment but also to provide much quicker journey times with new electric multiple unit trains being built to replace the older electric trains. And to replace the diesel multiple units. Aswell as electrification on the Stirling, Dunblane and Alloa lines and the Shotts Line in Scotland that is nearing its completion so that new Class 385 EMUs will soon operate on those lines. And the Manchester-Preston Line via Bolton, Great Western Main Line between Swindon and Cardiff Central. And the Chase Line between Rugeley Trent Valley and Walsall are all scheduled to be completed next year along with new trains to be built to replace the older trains.