Posted 23rd November 2017
National Audit Office issues Thameslink warning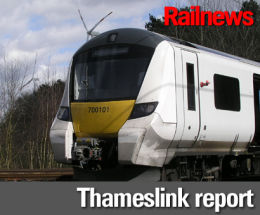 THE National Audit Office has warned that the planned intensive Thameslink Programme services cannot yet be reliably supported by the 'wider network', and agrees that a 12-month postponement of the full 24tph service through the London core is a 'sensible step'.
The full peak service through the central London core of 24 trains an hour is not now expected to start until December 2019.
It's emerged in a new report published today that the Department for Transport asked Govia Thameslink Railway to review its plans in October, although the change of heart was given no publicity until this week.
Chris Gibb, who chairs the Thameslink Programme Industry Readiness Board, said: "By phasing the introduction of the new timetable in this way, we have front-loaded the benefits for passengers and then spread further changes in such a way that they can be more reliably introduced.

"Passengers will still enjoy almost as many additional trains in May as previously planned and we are doing some things earlier with an early introduction of some off-peak Thameslink trains through to the East Coast Mainline in April and the early use of the London Bridge route to give performance improvements.
"We have also spread out the introduction of the rest of the cross-London services over three further timetable changes instead of just one. This will reliably embed new operating principles in a progressive manner, enabling a smoother introduction with reduced risk of passenger disruption from too much change at any one time."
The NAO has concluded that the main Thameslink Programme is set to be value for money, but also warned that 'there remain risks which the Department and Network Rail need to manage carefully. In particular the Department and Network Rail now face a challenge to be ready to deliver the new services, having not begun this work early enough.'
It said that 'The wider rail network cannot yet reliably support the Thameslink Programme's new services,' and that the new Class 700 trains built by Siemens had been late arriving, although the delivery plan was expected to be back on schedule by the end of 2017.
The report found that 'there is limited time remaining for planning to be completed. Development of these plans also requires a high degree of collaboration across the rail industry, and clarity over who has the authority to make decisions on how the rail network operates. However, the Department and Network Rail did not fully consider what arrangements they would need to manage the transition to bringing the enhanced services into use'.
National Audit Office head Amyas Morse said: "The Thameslink programme has a realistic prospect of delivering value for money, with significant benefits for passengers in terms of increased capacity, and more trains but a number of key risks and challenges still remain to be overcome.
"The Department's recent decision to introduce new services more gradually than originally planned means that passengers will get the full expected benefits one year later than planned, but it is a sensible step to protect value for money and passengers from further possible disruption due to large numbers of new services being launched at the same time."