Posted 17th October 2018 | 4 Comments
Hitachi train under test 'brought down wires' on GWML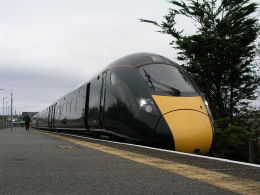 (Library picture)
Updated 11.05, 12.51

TRAIN services to and from London Paddington have been severely disrupted after overhead wires were damaged by a train near Ealing last night, although some trains have now started running from Paddington.
The train involved was a bi mode Hitachi Class 802 Intercity Express under test which 'brought down the wires', according to internal sources. It was not being operated by GWR at the time. It is not yet clear whether the train or the OHLE was at fault. The incident left a number of other trains stranded in mid-section.
Passengers are being urged to find alternative routes into London. Crowds of frustrated commuters were reported at Reading, and South Western Railway warned that its services between Reading and London Waterloo are extremely busy.
Some long distance Great Western trains to London from Bristol, Worcester, Cheltenham, south Wales and south west England have been terminating at Reading, but some are now running through to Paddington again.
Although Network Rail has deployed emergency repair teams and some lines have now been reopened, disruption will continue for the rest of the day because many trains will have been left out of place.
Netrwork Rail and Hitachi have launched an investigation. Hitachi pointed out that there have been 'years of successful testing' on the GWML. More recently, the first 802s have been entering service. Hitachi said the investigation would be 'full and thorough' to find out what could have gone wrong in this case.
A spokesman for Network Rail said: 'We are experiencing severe disruption on all services into and out of London Paddington and this is likely to affect services in other areas for the rest of the day.
'This is owing to 500 metres of extensive damage caused to overhead power lines in the Hanwell area yesterday evening (Tuesday 16 October). We have been working throughout the night to understand the extent of the damage.'
Reader Comments:
Views expressed in submitted comments are that of the author, and not necessarily shared by Railnews.
Just bad luck in my view. Pantograph strikes happen from time to time. Just happened to have been one of the new class 802's.

I don't understand what all the fuss is about? The new trains are working well between London and Swansea, so what happened here must be related to something external surely?
It'll all come out in the wash, but let's remember, these trains are here to stay.

I don't know why the overhead cables were damaged, but I can say that the new trains running on the GWR are the most uncomfortable I've ever known. Even a train manager said he felt shaken to the core at the end of a shift. I think I'll be giving them a miss, whenever I can!

Was it to do with something that got caught up in the pantograph which could of lead to the overhead wires coming down and damaged the pantograph.
(Who knows? Let's wait for the investigation to be completed.--Ed.]