Posted 14th September 2018 | 5 Comments
Intercity Express failure stranded 400 passengers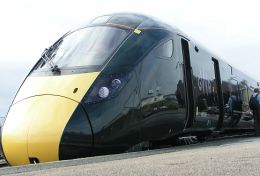 AN inquiry has been launched by GWR after a new Class 802 Hitachi Intercity Express bound for London failed just north of Exeter, stranding passengers for five hours.
The 14.00 from Penzance to Paddington came to a sudden stand between Exeter St David's and Tiverton Parkway on Thursday, with around 400 passengers on board. Eventually, another train was used to evacuate them, but the main line was blocked for a time as a result, delaying other services between Exeter and Taunton.
Unconfirmed reports suggest that the problem was caused by a brake fault. The delay occurred the day after a freight train had become derailed at Coleshill in the West Midlands.

GWR has apologised to the passengers on the London train, and said they will be receiving refunds and a free ticket.
Some passengers criticised the lack of information, but praised the staff on board. GWR, meanwhile, said 'every effort' had been made to restart the train. Eventually, the affected passengers were returned to Exeter later that evening.
GWR added: 'Our priority was to get customers on board on their way as quickly and safely as possible. We used another train to get them where they needed to go, with staff handing out hot food and drink.'
It is not the first problem to affect Hitachi's Intercity Express Trains. A GWR Class bi mode 800 set from Bristol to London developed an air conditioning fault when it was carrying transport secretary Chris Grayling on the inaugural journey last October, leaking water on to passengers in one coach, and also failed to switch from diesel to electric power en route. More recently, it has emerged that the 'Azuma' IETs on the East Coast Main Line are emitting high levels of electronic interference which affects signals and other safety-critical equipment. This may delay their planned launch in public service this December.
GWR is planning to replace most of its HSTs with the new trains over the next few months.
Meanwhile, the Rail Accident Investigation Branch is examining a freight train carrying containers which became partially derailed at Coleshill between Birmingham and Nuneaton on Wednesday. A crane has been needed to remove several overturned wagons and their loads, and the track has been damaged. No injuries were reported.
Network Rail warned that disruption on the route was expected to continue until Sunday night, affecting CrossCountry services. There is also a reduced service running between Nuneaton and Leicester.
Reader Comments:
Views expressed in submitted comments are that of the author, and not necessarily shared by Railnews.
Aside from this failure, these new trains are proving themselves ergonomically toxic, electromagnetic torture devices. Nice one, Firstgroup!

I was stuck for 3hrs on the Paddington to Penzance service, meaning a 3hr journey took 6hrs.
What annoys me is that we left London at 6pm, and got stuck at 8pm. So they had 3hrs from when the train broke down to stop other trains getting stuck behind it. Why couldn't they come up with a plan that didn't involve all the trains waiting in the middle of nowhere? Why couldn't they have stopped us at Tiverton Parkway station? If they had done that, when it became obvious that the train couldn't be fixed and when they closed both lines to perform the evacuation, they could have got some coaches in to ferry passengers on other trains to Exeter / Tiverton / Taunton stations.
It seems like there is no resilliance in the network at all and the people who control the trains have no contingency planning or resources.

Andrew Gwilt > The failure was caused by a broken air pipe which caused an emergancy brake application, the same thing could have happened to a HST, Voyager, Class 150 etc. It was just pure bad luck it was a branch new train, the IET's have been outperforming the HST for several months now.

And this is why Class 43 HSTs have lasted longer and have been the most reliable trains in the UK with less break downs and better performance. Oh dear looks like new trains will soon become passengers worst nightmare. Since Hitachi built them and are still continuing to manufacture more for the East Coast Main Line (London North Eastern Railway), TransPennine Express and Hull Trains. And with more ScotRail Class 385s also being manufactured with some already in service. Has Hitachi not know how these new trains will be reliable and useable for longer journeys. I guess that these trains will still have technical problems and more break downs for years and decades to come.