Posted 11th September 2018 | 6 Comments
Intercity Express problems mount on East Coast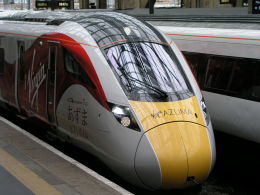 THE new Hitachi Intercity Express 'Azuma' trains destined for the East Coast Main Line could be causing greater problems than have been reported so far, according to industry sources.
The new fleets of electric and bi mode trains are the most 'noisy' trains encountered for many years, according to internal Network Rail messages. The word means electrically noisy rather than loud, and the result is that other electronic devices are seriously affected by stray frequencies emitted from the trains.
According to documents seen by Railnews, these include not only signals but other equipment, such as axle counters and even CCTV. The problems may not be confined to the section between Edinburgh and York either, sources say, pointing out that problems have been reported in this area because that it is where testing has been mainly carried out.
Suggestions in the media that trains would have to revert to diesel north of York may also be wide of the mark, because only 23 of the 65-strong fleet will be bi mode, which means the other 42 could not 'revert' to any alternative power.
Both Network Rail and Hitachi say they are working to overcome the problems, which threaten the planned introduction of Azumas in December.
Hitachi said: "There are a number of 30-year old signalling systems on the East Coast line which require modifying to operate with modern electric trains – which has been confirmed by an independent report.
"Network Rail is planning to carry out this modification work before the Azuma trains enter into passenger service. This is the same issue encountered 15 years ago when the Pendolino was introduced on the West Coast Main Line.
"The same trains carrying passengers on the Great Western route have already covered over two million miles. We require further modifications to the East Coast route in order to run modern trains under electric power."
Network Rail said: "Electro Magnetic emissions from the train are interfering with existing safety critical systems – a fact confirmed by the independent report. It is Hitachi's responsibility to demonstrate that the IEP trains can run safely on the East Coast Main Line, accordingly we believe that this issue should therefore be fixed on the train. However, in the interests of finding a practical solution to ensure passengers benefit from the new trains, Network Rail is looking at mitigation to lineside infrastructure - alongside further modifications to the trains - which will be subject to further testing by Hitachi to demonstrate compatibility. We are committed to delivering improved passenger services and the new trains continue to be tested on the East Coast Main Line."
Reader Comments:
Views expressed in submitted comments are that of the author, and not necessarily shared by Railnews.
The manufacturers are responsible under the EMC Directive. However, it could be argued that NR ought to be able to supply parameters for any EM interference, apart from the fact that they don't have sufficient information about their lineside equipment.

There is very often this kind of trouble with new equipment, hence the need for extensive testing, and subsequently special fittings (filters etc) to take care of the specific problems identified. Nothing to do with how other traction performs, nor on who ordered the equipment.


Oh dear. It doesn't look good for London North Eastern Railway. Since they took over from Virgin Trains East Coast back in June.

So the Class 91 'Stealth Bombers'(6,300hp) have been charging up and down the East Coast for 20 odd years without much trouble and the Class 92s(6,700hp) ditto on diverted sleepers but the Japanese rubbish cant handle it? priceless!

Does the EMC Directive not apply to railways?

This is what happens when trains are specified and ordered by ministers and civil servants rather than railway people!