Posted 15th October 2018 | 3 Comments
First Intercity Express reaches Newquay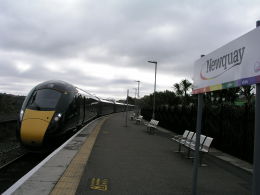 AN HITACHI Intercity Express has arrived at Newquay on the north coast of Cornwall for the first time.
The gauging run from Bristol ended successfully at 11.17, when the ten-car Class 802 came to a stand at Newquay in preparation for the holiday season next year.
Through intercity trains run to Newquay between May and September, and the Great Western services from London Paddington have been worked by HSTs since 1987.
These veteran trains are now being withdrawn in favour of Intercity Expresses, and today's run was to test clearances on the 32km branch, which is mostly single track.
One problem emerged during the trial. If ten-car trains are used, two of them would be unable to pass at the line's principal intermediate crossing place because the loop, at Goonbarrow Junction, is slightly too short, but careful allocation of sets for Newquay services is expected to be the answer.
The gauging team were otherwise pleased with the results of the special run, and have returned with detailed data to Stoke Gifford depot on the outskirts of Bristol.
The first IET is now set to run in service between London and Newquay in May 2019.
Reader Comments:
Views expressed in submitted comments are that of the author, and not necessarily shared by Railnews.
Will GWR start displacing the Class 43 Mk3 HSTs but to keep some. As the Class 800s and Class 802s are now in service. And with GWR to introduce more new services including London Paddington-Newquay from May next year which they will use the Class 802s on that service.

the railway line from par to Newquay is single track how can the new trains run with all the other dmus the railway station at Newquay cant cope with just a single line it needs redoubling all the way from par to Newquay the whole line needs updating
[You can't 'redouble' a line which was never double throughout (far from it). The IETs will occupy paths previously used by HSTs. Increases in capacity on the branch would of course be more than welcome, but where is the business case?--Ed.]