Posted 20th September 2018 | 5 Comments
ORR condemns timetable chaos: Grayling promises reform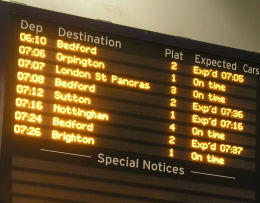 ► Industry ran out of time and lacked accountability
► Apparent gap in industry responsibility, says ORR report
► DfT launches 'root and branch' railway review
► Cross Country franchise competition suspended
► Campaigners call for fares freeze in New Year

A HARD-HITTING interim report from the Office of Rail and Road into why May's timetable changes didn't work has said the industry simply wasn't ready, and that there was a lack of accountability.
Its findings have been published at the same time as an announcement from the Department for Transport that transport secretary Chris Grayling is launching a 'root and branch' review of the railway industry which is being described as the most significant since privatisation, more than 20 years ago. The Cross Country franchise competition is being suspended for the time being to allow the results of the review to be considered first, although the DfT said other franchise replacements in progress will continue.
The three-month inquiry which has resulted in today's ORR report found that Network Rail, Govia Thameslink Railway, Northern, the Department for Transport and the ORR itself all made mistakes which contributed to the collapse of services, particularly on the GTR and Northern networks.
The changes which were introduced on 20 May were trailed as the largest for many years, with thousands of trains being retimed. GTR alone had planned to introduce 400 new services to boost capacity ahead of further upgrades which are intended to eventually provide 24 trains an hour through the central London Thameslink core at peak times.
However, within hours of the new schedules being launched performance fell through the floor, with numerous cancellations affecting many routes in the south east and north of England. Timetables have been rewritten more than once since then in repeated efforts to retrieve the situation.
ORR chairman Prof Stephen Glaister said: 'Good intentions and over-optimism within the rail industry about its ability to recover missed deadlines left no time to uncover and fix problems.'
Systemic risks
Significantly, especially in the light of Chris Grayling's newly-announced review, the inquiry discovered 'that there is an apparent gap in industry responsibility and accountability for managing systemic risks'. The ORR says that needs to change.
The inquiry found problems caused by delays were made worse by Network Rail, which wrongly believed it could make up the time. It also found that the DfT's decision to agree to introduction of Thameslink changes in several phases had stretched the resources of Network Rail's timetabling department too far, which was a problem the industry failed to predict.
Matters were made worse because 'the industry placed engineering and planning concerns ahead of serving its passengers', which meant information about the problems was also poor, leaving many passengers in the dark about whether their trains would turn up at all.
The report concludes that Network Rail was 'best placed to manage these risks but did not take sufficient action', while both the DfT and ORR failed in their duties to supervise the network.
Network Rail chief executive Andrew Haines, who has only recently joined the company as successor to Mark Carne, said: 'I'd like to add my sincerest apologies to passengers for letting them down with May's timetable troubles. A whole system approach to timetable planning must be the way ahead and we have already started on that path with the new winter timetable due in December that will see some modest improvements.'
The DfT agreed that the disruption was 'unacceptable' and has welcomed the report's findings.
Railway review
Meanwhile, the Department is promising a railway industry review which will be 'the most significant since privatisation', and the review panel will be briefed to consider 'all parts of the rail industry, from the current franchising system and industry structures, accountability and value for money for passengers and taxpayers'.
It will be led by Keith Williams, who is deputy chairman of the John Lewis Partnership and previously served as chief executive of British Airways.
It is not yet clear if the DfT will be ruling anything out, although renationalisation is unlikely to be high on the list.
The DfT said Mr Williams and his team will 'build on the government's franchising strategy', increasing vertical integration between track and train and also considering regional partnerships as well as the role of innovation.
The panel will include Roger Marsh, who chairs the body representing the 11 Local Enterprise Partnerships in the North of England.
The reasons for rapid growth in demand since 1993 are far from clear, particularly because a strong growth trend became clearly established several years before privatisation could have made any noticeable difference.
However, the DfT concedes that the industry has 'not kept pace with this significant growth, shown as the industry struggled to deliver for passengers following the May timetable disruption'.
Chris Grayling said: 'Privatisation has delivered huge benefits, but it is clear that the structure we inherited is no longer fit to meet today's challenges and cope with increasing customer demand. Following the disruption this summer we took immediate action to improve services and ensure the industry compensated passengers.
'We've been clear that the railway needs reform to prioritise its passengers, and we have set out plans for closer partnerships between operators of track and train, including on the LNER and South Eastern networks.
'But as part of our vision for the future of mobility, we need to go further and more quickly, to get the best from the public and private sectors and deliver the railway we need for the 21st century. It is vital that this review leaves no stone unturned and makes bold recommendations for the future.'

Reaction
There has been widespread industry reaction this morning.
Paul Plummer, who is CEO of the Rail Delivery Group, said: 'We are committed to changing and improving the railway. That's why we have been calling for a review and why we launched a plan last year to deliver more for our customers, the economy, communities and our people. To help us achieve this, what's needed is a wide-ranging review looking at every part of the railway and focused on what works best for customers and taxpayers.
'While we continue to look at our own role in driving improvement, root and branch reform of the whole system can only be delivered with the help of government.'
Anthony Smith, who is chief executive of the independent watchdog Transport Focus, said: 'Passengers will cringe when they read Stephen Glaister's report which identifies a catalogue of over optimism, missed deadlines and blurred accountability that led to this summer's timetable crisis and the ensuing chaos. The lessons of this report must be acted on swiftly – so the next set of timetable changes that kick off in December are managed more smoothly and certainly before fare increases take effect next January.
'The Rail Review must address what went wrong, and to repair trust amongst the travelling public it must ultimately deliver a more resilient rail system that offers more space for passengers to sit or stand and better value for money.'
Labour's shadow rail minister Rachael Maskell said: 'It's clear that the timetabling chaos was caused because Chris Grayling failed to get the rail industry to work together effectively. This report from the rail regulator is merely the latest to highlight the dysfunctional buck passing which goes on across the rail industry.
'As the transport secretary has presided over this fiasco, what confidence can passengers have that he will finally take responsibility and sort things out before the next set of timetable changes in December? I won't be holding my breath.'
The Rail Freight Group called for freight to be 'at the heart' of the DfT's review. Executive director Maggie Simpson said: 'Across the country, our members are hungry for more rail freight, but it can be hard to deliver their expectations when there is an ever-greater focus on integrating track and passenger services. We need this review to put freight customers at the very heart of its considerations and find the right mechanisms to deliver the growth that our economy demands.'
The RMT dubbed the ORR report as a 'whitewash'. The union's general secretary Mick Cash said: 'This report is just a whitewash that ignores the dire consequences of nearly twenty five years of privatisation, fragmentation and exploitation on Britain's railways. It lets the private rail companies responsible for the timetable chaos right off the hook. The ORR are up to their necks operationally and this is effectively the industry investigating itself. It's a nerve this mob claiming the rail industry lacks leadership when they have been party to smashing it up into profiteering fragments.'
The Campaign for Better Transport repeated its call for a fares freeze in January. Chief executive Darren Shirley said: 'We welcome this significant and wide-ranging review. The railway in its current form is not working for passengers. Fares continue to rise, whilst punctuality is at its lowest level for 12 years. It is understandable that passengers have lost faith and trust. This review must lead to much-needed reform of fares and ticketing, the franchising system and the way the railways are run. The promise that it will prioritise the needs of passengers cannot be forgotten if trust is to be rebuilt; and the reforms cannot come soon enough for long-suffering passengers.
'In the meantime, passengers cannot be expected to pay increased fares from January, and the Government should freeze fares in recognition of the poor level of service this year as a first step to restoring passenger confidence in the railways.'
Reader Comments:
Views expressed in submitted comments are that of the author, and not necessarily shared by Railnews.
So the Arriva could extend the Crosscountry franchise as the government doesnít want to take over. Why not let the government take over the Northern franchise as Arriva havenít done anything good and they keep on allowing strikes to happen. Or could Labour leader Jeremy Corbyn form their own franchise to take over the Northern franchise in the future.
[Strictly, it is the other way round. The Government is extending the CrossCountry franchise so that Arriva can continue for now.--Ed.]

When you are in a hole, stop digging. Chris Grayling has recognised that by postponing the Cross Country Franchise and delaying the South Eastern franchise award.
Fare increases plus poor service deepens the hole and can reduce total receipts from fares.
So we need SELECTIVE fare increases rather than blanket increases, with franchisees identifying the worst split ticketting anomalies in their area and a detailed selective increase policy to reduce those anomalies. Plus other radical ideas.

The trouble is Network Rail. If they are late on delivery or simply don't deliver, how do you punish them? If you fine them, then you are taking money out the system that is needed for improvements. Yes they have been fined in the past but the money just goes back to them in other ways, some penalty!
You also cannot simply fire people for not delivering as it wont be long before we see problems and possibly accidents as a result of rush jobs.
The only option I see is to introduce competition for NR. The track management company that deliver cost effective and timely results get more contracts and those that dont, simply dont get any work.

For goodness sake, stop reviewing and start doing

'A root and branch reform', another one! how many more utterly useless Rail Ministers are we going to have to suffer ? Yes the network inherited from BR was in need of investment(step forward successive Government) but splitting all its parts was and is NOT the answer.