Posted 13th September 2018 | 1 Comment
Compensation boost for delayed Northern passengers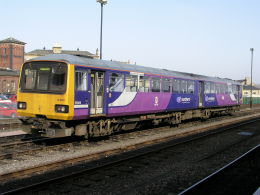 Updated 10.54 (Transport Focus)

COMPENSATION for passengers on Northern affected by delays is to be payable after 15 minutes from the end of this year.
Northern services have been disrupted since the spring, when the new May timetables proved to be unachievable.
Rail minister Jo Johnson is announcing the change today during a visit to a meeting of Transport for the North in Sheffield.
It's only the second time that such a change has been introduced during a franchise term, although the government does intend to make 15 minutes the standard as franchises are renewed. The first mid-term change from 30 to 15 minutes was on Govia Thameslink Railway in 2016, after major disruption on Southern had been mainly caused by DOO strikes.
Northern is also currently affected by industrial action over train staffing. Further walkouts by RMT members have been scheduled for this Saturday, and again on 22 and 29 September.
In related news, Network Rail says punctuality in the north is improving, following joint efforts by NR and train operators, but admits there is 'still much more to do'.
New figures show that in the week following the timetable changes on 21 May, Northern services were achieving an average of 67 per cent punctuality. In the fortnight to 11 September, the figure had improved to 87 per cent.
TransPennine Express services were averaging 70 per cent punctuality on 21 May and are now 'approaching 80 per cent'.
Transport minister Jo Johnson said: 'Passengers deserve a reliable train service, and when things do go wrong it is vital that they are compensated fairly.
'Extending Delay Repay to cover 15 minute delays is a major boost and we are committed to working with train companies across the network to make it as easy as possible for passengers to claim their rightful compensation.
'We are investing in the biggest rail modernisation programme since Victorian times to deliver the improvements that passengers want -- more space, and faster, more frequent services. Improving compensation for delays is a key part of this.'
Northern's franchise contract will be amended to reflect the new level of compensation. Commercial director Mark Powles said: 'We welcome the introduction of Delay Repay 15 later this year. We are putting in place the right measures to make it as easy as possible for our customers to claim compensation for delays.'
Meanwhile, efforts to get more trains running on time are continuing.
Anna-Jane Hunter, who is rail director for the north at Network Rail, said: 'We are making progress. That's good. But we have more to do. We are not where we need to be yet. As an industry team, we are 100 per cent committed to improving services.'
Northern regional director Liam Sumpter added: 'By working together around the clock and making the right changes, we're systematically improving punctuality.'
Transport Focus passenger director David Sidebottom said: 'Transport Focus has continually pushed for enhanced compensation that will benefit all passengers, ensuring they get the compensation they deserve. Passengers on TransPennine Express will now want to know when they can expect the same deal.'
Reader Comments:
Views expressed in submitted comments are that of the author, and not necessarily shared by Railnews.
Could the government take over the troubled franchise in the North of England and to help reduce the strikes and delays that the passengers are suffering across the Northern trains network. Including towns & cities in the North of England where there has seen lots of replacement buses and trains being cancelled all the time.

[It could, but how would that improve the resources and industrial relations problems? Anyway, it is very unlikely. The government dislikes anything that feels like nationalisation, and it has already had to give way this year on East Coast.--Editor.]