Posted 30th July 2018 | 3 Comments
Many services restored on Northern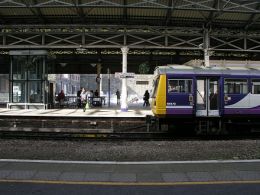 SERVICES on Northern have improved today, with three-quarters of the trains removed at the start of June returning to the timetable.
They include services on the Lakes Line between Oxenholme and Windermere, where local businesses are reported to have been feeling the effects of the lack of trains at what should be the busiest time of the year.
However, with more than 40 trains still not running, the Mayor of Manchester has written a letter of protest to the Prime Minister, asking her to intervene.
Andy Burnham said: "People could have legitimately expected, when fewer trains were running, that at least the ones that were running would be on time, well they haven't been. The emergency timetable didn't solve anything.
"And then on Saturday night, nine o'clock an email lands saying Northern will cancel 47 services tomorrow so we can get trains in the right place for Monday morning.
"Even if trains do run better today it's because there were no services yesterday.
"Speak to any commuter in the north west of England and they will tell you that Northern services were poor for a long time before the new timetable came in and they haven't got much better in the two months since."
Today's partial restoration is deliberately cautious, although the rest of the timetable should return in September.
Northern has been declining media requests for interviews today, but managing director David Brown issued a statement, in which he said: "The May timetable caused significant disruption for customers on some routes on our network and we're truly sorry for that. We introduced an interim timetable on a number of routes from 4 June, and that has enabled us to accelerate our driver training, stabilise service levels, improve performance and significantly reduce last-minute cancellations."
"Whilst we are ready to reintroduce all 168 daily services, given the need to drive further improvements across Manchester, we have agreed to a more gradual reintroduction of our services. A phased introduction is the right approach to ensure a more stable and reliable service."
The Department for Transport is continuing to monitor the situation on Northern and Govia Thameslink Railway, where services were also cut back in June after the new timetables introduced on 20 May turned out to be unachievable.
The problems on Northern have been attributed at least in part to the late-running Network Rail project to electrify the line between Manchester, Bolton and Preston, which is not yet completed.
The DfT said: "The disruption that Northern passengers have experienced is unacceptable and it is vital that services continue to improve and passengers are compensated fully."
Reader Comments:
Views expressed in submitted comments are that of the author, and not necessarily shared by Railnews.
Northern has a mountain to climb rebuilding trust after the disaster that was the May timetable launch. While industry insiders are aware a combination of new trains & cascaded rolling stock should enable many services to be refreshed and the dreaded Pacer units to be retired these welcome developments are still for future delivery. What Northern's customers need to see now is a period of rapid consolidation coupled with sustained delivery of the advertised train service.

While Northern can claim mitigating circumstances with NR's delayed delivery of Blackpool & Bolton line electrification much of the present grief has been self inflicted. Ambitious service enhancement was clearly beyond the capability of the resource pool available to enable it to be delivered. Questions certainly need answers within the complex contractual matrix between DfT, the franchise holder and NR plus the interaction with other TOC's as to why Northern have failed their customers so badly.

Certainly one area where Northern score null points is public relations. Having maintained a bunker mentality during the initial meltdown that Northern are still declining media interviews today beggars belief. Throughout the TOC have allowed their critics free reign to own the media narrative. BBC breakfast news both nationally & north west this morning has led with the 'good' news that Northern are reintroducing services & that Lime Street is open for business for rebuilding but where was a Northern representative to balance the Mayor of Greater Manchester Andy Burnham & the creator of the Northernfail App? It's bad enough that the Transport Secretary won't face his critics directly. Hiding only compounds the view that the TOC isn't fit for purpose and should be stripped of the franchise.


Before going any further: Northern says this is a decision of the Rail North Partnership (presumably a subsidiary of TfN). Is this correct, and if so. who are RFN answerable to?

The important thing, of course: have much power do Andy Burnham and his counterparts already have to resolve this?