Posted 24th May 2018 | 2 Comments
Northern crisis deepens amid more RMT strikes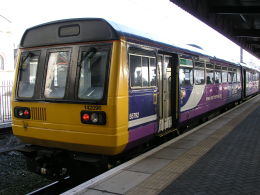 SERVICES on Northern are being disrupted today by the first of two walkouts by RMT staff this week, in the continuing dispute over train staffing. The second strike is set to take place on Saturday.
Northern said its trains would be operating mainly between 07.00 and 19.00 today, and between 07.00 and 17.00 on Saturday. Even during those periods, many trains will be replaced by buses.
The franchise is under growing pressure over poor performance, which has triggered fresh criticism from local government leaders.
Greater Manchester mayor Andy Burnham posted on Twitter: 'Last 14 days on Northern Rail. Full cancellations: 1,159. Part-cancellations: 1,048. Short trains: 529.' He also said central government ministers needed to do more, because Northern's passengers were apparently 'invisible' to them. Liverpool's mayor has added his voice to the calls for rapid improvements. Steve Rotherham has written to Northern seeking assurances that his constituents would 'receive the service they expect and deserve'.
He continued: "These sorts of failings are inconvenient for individuals, leading to missed appointments and late arrivals at work, and also have a damaging effect on the economy of our city region and the country as a whole."
Transport for the North said it was 'extremely disappointed' with the 'inadequate performance' of Northern', adding: "We have formally raised these concerns with Northern making it clear that we want more to be done to rectify the performance issues."
Northern's people and strategy director Richard Allen apologised during a BBC interview, in which he attributed many of the problems to delays in electrification work being carried out by Network Rail. He said: "We are going to work to fix as many issues as we can over the next days and weeks."
The growing crisis has prompted transport secretary Chris Grayling to take action. The DfT said Northern was now its 'number one performance priority', while officials are also investigating to see if the shortfalls in performance amount to a franchise breach. It's reported that Mr Grayling will be holding meetings with senior managers at Northern.
Among the urgent improvements being sought are improvements in driver rostering, more driver route-learning, contingency drivers on standby, managers on duty at major stations, and extra rush-hour services between Preston and Manchester.
The RMT, meanwhile, is maintaining its stance over driver-only operation. The union's general secretary Mick Cash said support for today's industrial action had been 'rock solid', and accused Northern of 'declaring war' on passengers and staff.
He continued: "It is ludicrous that we have been able to negotiate agreements in Wales and Scotland that lock in the guard guarantee but we are being blocked from reaching the same settlement across the north of England. A solution to this dispute is within our grasp but the German-owned Arriva need to stop sticking their heads in the sand, get back round the table and work with the union to bolt it down.
"RMT members have shown extraordinary resilience and determination in the fight for rail safety and we thank the public for their continuing support and understanding."
Reader Comments:
Views expressed in submitted comments are that of the author, and not necessarily shared by Railnews.
On Monday morning I found Northern timetables for routes 36 (Leeds - Manchester Vic etc) and 45 (Leeds - Huddersfield/Hebden Bridge & Huddersfield - Wakefield Westgate) available at Dewsbury station. Not many though.
A noticeable idiocy can be found in the Huddersfield - Wakefield section where although Wakefield Westgate is listed ALL trains now terminate at Kirkgate - breaking the long standing easy connection onwards to Doncaster and London. I have been informed there is a bus link but it is not mentioned in the TT........

No wonder Virgin East Coast wanted to terminate their franchise!

Lots of useless froth from both of the major parties. The problem probably originated from Network Rail's late issue of the new timings. This would tend to impact on route learning for both drivers and conductors.
Has the company been economising on driver/conductor numbers and thus leaving inadequate cover for the above?
Other matters suggest cost savings have taken priority over service. No printed timetables are likely to be available before June.I tried printing table 36 which has 24 pages to obtain details of the Southport - Leeds service. I succeeded but all my printers coloured ink has been used up!
In comparison TPEx have distributed printed booklets for their services.

TOC mangers please note - not everybody wants to spend hours working out the timings on their mobile phone - a printed booklet is much clearer and presents a better overview of the whole service on any route.

The previous version of Northern Rail under Alex Hynes tried hard with an inadequate fleet of trains to provide a good service. I get the feeling that the present company is all about obtaining maximum returns and sod the customers.