Posted 6th June 2018 | 4 Comments
Northern crisis continues, as new strike dates are called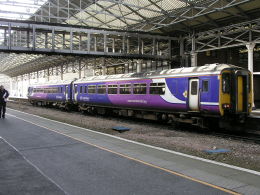 THE RMT has announced three more strikes on Northern, as the disruption which has followed timetable changes continues.
The Transport Committee of the House of Commons is launching a full inquiry into the reasons for the problems. Transport secretary Chris Grayling has already said that the ORR will be conducting a regulatory review, the results of which will be published.
Both Northern and Govia Thameslink Railway have reduced their timetables in a bid to improve reliability, but trains are still being cancelled, while others continue to arrive more than 30 minutes ('significantly') late.
Figures released by the Rail Delivery Group for Tuesday show that up to 11.00 yesterday GTR had operated 954 trains, 5 per cent of which had been cancelled or were significantly late, while Northern had provided 746 trains, and again 5 per cent had been cancelled or significantly late.
These figures are down from the first two weeks, when a full timetable was being attempted. Then, GTR had recorded 13 per cent of trains cancelled or delayed by at least 30 minutes, and Northern 11 per cent.
The RDG said: "It will take time for the new timetable to bed in because it is very complex – the proportions of late cancellations is lower than last week and we expect further improvements later in the week."
The RMT has called new strikes on Northern over driver-only operation on 19, 21 and 23 June.
The union's general secretary Mick Cash said: "We have seen over the past fortnight that Northern is a company which has declared war on its passengers and staff alike. RMT will not stand aside while the threat to axe safety critical guards from Northern services remains central to the company plans.
"This company has reduced the timetable to total chaos and the union will not allow them to slash the safety culture to ribbons in the same fashion."
Meanwhile, the pressure on the transport secretary, Network Rail and the train operators continues.
Lilian Greenwood, who chairs the Commons Transport Committee, said: "Passengers continue to suffer from terrible disruption to their train services, particularly on Northern and GTR services. My Committee is launching an inquiry into the May 2018 timetable change.
"We will begin by questioning Northern, GTR and Network Rail but plan to take further evidence, including from the Department for Transport, so that we properly understand why the introduction of the new timetable has gone so badly wrong, what is being done to put it right and the steps needed to prevent this happening again. The Secretary of State has said there have been 'major failures' – we want to unpick this mess and understand how it can be prevented from occurring in December, when another timetable change is due."
Reader Comments:
Views expressed in submitted comments are that of the author, and not necessarily shared by Railnews.
Andrew, I think you mean Rail Delivery Group (or Rail Apology Group), Rail Operations Group is a freight company.

Unions putting the Public first again, - or Political Opportunism ?

What a pathetic excuse from the Rail Operations Group! and its the Rail Unions fault(of course) both TOCs couldn't run a bath let alone a railway
also the shambles begs the question if it wasnt broken(sort of) why fix it?
priceless.