Posted 14th September 2018 | No Comments
New trains for Northern start British tests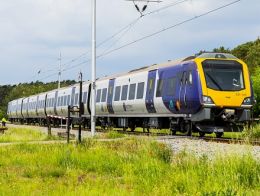 TESTS of new CAF trains for Northern have been launched in north west England.
The first examples of diesel Class 195 and electric Class 331 units have already been given their first running trials in the Czech Republic, but four are now based at Edge Hill depot in Liverpool, where they have been commissioned for operation on Network Rail infrastructure.
The diesel trains have been running from Liverpool on the St Helen's branch and also on the West Coast Main Line between Warrington and Carnforth.
Northern's engineering director Ben Ackroyd said: 'The first of the new trains arrived in June. We've received a further three since then and we now have two of each type of train here for testing. It's very rewarding to see the fleet coming together and the start of track testing is really bringing the project to life after months of design and construction work.
"Our passengers in the North West who get a chance to see the trains as they are tested are going to see something really special, a real step-change in what Northern offers.'
CAF, meanwhile, is in the final stages of opening its new plant in south Wales, where a factory has been built at Newport.
The company's UK director Richard Garner has welcomed the start of rolling stock tests in north west England.'Track testing of the vehicles in the UK is yet another milestone and takes us a step closer to their launch into passenger service,' he said.
The fleets will eventually consist of 98 units. There will be 25 two-car and 30 three-car Class 195 diesels and 31 three-car and 12 four-car Class 331 electric trains. The trains, which will be leased to Northern by Eversholt Rail, will be equipped with WiFi, air conditioning, power sockets and electronic seat reservations.