Posted 22nd January 2016 | 17 Comments
Spanish-built trains ordered for Northern in £490m deal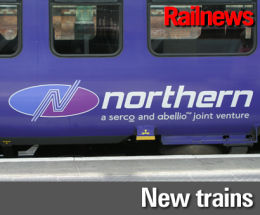 ARRIVA has revealed that it has chosen Spanish train builder CAF to provide almost 300 new vehicles for the next Northern franchise.
Arriva takes over Northern from the current partnership of Serco and Abellio at the start of April, and its franchise commitments include the replacement of the unpopular diesel Pacers which still run on a number of routes in the north. The units, based on a Leyland bus body, are now more than 30 years old, and at the moment some are also running in south Wales and the Bristol and Exeter areas of south west England. More electric trains will also be needed for newly-electrified routes in the north.
Arriva said the contract, worth £490 million, had followed 'a comprehensive procurement process,' and is financed by Eversholt Rail. The new trains will be based on CAF's existing Civity series, and the 160km/h fleet will consist of a mixture of electric and diesel units. There will be 31 x 3-car and and 12 x 4-car electric units, plus 25 x2-car and 30 x3-car diesels. Arriva said the trains would feature air conditioning, power sockets and tables, cycle racks, toilets, digital CCTV and free Wifi. The first are due to enter service in 2018, and will immediately start to replace the Pacers.
The order breaks new ground for CAF, which has built large numbers of railcars for Ireland over the past ten years and also supplied the replacement tram fleet for Midland Metro in Birmingham and Wolverhampton.
Antonio Campos, the international commercial director for Construcciones y Auxiliar de Ferrocarriles in Western Europe said: "This is a fantastic opportunity for CAF to consolidate its position as one of the leading manufacturers of trains within the very competitive UK market. CAF is delighted to be working with Arriva Rail North and Eversholt Rail Group to provide high quality, cost effective and highly reliable trains for the people throughout Northern England. These trains will provide an improved travelling experience for regular rail passengers."
Chris Burchell, the managing director of Arriva's UK Trains Division, said: "We are delighted to partner with CAF and Eversholt Rail to meet the high specification and demanding timetable for delivery of the new rolling stock." He added that he hoped the announcement "once again makes clear our determination to deliver on our promises to passengers".
Eversholt Rail CEO Mary Kenny said: "We are delighted to be supporting CAF and Arriva Rail North with the supply of this new rolling stock for the new Northern rail franchise. These new trains will bring much-needed improvements in comfort and capacity for passengers on this important part of the network and we look forward to working with our partners to bring them into service."
The news follows Arriva's announcement earlier this month that the present Northern managing director Alex Hynes is joining Arriva to lead Northern's 5,500 employees as managing director of Arriva Rail North Ltd. Arriva added that more announcements can be expected soon.
Reader Comments:
Views expressed in submitted comments are that of the author, and not necessarily shared by Railnews.
As much as it is good to have new rolling stock it is a complete tragedy that recent orders have all gone to companies with little or no interest in using British components.
[I don't know about the CAF trains for Northern, but Bombardier in Derby (currently building fleets for Overground and Crossrail as well as Class 387s) uses many British supply chain manufacturers, particularly those in the East Midlands. There are also many British components in the Intercity Expresses being built/assembled by Hitachi.--Editor.]

On the time-scales for Pacer fleet replacement; this puts them on 35 years of service life, which was what was intended - the foofar over the early replacement was a bit of smoke and mirrors.

@Ed
Your figures are a little out of date; there are more than three profitable operators now with most in the south east making nett repayments ** - we have long since past the point of negative returns. Northern is one of those which on it's current cost basis requires considerable subsidy. That will change with the proposed Opex cost reductions on that franchise, and further still with the proposed restructuring of funding for the industry. Privatisation of NR will address the capital financing as well.
Re the unit costs of this contract; yes the prices will be elevated due to the make-up of the procurement. It is also possible that Eversholt Rail will benefit from following on orders with other franchises - Merseyrail, Wales etc.

[Really? The latest rail subsidy spreadsheet available from the DfT is for 2014-2015. It shows that all passenger rail journeys are subsidised to some extent, with the exceptions of South West Trains (net payments are equivalent to 2.1p/passenger km) and Southern (0.2p/passenger km.) Other franchised operators continue to attract a net subsidy (e.g. London Midland: net subsidy = 10.3p p/km, c2c: net subsidy = 2.7p p/km.) Exceptionally, East Coast while in its last few months of public ownership from April 2014 recorded zero, in other words, no subsidy or net payment. (The Virgin/Stagecoach East Coast franchise needed 0.68p p/km in March, but the statistical year ended after five weeks or so of that contract.) So 'negative returns' continue, but the average subsidy for all franchises in 2014-15 was 3.48p p/km, which is lower than 2013-2014. The figures for 2015-16 will be interesting: will this trend of improvement continue? -- Editor.]

2 car sets can be used to increase the length of trains. Our local trains are 350 electrics in 4 car format. Trains therefore are 4 or 8 carriages long when often its 6 that are needed. Surely then this reinforces my point that a 'standard' 3-car formation is better as it will still allow a 6-car formation to be run. While on this topic, I note the artists impression on the CAF webpage shows a unit without any nose-end doors. Wouldn't a through gangway be a better option, to allow crew and passengers to move between sets that are coupled together?

A key problem is that CAF, based in Spain, can offer the product at a significant discount to a product built in the UK because of costs. There will be less return earned on these vehicles than those say deployed to profitable routes, so the purchases and Arriva have had to go for the cheap option.
[Where are these 'profitable routes'? When each TOC's share of Network Rail's direct grant is taken into account (which is a subsidy by the back door), in 2013-2014 only three out of 15 franchised operators did not need a subsidy. The average for the franchised network was a subsidy of just over 4.2p for each passenger km. However, I suspect CAF did offer a good deal. The average price for each vehicle is £1.7m. This is very broad brush (partly because of the traction mix) but does look reasonably competitive.--Editor.]

supporting the steel industry ? last time I checked, the 'british built trains' on offer from Canadian Bombardier or Japanese Hitachi) are Aluminium.

The good news is that Alex Hynes is leading the new franchise. Look forward to seeing new trains and growth in the north. It is also good to hear more jobs being created. Well done Alex for what he has created with the current franchise. Keep up the good work there will be plenty for Railnews to report in the future.

2 car sets can be used to increase the length of trains. Our local trains are 350 electrics in 4 car format. Trains therefore are 4 or 8 carriages long when often its 6 that are needed.

The UK (not Britain) still has a State Owned Railway - Northern Ireland Railways, aka Translink. I don't seem to remember anyone complaining when this largely BREL built fleet was replaced by this same Spanish offshoot of a German company. The picture released looks a ringer for an NIR 3000 class, great for us punters if it is!

I ride home from work on Bombardier Meridians built in Belgium. If either them or Hitachi had got the order, with Derby & Newton Aycliffe full to capacity there's no guarantee they'd be built here.

[Is Bombardier Derby 'full'? Newton Aycliffe is, apparently, but even with the latest orders for Crossrail and London Overground fleets, there are surely more lines available at Litchurch Lane Derby, particularly as S-Stock production is about to end. Recruiting a skilled workforce might be less easy, it is true.--Editor.]

As much as the new and very long overdue rolling stock is welcome, why the order for 25 x 2-car units, why can't they just order 50 x 3-car trains? 2-car trains are pointless if rail passenger growth continues. These trains will just end up as packed as the ones they are meant to be replacing. I have no doubt someone will have a very technical explanation as to why 2-car trains are still necessary.

Rolling stock replacement is cyclical and driven by life expiry; people in the Midlands and North were riding round on 'Pacers', 'Sprinters', 'Super Sprinters' and class 158s when people in the south east were still commuting on Mk l designs. Also, there are trains formed from stock older than 'Pacers' and 'Sprinters' still in use in the south; class 313, 315, 317 (original build) and 455 all immediately come to mind. I can't understand why we should blame MPs for this; after all, it's the DB AG owned Arriva who's procuring the trains (through Eversholt), not the British Government - Germans buying from Spain, is it not?

[No. Germans are not buying anything -- the purchaser is Eversholt Rail. Neither would the order have been placed without DfT approval. Train operating companies are not free agents, and they own (in the sense of assets on balance sheets) very little.--Editor.]

There is no longer a "UK train manufacturer". Two companies, Bombardier (Canadian) and Hitachi (Japanese) assemble trains here, but both have full order books and neither of them would have been able to complete the contract within a reasonable timescale. Under the circumstances, CAF is a pretty good choice.

I suspect the two domestic manufacturers (Bombardier and Hitachi, both foreign-owned) are already at capacity, with train orders for Crossrail and the new intercity trains for Great Western and East Coast. Hitachi is already moving some of the Great Western train production to Italy. Factories can be expanded, sure, but that takes time and these trains are needed now.

Why didn't MPs think of awarding the contract to a company on home soil? It's great to hear that new trains are going to be produced, but we should really be thinking of our own industries first. Furthermore, the steel industry is steadily declining, and soon enough, it will be following in the footsteps of the coal industry. We don't want another industry to disintegrate.

Wow, imagine your daily commute upgraded from Pacer to Civity! Talk about a step up...

(and not a day too soon either)

Disappointed that we have to turn to a foreign manufacturer to supply our train fleets. Whether we are in the EU or not we need to be securing British jobs not Spanish ones.

Just what the north of England desperately needs. All we hear in the media these days is the south is to get shiny new carriages, while we're stuck with Pacers and Sprinters. This is a welcoming news, and will replace the trains which have passed their sell-by date. We'll also get to finally experience what the southerners have the pleasure of doing day in, day out.