Posted 1st July 2016 | 6 Comments
Maiden voyage for Great Western Intercity Express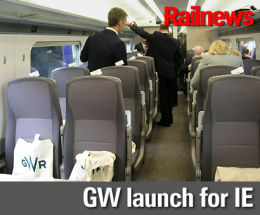 THE first Intercity Express to carry passengers has run on the Great Western Main Line.
The unit, still officially under test, carried guests from Reading to London Paddington. They included the transport secretary Patrick McLoughlin and Network Rail chairman Sir Peter Hendy.
The Intercity Express Programme has been controversial, with some industry observers criticising the cost of the new trains, while delays to the electrification programme on the GWML have also caused concern that the electric versions of the trains could have been delivered by Hitachi before the line is ready for them.
The test run was performed by a bi-modal version which also has diesel engines, because the line between Reading and London is not yet fully electrified.
The first of 57 Great Western sets are due to enter service on the GWML in July next year.
At Reading station, transport secretary Patrick McLoughlin told the guests: "When I used to go down to the south west and tell them about the investment at Reading station, they would look at me and ask: 'What difference does that make?'.
"Well, now you can see the increase in reliability and fewer stoppages around Reading, and the dramatic changes -- not just the station itself, but all the railway around it as well.
"The modernisation of this railway is the biggest since it was built by Brunel. Today, we are seeing for the first time new rolling stock on the line. I think it shows, to take an expression used a long time ago, that the age of the train is well and truly back."
Reader Comments:
Views expressed in submitted comments are that of the author, and not necessarily shared by Railnews.
Why is it the RMT's first and seemingly only response is to go on strike? Don't they realise they are only alienating the public who are already sick of overcrowded trains that are running late? As a commuter I don't care who opens and closes the doors, I just want the train to turn up and get me to work on time and same thing going home. I don't feel in any more danger for my life whether I am on a train with four crew members, two, one or fully automatic like the Docklands line (though they do have a staff member on board).

Funny I've never felt unsafe because of a driver opening and closing doors. However I have been irritated waiting for guard/conductor pushing through passengers to get to a set of doors.

Recently, I've not heard what's going on with those irritating TOCs and their defence of what they call a "safe" way of door operation. What's the latest? ;)
[See new story posted 4 July.--Editor.]

I would be petrified with fear if I had to step onto a DOO set. I want to board a set knowing my fellow passengers would be safe with the guard operating the doors on arrival and departure. ;)

I hope they're not functional with DOO – if they are, do not bring them into service until they aren't. ;)