Posted 12th March 2015 | 10 Comments
First Intercity Express arrives at Southampton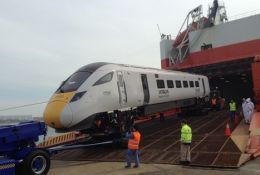 THE first new Intercity Express train built by Hitachi in Japan has been unloaded in Britain.
The train was unloaded from a transporter ship at Southampton today in front of a welcoming committee led by rail minister Claire Perry.
She said: "It is hugely exciting to witness the arrival of the first state-of-the-art IEP train on British soil. These trains will transform rail travel for passengers travelling between many of the great towns and cities of England, Scotland and Wales; provide a massive jobs boost for Britain and deliver billions of pounds of benefits for our economy.
"We are investing record amounts building a world-class railway that provides more seats, more services and better journeys. IEP trains are a crucial part of this and it is fantastic that we are on track for the new fleet to enter service on schedule.
"The IEP is also helping to secure long-term economic growth by creating hundreds of jobs and apprenticeships at Hitachi's new factory in County Durham, as well as thousands more jobs across the UK supply chain. I cannot wait to see the trains being manufactured in Britain and passengers using them."
Although the first Class 800 unit was completed at Hitachi's Kasado works in Japan, most of the two fleets, which are intended for the Great Western and East Coast Main Lines, will be assembled at a new £82 million plant in Newton Aycliffe, County Durham. New maintenance depots are also being built in several locations, which include north Bristol and Doncaster.
The orders from the Hitachi-led consortium Agility Trains for a total of 122 trains, worth a total of £5.7 billion when maintenance is taken into account, had been followed by criticism that the trains would not be wholly built in Britain. However, the DfT emphasised that they contain components from almost 30 suppliers based in the UK, and that the assembly plant in County Durham will create 730 jobs. A contract has also just been signed for new electric trains for the Scottish central belt, which will be produced at Newton Aycliffe.
The first train will now undergo testing to get the fleet ready for service on Great Western from 2017 and East Coast from 2018. All the trains will be in service by 2020.
Reader Comments:
Views expressed in submitted comments are that of the author, and not necessarily shared by Railnews.
'I'm intruiged by the comment that the "Paddington corridor is so dire right now."'

Have a look at the DfT's crowding figures. They're pretty self-explanatory. Off-peak might be all right, but when the crowding at peak hour is that bad, the best train is basically whichever one has the most room inside. A full-length IEP has more seats than the existing trains, and I'd have thought any improvement as early as possible would be welcome.

(Oh, this assumes this first unit is a 9- or 10-car unit. If it's a 5-car unit, forget I suggested this. We *don't* want to switch an 8/9-car HST for a shorter one, however flashy.)

By the way, where was George Osborne? He seems to have been taking great delight recently in announcing investments in our railways, that I thought he would have been at Southampton with the welcoming party. I was beginning to think that he is a closet rail enthusiast!

I'm aware electrification of the GWML isn't going great, but the class 800 that's arrived is one of the diesel-electric hybrids. That could run in advance of electrification as an all-diesel service and use the overhead lines later.

I know in the short-term it defeats the object of a diesel-electric hybrid, and it'll look a bit silly, but frankly anything's an improvement on what the Reading corridor's got now, if the complaints I hear about current crowding and trains are anything to go by.

Tony Ford.
The first of these trains are coming from Japan but the remainder will be built at Hitachi's Newton Aycliffe plant. Hopefully, both Bombardier and Hitachi may soon be building trains in the UK for both domestic use and for export.

I'm intruiged by the comment that the "Paddington corridor is so dire right now." I really like the HSTs - quiet, comfortable and a definite step up from alternatives such as the Voyager.

Chris N-S
I'd agree with you except that the snail's pace of the Great Western electrification doesn't hold much hope for it. These trains will be much more economic as electrics rather than diesels. With any luck I might see some of them on the ECML before I die.

The arrival of these trains will help the case for HS2 as they are more like trains that will use HS2 although with shorter noses ...!

The fact these first trains have been built in Japan means they have been delivered earlier than waiting for the new factory at Newton Aycliffe to be completed and thus trail running on ECML will help to ensure less problems when main production begins .

As for earlier introduction on GWML well that has to await electrification !

Any chance of completing testing of this train and sticking it on the Great Western Main Line for passenger service ASAP?

I know we're still a couple of years away before we can start using trains built at Newton Aycliffe, but frankly, the Paddington corridor is so dire right now, anything would be welcome.

It is such a shame that we are buying trains from abroad - we used to lead the world in train manufacture. I know eventually these are going to be built in this country eventually but.......