Posted 19th September 2016 | No Comments
Consultation launched over new Govia Thameslink services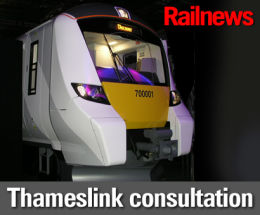 GOVIA Thameslink Railway has launched a major consultation about proposals for its timetables in two years from now, when the Thameslink Programme is completed.
The draft outline of future service frequencies includes 16 trains an hour in the peaks on the London to Bedford section, with eight of those trains working through to Bedford.
Some of the other changes include direct services from the Brighton direction between St Pancras and Great Northern stations, using a new connecting tunnel just north of St Pancras which will take trains on to the East Coast Main Line outside King's Cross.
New Thameslink services will run from places such as Maidstone East, Greenwich and Dartford to Bedford. Other trains from north Kent will continue via the new East Coast connection to Peterborough or Cambridge.
Great Northern metro services between Welwyn Garden City and Moorgate will be improved, with a more frequent timetable and a new fleet of Class 710 trains.
There will be 80 per cent more peak time seats between Blackfriars and St Pancras International across central London and 19 per cent extra seats on longer Thameslink trains from Brighton. In all, the headway through the core central London section between Blackfriars and St Pancras will be reduced to 2.5 minutes in the peaks, providing 24 trains an hour.
The reopening of London Bridge should mean more reliable Southern services, while services between Brighton and Bedford will be faster when the present lengthy diversion around London Bridge via Crystal Palace is no longer needed. Littlehampton, Horsham and East Grinstead services to London Bridge will transfer to Thameslink in 2018, and continue through central London to Bedford or Peterborough,
The consultation runs until 8 December, and GTR staff are visiting stations around the network to explain the implications of the changes and ensure that as many people as possible have an opportunity to respond.
Phil Hutchinson, who is leading the timetable development and consultation for GTR, said: "We are proposing a complete redesign of the timetable by looking at which journeys are most important to passengers. We are creating more capacity and new cross London routes with connections to Crossrail and more punctual and reliable services. Operationally, each route would be self-contained so that if a problem occurs it does not affect other routes.
"We want passengers and stakeholders to help us shape their future train service so we are consulting, we think, earlier than any train operator has before. This is a real opportunity for passengers and stakeholders get involved in an open, honest and transparent conversation about what the train service should be in the future."

"This is about creating better connections and more capacity. It's a once-in-a-generation opportunity to restructure the timetable to give passengers more trains and the much better reliability we all want. Ultimately this will put the Thameslink route at the heart of the UK rail network."
The GTR franchise was launched two years ago this month, with the main intention of managing the upgrade of its services which forms a major component of the Thameslink Programme. Two-thirds of the new concourse at London Bridge was opened on August Bank Holiday, and the reconstruction of this station is scheduled to be completed in 2018.
However GTR is still beset by a major industrial dispute over the replacement of conductors on most Southern routes with on-board supervisors, who no longer control the doors or dispatch trains. The dispute has led to several strikes on Southern since April this year.
GTR has maintained that safety is not affected and that no jobs are at risk, but the RMT claims that safety-critical conductors play a vital role and should not be abolished.
RMT general secretary Mick Cash said: "Passengers don't want to be consulted on how services may improve in almost two years' time. They want action now to end the daily chaos to their journeys."