Posted 24th May 2016 | 7 Comments
New Thameslink train goes on show in London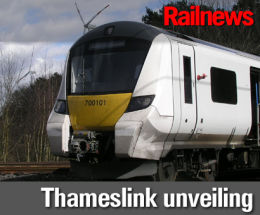 A NEW Class 700 Siemens-built train for Thameslink is carrying invited guests for the first time today (24 May) on a special showcasing trip from London Blackfriars to East Croydon.
The new high capacity trains, built in the German Rhineland, have been arriving for several months and have made numerous commissioning trips from the new depot at Three Bridges.
Today's event marks the formal unveiling of the trains in Britain, after test runs with guests on board in Germany.
The fleet consists of fixed formations of eight and 12 cars, with no intermediate driving cabs. Such formations are unusual on modern electric units for British commuter routes, which are customarily supplied as three-, four- or five-car sets capable of being worked in multiple as required up to lengths of 10 or 12 cars.
Govia Thameslink Railway CEO Charles Horton said: "Not only will many of these trains be longer and more spacious, they'll be cutting edge with real-time information from around the network and the Tube, and excellent facilities for people with disabilities.
"These trains have been designed to carry up to 1,750 people in climate-controlled comfort, which is essential to meet the huge growth in passenger numbers that have soared 40 per ccent in the past decade.
"And their wide doors, open interiors and state-of-the-art real-time passenger information systems will help us run a high frequency, high intensity service with over 80 per cent more seats across the heart of London in 2018."
The trains are essentially Metro units, with plenty of standing space as well as wide doors. The layout, specified by the Department for Transport, is seen to be essential if the trains are to meet the requirement to maintain 2.5 minute headways through the Thameslink core section between Blackfriars and St Pancras.
Rail minister Claire Perry said: "This is another significant milestone for the multi-billion pound Thameslink Programme. Projects like this show how our record £40 billion investment in the railways is delivering better journeys for passengers across the South East and beyond.
"This impressive new fleet of hi-tech trains will make a real difference to commuters and leisure travellers, with more space and better information screens. I look forward to seeing the improvements to passengers' journeys as these trains are introduced to the Thameslink network."
Thameslink's existing fleets will be cascaded to various routes as the 700s enter service from this year. The oldest, the Class 319 units, are set to head north for further service on newly-electrified routes, while the newest Class 387s are expected to go west, particularly for outer suburban services on the Great Western Main Line to Newbury and Oxford. The existing sets on Great Northern, which include Class 365s, will also go elsewhere.
Reader Comments:
Views expressed in submitted comments are that of the author, and not necessarily shared by Railnews.
I'm getting rather tired of the morphing of outer-suburban city services receiving TfL tube-like accommodation. Its completely inappropriate for towns like Luton and Crawley to be serviced by stock layouts like this.

We've seen 'Overground' services extend their tentacles out further nto suburbia; 'tube stock' now on Bedford-Luton-Crawley-Brighton, and pretty soon we'll see 'Crossrail'; (sorry 'The Elizabeth Line'); running out to Reading.

High time IMO to limit TfL's influence to the M25 boundary and not much further.......
[What have the new Class 700s for Thameslink got to do with TfL?--Editor.]

Given the on going dispute at sister company Gatwick Express over the introduction of 12 carriage trains using DOO it will be interesting to see if these fixed length 12 carriage trains get into service and whether they will operate using DOO or with a guard in which case where will a guard be located ?

One issue raised in the argument re DOO is without a guard / 2nd member of staff on board and with an increasing number of accessible stations who will help disabled wheelchair users on or off trains if station staff are not available ?

The continual argument re number of seats continue yet with fixed formations of 8 or 12 carriages it still means an end to short 4 carriage trains on Thameslink while the walk thru facility means passengers will be able to walk along the train to find empty seats just like on Overground and S Stock underground trains .

Photos have shown these trains have a mixture of seating layouts just like S Stock trains on the Metropolitan Line while complaints about reduced seating beg the question as to how many really enjoy being " piggy in the middle!" on 3+2 three seat layout !
[12-car DOO trains have been running on Thameslink since the first 377s arrived (319s were not designed for 12-car working). Some of the newer 387s on Thameslink as well as Gatwick Express are also running in 12-car formations.--Editor.]

Quite a number of fleets on the railway network have no tables already, and I think it's because designers are wanting to squeeze more seats on the carriages for additional capacity.

The Class 319 is in fact already in the north – and you'd have to agree that that the "Northern Electrics" liveries suit them better than the Thameslink liveries. A smoother ride, faster acceleration and higher speed makes than the Pacers makes for a better passenger experience all round.
[Thank you -- we were aware (and have reported) that some 319s have already been cascaded. This story refers to those which have yet to migrate.--Editor.]


The 700s look about as comfortable as prison visiting rooms, and are completely inappropriate for long-distance runs in from Bedford or Brighton. They need tables to allow people to eat or work while on the move.

I'm not too bothered about the Class 319 coming up north. They're going to be labelled as "cast-offs", though they're decent trains despite their age.