Posted 24th October 2017 | No Comments
Thameslink signalling breakthrough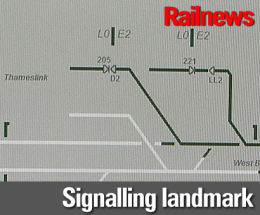 EXCLUSIVE: The new system of signalling for Thameslink through central London has moved to a crucial stage, with ERTMS Level 2 and its component ETCS now approved for most train movements except those carrying passengers.
The first trials of the European Train Control System began in July, but until this week the system could only be used during watertight possessions.
The next stage, which is probably the last key landmark before full activation, began early on Sunday morning, when ETRMS and ETCS were switched on at 05.45 to control all trains as necessary between the junction with the East Coast Main Line and at least as far as Farringdon station.
The approval is an important landmark, because driver training should now be possible when the line is also open to ordinary services. Passenger trains will continue to be controlled for now by conventional signals supervised from panels at West Hampstead and Three Bridges.
The activation was carried out without external publicity, but all operational staff were notified by the usual Weekly Notice, which sets out the details of the upgraded section and the sites of boards which mark the boundaries of the new signalling system.
ERTMS will be essential if the core section of Thameslink is to carry 24 trains in each direction during peak times, which is planned for later in 2018.
It is not yet known when the system will control trains in passenger service, but industry insiders suggest this could happen around the end of February. However, this will depend on final approval being granted by HM Railway Inspectorate at the Office of Rail and Road.