Posted 10th November 2017 | 4 Comments
Ordsall Chord ready for opening next month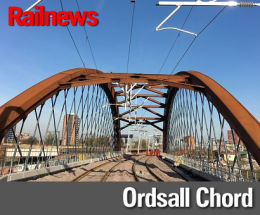 THE first railway link connecting the three main stations in Manchester is ready to welcome its first trains next month, said Network Rail.
The promise that services will be able to use the Ordsall Bridge connecting Manchester Piccadilly with Victoria and Oxford Road from December came as rail minister Paul Maynard ceremonially installed the final rail clip on the structure, which is the world's first asymmetric rail bridge.
Mr Maynard said: "The new Ordsall Chord is a major milestone for the Great North Rail Project and forms a key part of this government's £13 billion investment in transport in the north.
"The construction of this new iconic bridge has supported 2,000 jobs, including new apprentices and graduates and will provide new and direct links to Manchester Airport from across the region.
"By 2020, the Great North Rail Project will deliver faster and more comfortable journeys, with new trains, extra carriages and more than 2,000 extra services a week."
The creation of the new link – the first ever heavy rail lines connecting Piccadilly and Victoria – will allow through running across the centre of Manchester and reduce congestion at Piccadilly station by a quarter.
Network Rail route managing director Martin Frobisher said: "The completion of Ordsall Chord is a seminal moment in the Great North Rail Project, which will transform train travel for millions of customers across the north. The old is giving birth to the new. Team Orange is mirroring the vision of George Stephenson for the benefit of the communities we serve for generations to come."
Plans to connect the stations by various forms of rail transport have existed for at least a century. They included a proposed tramway tunnel in the early 1900s followed by the aborted Picc-Vic underground railway scheme in the 1970s.
Piccadilly and Victoria were finally linked by rail at street level when the first sections of Manchester Metrolink opened in 1992, mirroring the earlier tramway scheme. However, heavy rail trains will only start running between the two stations next month, using the Ordsall Bridge.
Reader Comments:
Views expressed in submitted comments are that of the author, and not necessarily shared by Railnews.
So much for much-needed interconnectivity. Northern's new 2018 timetable shows its Leeds-Manchester route terminates at Oxford Road, not Piccadilly.

Is there any likelihood of any trains from Euston utilising the new Ordsall connecction so as to give a direct service to Salford , Manchester Victoria, Rochdale, etc? Ever since the demise of the Stockport - Oldham - Rochdale - Bury line, it seems that North Manchester and its surrounding towns have been effectively cut off, rail - wise from the South.

Good work from Network Rail. Another achievement has been completed.