Posted 16th February 2010 | 2 Comments
Manchester in spotlight as Hub plan gets closer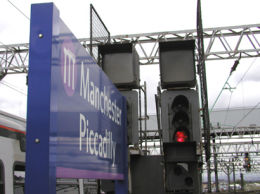 TRANSPORT chiefs in Manchester are calling for more rolling stock to be allocated to overcrowded lines in the north west. Their plea comes as Network Rail prepares to unveil its plan for a Northern rail hub.
The transport secretary Andrew Adonis will be told that Northern needs more diesel units than are currently being allocated, and that electrification, while welcome, is a long way off. The chairman of Greater Manchester ITA, Keith Whitmore, said: "Despite the recent recession, passenger numbers are still increasing. We must secure a commitment for the diesel carriages we so desperately need."

GMITA has also welcomed the latest report from the House of Commons Transport Committee, which has warned that rail spending will continue to come under pressure for the next decade but also recommends the creation of a Northern rail hub.

Councillor Whitmore said: "This report has our full backing and we would like to see it acted upon urgently. It sets out the case for much-needed and sustained investment in both infrastructure and rolling stock in the North.
"There are two crucial elements to realising the full potential of our heavy rail network: a comprehensive and coherent plan for increasing track capacity across the North – through the Manchester Hub – whilst at the same time providing more carriages to support the growth in demand already being witnessed.
"We have seen a resurgence in demand for rail over the past decade, with around 70 per cent more people choosing to travel by train in Greater Manchester, despite relatively low levels of investment. But that growth has come at a price – services are severely overcrowded and the network is, at peak times, operating at capacity, with passengers enduring misery."
Reader Comments:
Views expressed in submitted comments are that of the author, and not necessarily shared by Railnews.
That is very much welcome news.
Also, I do find that there should be extra support on some of the Yorkshire lines. The main line which is overcrowded has to be the Leeds -Sheffield line via Wakefield Westgate / Rotherham Central. Even though there is supoport from Cross Country, this does not support the local stopping service. Druing peak time, the service is often very overcrowded and to make this worse, there is only 1 service per hour.