Posted 3rd November 2014 | 8 Comments
New transport powers for Manchester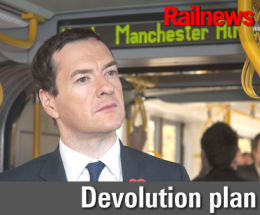 THE process of devolving powers to the English regions has been boosted by an announcement from the Chancellor that Manchester is to gain greater power over transport and other issues, and also an elected Mayor.
George Osborne confirmed that the proposed Metrolink line to Trafford is to go ahead, supported by a grant of £350 million.
The Chancellor also saw the city's newest tram route -- the line to Manchester Airport, which has opened a year early.
He said: "I am delighted to be able to mark the opening of the new Metrolink line to Manchester airport over 12 months ahead of schedule. The network now covers over 92km and is a vital economic asset for Manchester.
"It is also great news that, thanks to the devolution deal I have agreed with Manchester today, there will be a further £350 million extension to Trafford which will provide significant additional benefits to the city. The Metrolink will come under the powers of the new Mayor, supporting an Oyster-style travelcard system that will make traveling on the network and all of Greater Manchester's public transport simpler and easier.
"These are exactly the sort of transport improvements that will not only allow Manchester to prosper and thrive but also help turn our vision of a Northern Powerhouse economy into reality."
The devolved powers are also set to include bus regulation in Greater Manchester under a 'London-style' system of bus route tenders, although this is subject to consultation.
Transport for Greater Manchester said this would usher in a new era of 'seamless' travel between trains, trams and buses, helped by smart ticketing -- again on the London model.
In addition, discussions will now take place about the future management of the city's heavy rail network, particularly its stations, many of which are not fully accessible.
New working arrangements will be developed between TfGM and the Highways Agency, intended to improve traffic management on local roads and motorways.
Councillor Andrew Fender, who chairs the Transport for Greater Manchester Committee, said: "Today's historic announcement marks nothing less than a new era for commuters in Greater Manchester, one in which they can look forward to the sort of seamless travel they may have experienced in London moving from the tube to bus.
"This deal will, subject to consultation, allow us to move to a model of bus franchising, similar to the system used in London, providing us with the ability to set bus routes, frequencies and fares for the benefit of the people of Greater Manchester.
"There is sound reasoning for adopting this approach, not only will bus passengers benefit from a truly integrated network, it will also help to support the continued economic growth of the region.
"The deal also unlocks access to very substantial amounts of transport funding - providing more certainty and the ability to plan ahead. Not only that, it means that we can move ahead with the construction of the Metrolink line through Trafford Park to the Trafford Centre, a scheme which will benefit thousands of people and many businesses in the area.
"This bold and pioneering step will not only support the further development of Greater Manchester's economy, it will also have a very real and tangible positive affect on the lives of tens of thousands of people across Greater Manchester who will be able to access jobs and education more easily."
Following the Chancellor's announcement, Transport for Greater Manchester will now develop a detailed plan with central government on behalf of the Combined Authority.
Reader Comments:
Views expressed in submitted comments are that of the author, and not necessarily shared by Railnews.
Investment in Manchester has to be good news, hopefully this will not be at the expense of other areas! Seems rather suspicious though Manchester (George Osborne's local City) with Sheffield (Nick Clegg's Local City) also mooted to gain the same powers shortly!

Wonder how long it is before a congestion charge is introduced?

Mike B hits the nail on the head with regards to the heavy rail network in Manchester having been neglected. There have been no new trains delivered to operate on the Manchester suburban network since the 323 EMU's in the early/mid 90s. And there's only about twenty of them ! With the (very welcome) electrification of lines in the area,could we hope that investment will be made in heavy rail electric trains to operate cross-city services through both Piccadilly and Victoria (eg Stalybridge-Wigan, Hazel Grove-Preston). Or will Metrolink receive yet more funding ?

Over the years, Merseyside has invested heavily in the local rail network - particularly new stations and refurbishment of those within Liverpool city centre. On the other hand, it has been said by local people that, whilst Manchester has indeed spent large sums on the expansion of Metrolink, the local heavy rail network has been neglected.

Whenever we hear about transport in Manchester, Metrolink is mentioned. Why is it that no mention is made of the fact that chunks of it are closed most weekends. Even the newly-opened Airport link is to close all next weekend. Very frustrating if you live here.

Why Manchester ? Perhaps it's on the back of many years investing in its Metrolink network demonstrating a commitment to public transport while other places are stuck in the past wanting more roads !

Anyway the recent announcemt of Rail North will bring together several northern cities with the aim of improving rail transport across the north of England but will they be prepared to commit funds ?

Indeed, why Manchester? Why not any other major conurbation outside of London? Could it be that it is the nearest city to George Osborne's constituency! Seriously though, I believe that other areas, such as West Midlands, Merseyside and West Yorkshire will follow in due course.

Why only Manchester? Why not West Midlands? Why not Yorkshire?