Posted 12th November 2007
Time to make Manchester united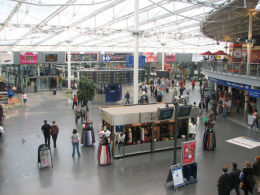 Network Rail has been asked to look at ways it could increase the number of trains running through Manchester following a 'Manchester Hub' proposal from Northern Way (the combined regional development authorities for the North East, North West and Yorkshire).
Northern Way wants to see more and faster trains operating across the North, especially on key services between Liverpool, Manchester, Leeds and Newcastle.
It says increased capacity could also potentially allow faster and more direct services to Manchester Airport, and more freight traffic to ports.
Visiting Manchester Piccadilly station, Transport Minister Rosie Winterton said she had asked Network Rail to look at the proposals as a priority. She said: "This Network Rail study will give us more details on how and when this could be done, what infrastructure would be required, and at what cost."
Northern Way wants to see adoption of two proposals from a report by consultants Steer Davies Gleave. One is for a curve east of Ordsall that would allow through trains between Piccadilly, Deansgate, Salford and Victoria stations.
The second Northern Way hope is for a flyover south of Piccadilly station that would allow trains coming from the direction of Ardwick (on the east side of the main routes) to cross over and use the through-platforms west of the station and on to Oxford Road.
Network Rail's own North West Route Utilisation Study, published in May, noted poor connections across the city but said consultation showed little demand for changes in the service patterns. It suggested improved connections at Salford between services into the two main termini. But its overall strategy concentrates on improving services to and from Manchester, rather than across it, and improving connections between rail services and the Metrolink tram system.
A Network Rail spokesman confirmed that it is looking at Northern Way's study and said that a considerable amount of work will be needed to bring business cases forward.
Neville Chamberlain, chairman of the Northern Way Steering Group, said: "We have been pressing the Department for Transport and Network Rail to undertake a detailed feasibility study for the Manchester Hub. This is a top priority for us. The Hub is the most damaging rail bottleneck in the North. It impacts on passenger services that cross and link Manchester with the North East, Yorkshire, Liverpool and central Lancashire and constrains the movement of freight out of ports."
Ms Winterton said: " I want to pursue the idea of a Manchester Hub as a priority, to help unlock more of the region's economic power."
While the White Paper identified plans for Thameslink, Reading and Birmingham as top priorities, it was less specific about any major plans for the North West or North East.