Posted 6th October 2015 | 5 Comments
£44m transformation completed at Manchester Victoria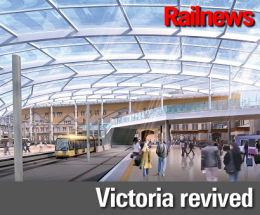 THE rebuilt Manchester Victoria station has opened after a refurbishment costing £44 million.
Victoria came at the end of a list of stations in its category -- Category B -- in the Better Stations report of 2009 prepared for the DfT by Sir Peter Hall and Chris Green. This recorded that Victoria had scored only 32 per cent in surveys of user satisfaction -- the lowest of all.
Victoria has now gained a new roof built of innovative ribs of curving steel as well as two more tram platforms to cater for the growth and expansion of the city's Metrolink network. The station is also a key component in the plans for Manchester to become a 'Northern Hub' at the heart of the region's rail network.
Transport secretary Patrick McLoughlin unveiled a plaque declaring the new station open at a ceremony beside Soldiers' Gate, which local service personnel passed through before heading off to fight in World War One. Some never returned.
Mr McLoughlin said: "I want to congratulate everyone involved in this remarkable project. It's fantastic to see Manchester Victoria once again a station fit for the city. It's now a symbol of opportunity, not neglect, and proof that this one nation government is building the Northern Powerhouse.
"The North is receiving a wave of investment in its transport infrastructure on a scale not seen for generations, with £4.5 billion in the North West alone. The benefits are already being delivered, with 71,000 more businesses in the North West than in 2010 - a clear sign our long-term plan to secure a stronger, healthier economy is working."
At the ceremony Martin Frobisher, route managing director for Network Rail, formally handed the station back to Alex Hynes, the managing director of station manager Northern Rail, the train company which manages its day-to-day running.
Network Rail chief executive Mark Carne said: "Six years ago it was dubbed Britain's worst station -- today it must surely be among the country's best.
"For far too long people travelling in and out of Manchester Victoria had to make do with a tired and dark station. The contrast today is remarkable. Manchester Victoria station is modern, clean and flooded with natural light; a station this great city so badly needs. It is a key part of our £1bn programme to modernise the railway for the whole of the north of England."
Alex Hynes, Managing Director for Northern Rail, said: "Victoria feels like a brand new station to us and it's a fantastic testament to a successful working partnership between ourselves, Network Rail and the City of Manchester.
"It's a light, bright and contemporary station for our modern day customer and we're delighted with the results of the redevelopment. Manchester is an increasingly important city in the North and now it has the station it so rightly deserves."
Sir Richard Leese, leader of Manchester City Council and Greater Manchester Combined Authority, said: "Transport is the lifeblood of a thriving city and between now and 2017 our city centre will see more than £1b invested in new projects, the kind of investment not seen for generations.
"We are committed to making travel easier and better, ensuring better connections between our towns and cities and providing seamless travel right across the north of England.
"With tram and train services all together under one impressive new roof, the transformed Manchester Victoria station is an example of how we're beginning to make a difference as we work towards becoming a city with world-class transport infrastructure."
Reader Comments:
Views expressed in submitted comments are that of the author, and not necessarily shared by Railnews.
In effect what Network Rail have done is build yet another shopping centre with no actual changes to their primary job - the railway. Birmingham New Street, St. Pancras all just glorified shopping centres to cover up for the fact that train services are still as poor as ever. All they are doing is putting lipstick on a pig now at many stations with no real infrastructure improvements. People need trains - not WHS Smiths asking if you want a £1 Aero. Please Network Rail get your priorities right.

I was walking through the station yesterday and the stairs to the arena are filthy and rusty like Lee says only the metro (tram) platforms and 1+2 platforms are nice, the rest of the station is dark, dirty and in real need of modernisation.

Just a thought would this have happened in London? That only part of the station gets a uplift?

Are they going to tidy up the steelwork still attached to the buildings where the former roof was simply hacked off?

"Manchester Victoria station is modern, clean and flooded with natural light..." Pity this only relates to the Metrolink platforms and platforms 1 and 2. The rest of the station (platforms 3-6) located beneath the Manchester Arena concourse are still dreary and grimy. Networkrail missed the opportunity to clean this area up during the station possessions for the electrification works.