Posted 6th September 2017 | 4 Comments
Transpennine Express unveils 'futuristic' train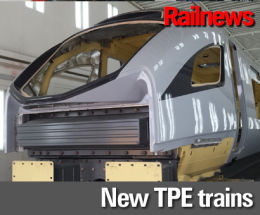 NEW trains set to come into service on Transpennine routes in the spring of 2019 have been unveiled on the production line.
The 'first glimpse' pictures have been released by Transpennine Express, which will take delivery of 12 five-car emus from CAF.
Currently under construction in Spain, they will be leased from Eversholt Rail and maintained by Alstom at Longsight and Polmadie.
The order is for one of three new fleets totalling 220 vehicles which are being delivered as part of the new TPE franchise, owned by FirstGroup, which started in April last year and runs until at least 2023. TPE is also planning to add a new Liverpool-Glasgow route from December 2018 as part of expansions to its network.
TPE managing director Leo Goodwin said: "This is an exciting step towards providing brand new, state-of-the-art trains plus more seats for rail customers across the North and into Scotland. Once ready, these futuristic trains will be some of the most modern in the country and I'm thrilled to be overseeing such an important transformation."
CAF is also preparing to assemble future fleets in south Wales. Project manager José María Muguruza said: "The trains are the 'high speed' variant of the Civity electric train, are capable of 125mph [200km/h] operation and will provide passengers with a new journey experience. Providing free Wi-Fi, USB ports, improved information systems and the ability to stream media. CAF are continuing to strengthen their presence across the UK Market; and look forward to continued growth with the building of their Newport Assembly plant."
Reader Comments:
Views expressed in submitted comments are that of the author, and not necessarily shared by Railnews.
So 12 Class 397's once built and delivered for Manchester Airport-Glasgow Central service will replace the 10 Class 350/4's and transfer them back to London Midland.

Nice pretty nose. One thing missing, a gangway. This means double Manning or more likely a reduction of carriages on the busy Manchester - Scotland route.
The trains might be lovely but I am sure we improvements will not be noticed by passengers that are crammed in like cattle.
Pretty but useless springs to mind.

So Railnews is leading on these 'first glimpse' pictures without either showing any of them or providing any link. Not very customer-friendly IMV.
[The only image available is the one on the site. There are no others, except a previously published artist's impression. 'Glimpse' means exactly what it says -- a brief view (OED).--Editor.]