Posted 9th December 2015 | 19 Comments
Arriva and FirstGroup promise new trains for North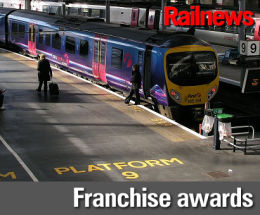 ARRIVA has won the Northern franchise and Transpennine Express has been awarded to First.
The Department for Transport said the awards meant a '£1.2 billion boost' which would result in 'unprecedented' improvements, including more than 500 new vehicles, the abolition of the 'outdated and unpopular' Pacers and more than 2,000 additional services each week, with the result that capacity will be increased to cater for 40,000 more passengers at peak times.
The managing director of FirstGroup's rail division Steve Montgomery told Railnews he was 'delighted' by the award of the Transpennine Express contract to his company, and that First would be investing £500 million during the seven-year term, which also includes a possible two-year extension.
First will be committed to introducing 44 new trains, consisting of 220 vehicles. The frequency on many routes will be increased, so that there will be six trains an hour between Manchester and Leeds, and 35 a day between Manchester and Scotland -- twiice as many as now. A new route between Liverpool and Scotland will be introduced in 2019.
He added: "The result of all these improvements will be another 13 million seats a year."
Arriva said its franchise would continue to use the 'Northern' brand, although this will be 'refreshed'.
Arriva's UK Trains managing director Chris Burchell said: "We are proud to be given the opportunity to transform rail travel for passengers in the North of England and to work closely with our partners to connect towns, cities and communities like never before."
The new Northern franchise, which will run from next April until 2025, will gain 98 new trains, consisting of 281 vehicles. Arriva said it would refurbish the existing fleet and also remove all Pacers by 2019. Journey times will be improved by up to 20 per cent on some routes, and the network itself will be changed by the addition of 'Northern Connect', a collection of 12 long distance routes from 2019 serving Leeds, Liverpool, Manchester, Newcastle and Sheffield. This will include new routes from Bradford to Manchester Airport and Lincoln to Leeds.
Stations will be upgraded, with 45 being newly staffed, and retail units being added at 243 stations. Arriva is also promising other improvements to information, CCTV and waiting areas. Video help points will be introduced at 447 stations and information screens at more than 160 additional locations. Fares will be more 'understandable', while 'advance' tickets will be available on the day of travel until 15 minutes before departure.
Both operators are promising widespread WiFi on trains and stations, and the progressive introduction of smart ticketing.
The awards are now subject to the usual ten-day standstill period before the contracts can be signed.
Reader Comments:
Views expressed in submitted comments are that of the author, and not necessarily shared by Railnews.
Certainly good news for the North. We definitely need new trains, more trains and services and more routes. Journey times need to be quicker too and we have to push for more EMUs that run at at least 160km/h on the main trunk lines connecting Liverpool, Manchester, Leeds, Sheffield, Hull and Newcastle. The thing I fear is this Northern Powerhouse electrification scheme. I think they are planning to finish it before 2020, but with the dilemmas surrounding the GWML electrification and the time and cost getting worse I don't know if this will happen. Also with Network Rail's debt continuing to rise it is unfortunately not likely that we'll see it done on time. A really revolutionary plan would be to put the Northern Powerhouse electrification and improvement scheme in the hands of the two franchises and allow them to do it together (of course I don't think this is possible now that the franchises have been decided). This would surely mean it would be done more efficiently and quickly as I'm sure they'd be keen to get electric trains in their services as quickly as possible.

Also I've got to say one of the best things about train travel in the North is the cost. A return ticket from Leeds to a surrounding town or city like Wakefield is under 5 pounds even if you buy just before the journey. Are we going to see the same costs or is it going to become a lot more expensive? Personally I wouldn't mind if we got cascaded EMUs if that was going to keep costs down.

Those who question TPE ordering 125 mph trains need to remember that electric trains have a 30/40 year life and during this period the opening of HS2 will release capacity on WCML then ECML and MML to run more local trains as non stop inter city trains transfer to HS2. P

There is also the HS3 project which is more like the East West Rail project underway between Oxford and East Anglia than HS2 but which is being built for 125 trains. HS3 could even include new tunnels through The Pennines which could greatly reduce journey times and hopefully the tunnels will be built to same gauge as HS2 to allow .high speed trains to share tunnels or even lorry transporters as used through the Alps to cut journey times for lorries and overcome problems caused by snow in winter,

Those in the north who complain about the age of recently transferred class 319 trains need to realise electric trains often have double the life of DMUs in fact many services in London are provided by PEP stock which is now 40 + years old . In fact. Metropolitan Line A stock was 60 years old* when withdrawn an age that can be seen on Swiss electric railways !

No mention of whether D Stock ex District Line trains will form part of these contracts particularly Northern.

[Not quite. A-stock was introduced in 1960 and 1961. It still did very well, though.--Editor.]

Tbig problem wasn't strikes, it was staff shortages, which was because they made a massive cock-up and under-recruited. The reduced timetable was agreed with the Government as an interim solution (something which was feasible with the staff levels they had at the time) until more drivers and guards were recruited. I'm confident that particular mistake won't be made again, and they have avoided making any cock-ups of that magnitude with Cross Country.

That said, that fiasco is probably the worst fiasco I can think of where it was entirely the TOC's fault (and not just something that could be put down to infrastructure or rolling stock that they were stuck with).. So whether they can be trusted to not make another massive cock-up in the future remains to be seen.

Must admit, whilst I detest pacers, at least from a passenger viewpoint, the journey from Barnstaple to Exeter is only an hour or so. The drivers are stuck driving them all day. Although to be honest, if they could rebuild the line from Okehampton to Bere Alston vis Lydford and Tavistock on the cheap, I'd happily ride on a pacer rather than have no trains at all.......

"What I would like to know though is how much of these improvements were in the base specification and would have been promised whoever won."

Apparently, Arriva and First'd packages are both substantially over and above the minimum specification and also above what the industry was expecting.

It doesn't follow that it wouldn't have been provided had someone else won though. It's more likely that the bidders all had to up their game to compete with each other. If it's down to anyone, it'll be the DfT for setting rolling stock as bidding criteria.

well what a start for Arriva they are losing 17 x 323 emu to west midlands to join the rest of the 323s as they are off lease from April. I got the info off Railnews the other month

A full audit of the bids offered and the decision making by the DfT/ORR in the case of BOTH of them should be done, as companies in the past have pledged as per contract to make payments and defaulted, and the DfT/ORR has been found to have made serious errors in assessing bids in the past. It would be no surprise if the payments 'later' in the TPE franchise are unachievable, just like the GNER-NXEC scandals.

Also, the ORR have routinely ignored serious safety reports made regarding passengers ending up clambering over the (90mph) running lines due to understaffing at stations (subway left locked up at 7am). The first one was brushed off by ORR as 'no proof, TOC denied it, didn't happen' - then a repeat of it a year later - appeared in the Manchester Evening News. Putting passengers in a place of danger is something the ORR must answer for, and their bias towards certain TOCs they seem to 'like' needs investigating thoroughly.

Since TPE have committed to new trains before electrification is complete, it would be reasonable to assume they'll be going for bi-mode trains. Given that its a First franchise, I would be surprised if its not a follow on order for AT200s. In fact there would be an argument for them diverting the existing FGW/GWR order to TPE and getting them in place sooner than later - with GWRM delayed by years. Plenty of running under the wires already (e.g. York to Newcastle & Liverpool-Manchester & Airport).

The sellection of Arriva to run Northern certainly hasn't met with universal approval. As a brand it has historically been associated with mediocrity. However as the UK representative of DB and parent of Chiltern Railways let us hope that this influence is brought to delivering the changes demanded by the DfT in the Northern specification.

What interests me is the financial profile of the new franchises. Northern sees falling financial support and TPE a move into premium. This implies a greater input through the farebox. This will require a revolution on a par with TfL's Oyster and contatless payment technology to happen to enable the revenue from the anticipated growth in footfall to be captured. Given the disparate fare policies between the PTE areas this should be a priority for Transport North tk tackle. Already the north is several generations behknd best practice in ticketing and revenue management.

I had a strong feeling ever since the shortlist was announced that they were going to give Arriva a 'second chance'. Nick Wood is right, this happened many times on our routes, there were frequent strikes *****one is about to happen with Arriva Trains Wales!!!***** which back then saw constant emergency timetables and replacement Bus services being implemented.. Was awful!

I'm just glad I can now drive and not have to rely on transport!!

I think the Chris Neville Smith idea that Cross Country is much the same as when Virgin had it would not be shared by many.

What I would like to know though is how much of these improvements were in the base specification and would have been promised whoever won.

Arriva have been unable (according to them) to either find or get new trains for Arriva Trains Wales so, I'd be intrigued to see where they get any of the new trains from for the Arriva Northern franchise.
[Plenty of new trains can be procured for any operator, if the franchise contract permits it and the deal is acceptable to a ROSCo which will, of course, be the source of the capital funding.--Ed.]

The bone rattling, bottom numbing pacers should have been consigned to history 30 years ago, instead Northern Rail continued to use them despite their end of life status. Your heart absolutely sunk when one of them came round the corner and you realised you had 45 minutes of cattle like travel. On a recent journey, a Northern Rail train I was on had a slipping clutch, which the driver was valiantly fighting with. My daughter had been on this train several times before. You could tell that they would have waited for it to fail completely before it was removed from service. This kind of treatment of passengers would not have been tolerated by a third world country. Goodbye and good riddance.

I guess TPE's prime Intercity services, Manchester - Edinburgh / Glasgow and Liverpool - Newcastle do need something better than 185's and 350's, if only to help the "northern powerhouse" initiative.

Expanding the number of seats on these routes can be acheived better through having longer trains rather than more frequent trains, creating less demand for infrastructure enhancement costs.

Yes, Arriva Trains Northern was bloody awful. However, they've been running the Cross Country service since then, which is about the same as it was when Virgin let it go.

Detail I'm currently trying to get my head around is this new Transpennine rolling stock. They seem to be ordering new 125 mph trains for a lot of the routes, which surprised me because the current Manchester-Scotland electric trains are only two years old, and the Scarborough and Middlesbrough routes have little or no opportunities to reach 125 mph.

Hoping a more detailed specification appears soon.

Hands up all my fellow passengers who can't wait to welcome back the late & totally unlamented Arriva Trains Northern. Bet there's not enough to fill a minibus---------

I don't know how these franchises will do in the long-term, but – at the present time – these proposals sound very, very encouraging, as well as exciting.

Didn't Arriva do a bad enough job last time they had the Northern franchise. I don't think the Durham Coast saw a train for a month!