Posted 22nd August 2017 | 6 Comments
Former Chancellor George Osborne ignites high speed row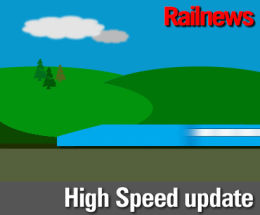 FORMER Chancellor George Osborne has triggered a new controversy by urging the government to build a high speed line across the Pennines between Manchester and Leeds, which has often been dubbed 'HS3'.
Writing in the Financial Times today, the ex-Chancellor, who now edits the London Evening Standard, agreed that such a line would 'not be cheap', but said it would "bring seven million extra people – and three times the number of businesses – within a 90-minute journey time of one of the northern cities".
He added: "There is no geographical reason why this cannot happen." The cost could be £7 billion, according to some estimates, but he pointed out that the expenditure would be spread over many years.
The government has recently shelved plans to electrify the Great Western line between Cardiff Central and Swansea, and also abandoned plans to wire up any more of the Midland Main Line, except for a relatively short stretch between Bedford, Kettering and Corby as an extension of the existing 80km between London and Bedford which dates back to 1982.
The fate of Transpennine electrification is less clear, because the existing railway was not mentioned in a formal statement about electrification issued just before Parliament rose for its summer recess on 20 July.
However, on the folloiwing day transport secretary Chris Grayling hinted that discontinuous electrification might be the way forward between Manchester and Leeds, using bi-mode trains to bridge non-electrified sections.
The other possibility is that the existing route could be retained in part but reinforced by new high speed links, although Mr Osborne appears to want a completely new line.
The government said it was already investing 'billions of pounds' in the region to help create a Northern Powerhouse, while Rail Delivery Group chief executive Paul Plummer said: "Of course, rail companies support growing the railway to improve connections for communities, passengers and businesses as it helps boost economic growth and makes journeys better. That's why the rail industry is working together on new ways of developing, financing and delivering projects in partnership so they achieve the best value for customers and taxpayers."
The RMT union was less welcoming. General secretary Mick Cash said: "The hypocrisy of former Tory Chancellor George Osborne as he tours the newsrooms fuelling the civil war inside the Tory Party is extraordinary.
"This is a man who was the key player in Governments which presided over fragmented, cash-starved and privatised rail across the North and which put profiteering first while passengers were left rammed into clapped-out, lashed-up Pacer trains.
"The real legacy of George Osborne's period in Government is axed electrification, modernisation and renewal programmes."
Reader Comments:
Views expressed in submitted comments are that of the author, and not necessarily shared by Railnews.
HS3 appears to be no more than a concept with suggestions of a 20min timing between Leeds and Manchester. to acheive that timing a lot of tunneling would be required and no more than one (Bradford Parkway - it could not pass through the centre of said city) intermediate stop.

NR engineers are currently scoping and costing improvements to the present former LNW route with a target of reducing the current fastest time between Leeds and Manchester (with one stop at Huddersfield) from 50min to 40min. The plan should be revealed in December/January once the DfT have agreed to the expected cost.

Two sources (one public in a U tube video) have revealed that the crucial zone is between Thornhill LNW Jn and Huddersfield where the route crosses (and shares for four miles) the ex L&Y Calder Valley route from Wakefield to Manchester. Reinstatement of four tracks between Thornhill LNW Jn and Heaton Lodge Jn with the fast lines paired on the north side and the slow lines on the south side is considered necessary.

Further west I note that recent work at Ashton under Lyne station will permit a higher line speed and a line speed increase at Miles Platting Jn is envisaged.

The passenger market for trans Pennine services is more than just Leeds and Manchester. Bradford, Huddersfield, Halifax for starters - add Dewsbury,Rochdale, Ashton/Stalybridge area, Hebden Bridge, Todmorden, Batley, Brighouse, Mirfield etc are all part of the market for rail transport and HS3 would either miss them or fly over the top/burrow underneath.

A new line is needed for 30 minute journey times between Leeds & Manchester - although the current 51 minutes can be reduced to nearer 40, if enough capacity via Standege can be found.
Batley, Morely & Dewsbury need some of that capacity, without getting in the way of fast trains.
Part of the new line suggested by George Osborne is likely to use part of HS2 a) south of Leeds, b) north of Sheffield and c) between Manchester Picadilly and Manchester Airport - ideally using shorter classic compatible HS2 trains.

One or two qestions re. this :-
For quicker times between Manchester and Leeds, is a completely new HS line neccessary, or can times be significantly reduced through the use of tilting rolling stock, on what is a quite sinuous line ( via Standedge) ?
What is the current situation on this route re. capacity ? Is it worth considering a relaying of the former third and fourth tracks ?
The other lines involved, from Leeds to Hull , York and Newcastle, and Manchester to Liverpool apppear to already have the potential for 100 / 125 mph.

Let's hope HS3 provides a station for the area it passes through to lessen the effect of Chiltern style NIMBYs.
Improvements to the existing Trans Pennine routes and a new electrified route are both needed - to speed up services to Newcastle, Liverpool and Hull as well as Manchester and Leeds.

Grief, this is exactly the reason why I don't take Mick Cash seriously. I disagree with George Osborne on a lot of thing, but what he's done for rail in the north is infinitely better than his predecessors, who did nothing (apart from Lord Adionis who got HS2 going very late in the day). Okay, this government is backtrack on a lot of it, but we still have for certain electrification between Liverpool, Manchester and Blackpool and Pacer replacement, all of which Mick Cash are pretending isn't happening.

I'm starting to believe that Mick Cash actually wants HS3 and other improvement schemes to be cancelled, preferably leading to widespread lob losses of his members, so he can grandstand even more about how terrible Tory bogeymen are.