Posted 25th July 2017 | 7 Comments
Crossrail 2 sparks anger in regions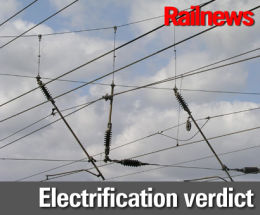 TRANSPORT secretary Chris Grayling has indicated qualified support for Crossrail 2 in London during a meeting with London Mayor Sadiq Khan, but the news has roused anger in several regions of England and Wales, where electrification schemes have been cancelled in favour of bi-mode trains.
There have been protests in south Wales about the possible cost of Crossrail 2, which is being put at £30 billion. Plans to electrify the GW Main Line between Cardiff and Swansea are among those which Mr Grayling has scrapped, and electrification of the Valley Lines is also increasingly in doubt.
In the north of England, it has emerged that TransPennine electrification is set to be cut back, again as part of Mr Grayling's economies, and overhead wires are also unlikely to reach Sheffield until the spur off HS2 is opened, in about 16 years from now, because the scheme to electrify the Midland Main Line north of Kettering is another casualty.
In response, campaigners have made fresh demands today for a 'Crossrail for the North', and a petition has been launched.
Ed Cox of think Tank IPPR North, which has launched the petition, said: "The government says it has the financial backing of London businesses but while the capital can help broker this through Transport for London, the North lacks such powers.
"If the government is going to stand by this line it must now back souped-up investment powers for Transport for the North or this will be revealed to be a flimsy lie.
"Our summer of taking back control will bring businesses and the public together to make the government take the issue seriously and commit fresh powers and funding to the North and other left-behind regions."
Mr Grayling told the Mayor of London Sadiq Khan that Crossrail 2 was subject to strict affordability tests, and that he wanted to London to finance half the cost of the project during the construction phases. It is thought Crossrail 2 could open in 2033, which would be at the same time as Phase 2b of HS2.
Reader Comments:
Views expressed in submitted comments are that of the author, and not necessarily shared by Railnews.
I for one have yet to be convinced about the need for 'Crossrail2' at all.....

1. There is currently spare capacity on 'Crossrail 1' currently running @ 24 tph, when 33 or 36 tph is doable; (as is currently operated on some Paris RER lines). A simple chord @ Old Oak Common could link Crossrail1 onto SWT lines via Acton Central; and a link onto West Anglia lines from the eastern portal of 'Crossrail1' shouldn't be too difficult either.

2. Extending the 'Victoria Line' from Brixton to Wimbledon in the south and 7sisters to Cheshunt via Northumberland Park in the north, would provide a lot of what 'Crossrail2' is seeking to offer, although the Victoria is running @ capacity @ 36tph.

3. The 'Piccadilly Line' however is only running @ 21tph, so another 12tph ought to be achieveable on it with signalling improvements. You could run trains from Earls Court on to Clapham Jnc in the south, and in the north Piccadilly service could run from Kings Cross to Tottenham via the currently unused Arsenal-Finsbury Park 'Picc-Vic' link.

So; for about a 10% of the capex, we could achieve much of what 'Crossrail2' is promising @ 20tph, just by squeezing more juice out of our existing oranges......

Crossrail 2 is undoubtedly needed, and if we're honest so are Crossrails 3, 4 and 5, and the Bakerloo line extension too. But the government should remember that London and the South East are not the only regions with transport needs. HS2 is a good start, but it's not the be all and end all for fixing connectivity around the country.

Has there been a more useless Transport Minister (the previous incumbent included?) and note that none of this was in what the Tories laughingly their manifesto+the sneaky way it was announced at the Parliamentary recession.
The north shouldn't be surprised by this,its been the same for years the south gets the biggest share of the cake,while the basic problem,the mass of migrants flooding this tiny island is brushed under the carpet every time.
Thank heaven i wont be around to see the shambles the railways of the future will look like.

The truth about electrification is that unless we get to grips with generating capacity in this country, there may well be times in the future that bi-modal trains will be running on diesel power at times under the wires. Crossrail2 is an entirely different kettle of fish, Londons rail network is so congested that new railways underground are needed now. Maybe Crossrail2 should have just been given a name straightaway such as the Waterloo Line (but built for full size trains). It's often all in a name......

Crossrail 2 is still many years away from construction and needs hybrid legislation first which will take a few years and so this announcement has no relevance to recent cuts in rail electrification which is of Chris Grayling childcare and seems to come with the old fantasyland excuses used by the DFT before Lord Adonis came along and actually did something to get electrification underway!

In addition former TFL Cheif Sir Peter Hendy agreed that London funding at least half the cost of Crossrail 2 was a fair deal given way Crossrail 1 has been funded. So are these Northern areas willing to fund half the costs of Northern Powerhouse electrification?

Sir Peter Hendy in his new role at Network Rail produced a report into cost overruns of GWR Electrification and suggested that electrification should be treated and undertaken like track renewal with an annual budget to be spent on electrification and so why has Chris Grayling simply cancelled projects without taking up option of rolling electrification.



Transport secretary Chris Grayling shouldn't be criticised for this week's decision about Crossrail 2, whereas last week's decision about bi-mode partial electrification is quite questionable.

TfL can apparently afford half the cost of Crossrail 2, but need a loan to get it built. To save money TfL want to start tunnelling as soon as HS2 Phase 1 finish their tunnelling. That can only happen if TfL introduce a hybrid bill to Parliament immediately after HS2's Phase 2a bill and before HS2's Phase 2b Bill. That in turn is to be followed by HS3's (or Crossrail for the North if you prefer)'s hybrid bill - if Transport for the North recommendations in December are acceptable.

I hope HS3 provides half hour journey times between Manchester, Sheffield, Liverpool & Leeds using the HS2 Phase2b infrastructure for part of each of those links. That way we can get three complementary sets of services

1. Birmingham, Crewe, Manchester Airport, Manchester to Leeds & beyond and

2. Liverpool, Warrington, Manchester Airport, Manchester to Sheffield & beyond

3. Liverpool, Warrington, Manchester Airport, Manchester to Leeds & beyond

every half hour economically and fast.

Why shouldn't the South have a second Crossrail - serving Hertfordshire & Surrey - if they can pay for it by TfL raising a loan and the South West Trains franchise handing matching money to the Government?