Posted 17th July 2017 | 4 Comments
HS2 Phase 2 plans revealed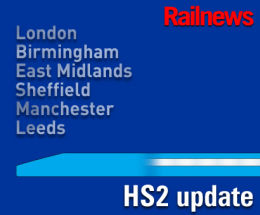 THE government has published its plans for the next Phases of HS2, which comprise lines to Manchester via Crewe and also to Leeds via the East Midlands and South Yorkshire. A controversial decision to take Phase 2 east of Sheffield, which means demolishing a recently-built housing estate, has been included.
Reader Comments:
Views expressed in submitted comments are that of the author, and not necessarily shared by Railnews.
John B rightly says that
high-speed rail across the globe has shown the importance of (1) centrally-located stations and (2) the use of through stations and not termini

However, HS2 now propose to serve Sheffield by the existing central station - PLUS a potential parkway station - if a local authority jointly funds the latter.

Leeds - Sheffield services, and a Liverpool branch are also supported on a joint funding basis if Northern Powerhouse Rail can get its act together before Xmas.

John probably missed these (and other) positive developments which are set out in HS2's High Speed 2 From Concept to Reality Report published this week.
6.2 Last year we set out that we would undertake a systematic review of options, including requests for new junctions. The planned construction of the HS2 network in the North will create some spare capacity that, with careful design, may be able to support further connectivity between regional city centres. Use of the HS2 network in this way may also allow development of parts of the national rail network for better intermediate passenger services and freight. All such proposals would need to reflect constraints around affordability and demonstrate value for money [which may require] TfN and Midlands Connect to advise on the phased development of any such new connectivity.



One positive outcome of Brexit could be that HS2 is rethought. It is clear that there is a case for high speed rail in this country. However, phase 2 of HS2 has a number of deficiencies.

The experience of high-speed rail across the globe in the last two decades has shown the importance of (1) centrally-located stations and (2) the use of through stations and not termini to facilitate cross-city connectivity.

HS2 fails on both counts. No central station for Nottingham or Sheffield, no Leeds - Sheffield services, and no Liverpool branch. The choice of a "Y" shaped route is inexplicable. I'm also very skeptical about the operation of HS2 services over existing routes; these will surely have to be upgraded for high speed running at some point.

Far better to start the ball rolling now on HS3 and transpennine connectivity reusing the Sheffield Victoria site and linking via the Woodhead route. The former Midland route from Sheffield to Leeds via Dearne Valley and Cudworth could provide good development and employment opportunities.

I'm very much in favour of HS2 as a concept; but some of the (costly) routing options are; to me; beyond comprehension.

Just to take the eastern 'branch'.......

1. Why build an extension from Hunslet into the new planned HS2 terminal in Leeds requiring the rebuilding/purchase of dozens of properties in south-central Leeds, when there is a vacant 400 x 35m car park to the immediate north of Leeds station, just begging for a new HS terminal on land already owned, and requiring zero demolition or compulsory purchase ? Trains would access this new station using the existing rails beside Holbeck rail depot and a fly-over into the new terminal.

2. Why doesn't the section up the Erewash Valley between Toton and Alfreton not use the practically vacant 4-track width track-bed, rather than re-building the M!; (just after we've widened it to 4-lanes !!!!) ? I was told at the local planning consultation, that "there was too much freight traffic" !!!.

3. Why are we building a new chord between South Normanton and Morton to provide the Sheffield HS2 link, when the A617 dual carriageway between Chesterfield and Heath is over 100 metres wide in places, and could easily accommodate this new line on existing publically owned land. (Your older contributors will remember that the A617 itself is a converted former GCR mail line). To create the desired space for the HS2 link, all you would need to consider is rebuilding the eastbound A617 carriageway to the south side of the existing westbound A617.


The biggest nonsense of all of course with HS2, is why a Heathrow branch isn't included. If it were, you could save potentially dozens of flight departure slots, and thereby negate the need to spend £22bn+ on a third runway at Heathrow.

Ahhhhhh, the good old British tax-payer.......