Posted 24th October 2012 | 5 Comments
DfT warns London Midland over cancellations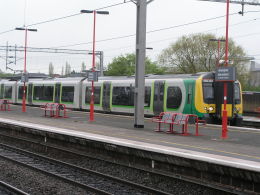 LONDON MIDLAND has been warned by the DfT that the growing list of cancellations caused by a shortage of drivers is now being scrutinised at high level. Rail minister Norman Baker said passengers are 'not getting the service they need'.
No cancellations were being predicted for today (Wednesday) but some 60 services were lost yesterday and around a dozen will be cancelled tomorrow, with some others running only on part of their routes.
Most of the disruption has been affecting routes in the West Midlands, but some longer distance services have been reduced as well.
London Midland has been struggling with its driver shortage since the spring. The company is believed to need around 30 more drivers, and has admitted that some have been leaving because they can earn more money driving trains elsewhere.
The company has maintained that the situation should improve from 9 December, when new timetables and rosters will be introduced.
But the DfT is now demanding daily updates on the crisis, because the growing number of cancellations could amount to a franchise breach.
Norman Baker said: "As with other franchises, London Midland is required to meet stringent benchmarks relating to performance and I will be monitoring this extremely closely, to ensure that normal services are resumed as a matter of absolute priority."
Reader Comments:
Views expressed in submitted comments are that of the author, and not necessarily shared by Railnews.
Driver Only Services are NOT the way forward, drivers would get no more for DOO services, think of all the people who will lose their jobs.
I have worked both DOO and Guarded services and would want a Guard on my train

As Bob Crow knows full well its called "free enterprise" and if you split a single railway into many franchises then you can play one off against another and gain better pay!!



In this glorious golden age of Franchising everything is supposed to be always wonderful and the passengers always taken care of. I don't think. Well, London Midland, I'm afraid that if your drivers are going elsewhere to earn more, then. this being the typical vicious marketplace so beloved of the Tories, you will just have to offer more to keep them. Or risk losing your Franchise. Q.E.D. (In the meantime the said passengers suffer.)

Going of the recent West Coast franchising fiasco, I think the re-biddrs involved should consider what is happening to London Midland Services when preparing their franchises.

I guess there are 2 longer term solutions to this problem ,1 return to roughtly nationally agreed payscales between companies for drivers like BR days or 2 introduce things like driver only operation on some services which would give the drivers potential to earn more but the company could also make some savings