Posted 3rd December 2015 | 10 Comments
London Midland wins franchise extension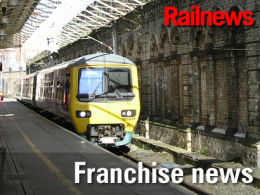 THE Govia franchise London Midland has been extended by direct award until October 2017.
The news comes after protracted negotiations with the Department for Transport. The existing contract would have ended in April next year.
The new contract includes tougher performance targets and subsidies worth £130 million.
Govia has also undertaken to run two additional evening services each weekday from London to Trent Valley stations and earlier services to central Birmingham on Sundays from stations in the West Midlands such as Longbridge, Lichfield, Dorridge and Whitlocks End as well as Rugby and Coventry.
There will be an extra service between Watford Junction and St Albans Abbey, while free WiFi will be available on long-distance services between London Euston, Northampton, Birmingham, Crewe, Stoke and Liverpool. WiFi will have been be extended to all services by the time the next franchise starts in 2017.
Ticket machines will be improved, with more being installed at some stations, as well as additional car park spaces provided at Watford Junction, Hemel Hempstead and Tamworth.
London Midland will also install CCTV on cross-city Birmingham services, and be required to work with the Smart Cities Partnership to introduce smart ticketing on trains.
London Midland managing director Patrick Verwer said: "Winning this contract is a great endorsement by the DfT of how London Midland is focused on improving our passengers' journeys. Since 2007 we have invested nearly £300 million in trains and stations. Over the last two years we have significantly improved performance - cutting both delays and cancellations. Twelve months ago we delivered a further £60 million investment in 10 brand new trains. Last year we also introduced a new timetable, offering more seats and services than ever before into and out of major towns and cities and cut our Birmingham to London fares by up to 40 per cent.
"This new franchise offers some very exciting opportunities and will bring benefits touching every element of our passengers' journeys. It will enable us to continue delivering improvements for our customers and, as before, we remain committed to listening to our passengers and working with our stakeholders, communities and local elected representatives to make further improvements in the months ahead."
Go-Ahead Group, which owns 65 per cent of Govia, welcomed the news.
Its chief executive David Brown said: "We're pleased that the government has put its confidence in London Midland to continue operating the West Midlands franchise and also deliver further enhancements for passengers such as extra train services, free Wifi, and additional car parking at busy stations. The plans offer benefits for passengers, taxpayers and the local communities that are served."
Reader Comments:
Views expressed in submitted comments are that of the author, and not necessarily shared by Railnews.
These problems with local service just illustrate a need for separating local & commuter operations, with their monopoly captive markets from longer distance & intercity .

The latter of these can gain accountability through effective competition, whereas local services need another mechanism - perhaps local cooperatives with management boards directly elected by local communities and season ticket holders ?

LM is a prime example of needing such separation.

Quote: "we have significantly improved performance - cutting both delays and ....."
Well they need to do better. Too many trains lose vital seconds which soon add up to minutes on. I know this is partly down to Network Rail but LM need to do better.
Get the doors open quicker on arrival at a station and get the train away smartly. This has to be down primarily to train managers/guards who just are not quick enough. A few seconds at each stop maybe this soon adds up.
Never adds up enough to have to pay compensation but irritating if you are late for work or getting home.
One I don't catch it every day but I cannot recall the 17.17 from New St to Coventry is always late arriving from Wolverhampton and even later leaving again.

Is there anything in this extension about services on the " knuckle " project and in particular the Ricoh Arena station service ?

When it comes to smart ticketing it sounds like a further extenstion of The Key Smartcard but given this is only a short extension one wonders whether this should await the next main franchise award.

I have read that plans are being developed for local West Midland services to be removed from this franchise and become a London Overground type of operation by local West Midlands Councils which no doubt will have its own Smartcard .

Another possibility is their is an overlap of services provided by Chiltern Railways from London and London Midland both using Midern DMUs thus opening the possibility of these services being combined in the next Chiltern Franchise with electrification in the 2020s ?

Of course their are longer distance trains that are part of London Midland and these are likely to be impacted by HS2 but one option might be for services operated by Virgin switching to HS2 with London Midland Franchise taking up fast tracks currently used by Virgin and maybe London Midland swapping DMUs with Pendolino on longer services releasing modern EMUs for remaining stopping local services and cascade to other operators .

I'm a tad surprised that London Midland have never thought of extending one of their existing Liverpool services beyond Birmingham New Street to London Euston. Finding the paths would be challenging, due to there already been a number of timetable constraints on the already-congested WCML, although they should consider the idea. It would give Liverpool an additional through service to the capital, even if a semi-fast service is not as quick as Virgin Trains' express services.

I have to use London Midland on the Snow Hill-Hawthorns line. Shambolic is being polite. Delayed, too few carriages and over-crowded trains, no extra carriages to carry the predictable increase in passenger numbers during the works on the Metro. And last week one of their carriages managed to set on fire. The following day they reduced carriages to 2 per train. Have you ever heard anything like it? Heard people complaining in one of the banks at Snow Hill shortly afterwards. The trains have anything but a luxury feel, I have recently found toilets on train inoperative, and the complaints service seems little more than a fob off exercise. Also, although the following may not be London Midland's fault, I have to say that the single toilet cubicle provided at Hawthorns shuts come the afternoon (in spite of it being a metro stop as well as a train station), the Hawthorns car park has speed humps which may as well be breeze blocks with a skim of tar over them, and if you can't get their by 8.45 you struggle to get a parking space. And valuable parking spaces were recently taped off for maintenance work - during the working week.

The LM MD mentioned a total of £360m invested. What he doesn't say is whose money it was and by far the vast majority was from Angel, Porterbrook and Network Rail and not Govia. Govia lease the assets in which others invested.

London Midland have not "won" an extension, they have been awarded an extension to their existing extension.
[Oh yes they have. Direct Awards are not a foregone conclusion, as South West Trains proved recently. The negotiations for the LM contract extension were particularly protracted, and I suspect the LM team are definitely feeling a sense of victory!--Editor.]

It might be useful for DfT to allow LM to develop their Euston - Crewe service further.
They could, for example make these trains 8-car double units which could divide at Stafford or at Crewe with one unit going forward to Liverpool and the other to Manchester Airport.