Posted 28th March 2017 | 4 Comments
Liverpool Mayor intervenes over Merseyrail strike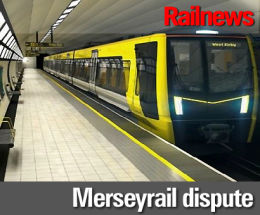 THE RMT has revealed that the Mayor of Liverpool Joe Anderson contacted the union in a bid to resolve the dispute over driver-only operation on Merseyrail's new fleet.
He spoke to general secretary Mick Cash, and has since followed this conversation with a letter in which he asks that the union cancels the strike it has called for 8 April, which is Grand National day. Strikes on Northern and Southern which are also related to DOO disputes have been called for the same date.
Merseyrail managing director Jan Chaudhry-van der Velde had already said that "the RMT has sunk to a new low by inflicting their strikes on the Grand National. Damaging the company and its passengers is one thing, but damaging the whole of the Liverpool city region on one of its proudest and most important days of the year is impossible to understand", although the union counter claimed that Merseyrail management had "wrecked a golden opportunity to engage in serious talks".
Mick Cash has published a letter to the Mayor dated today (28 March), in which he says: "As you have written to RMT I would also like confirmation that you have also written to Meresyrail and their owners Serco and Dutch state owned Abellio. This is an important question because as you know the current action has been called as a result of the failed discussions with Merseyrail on Monday 20 March.
"You will also know Merseyrail are taking out almost a quarter of all passenger fares to make profits in the region of £14 million a year. At the meeting, and in light of these eye watering profits paid for by Merseyrail passengers, our negotiators sought confirmation from Merseyrail that they would contribute towards the £5 million it is claimed is required to keep guards on the train."
He has now called for an urgent meeting with the Mayor.
Mick Cash added: "Joe Anderson has chosen to wade into our dispute with Merseyrail and that intervention opens up an opportunity for the Mayor to get actively involved in helping us to negotiate a solution.
"RMT stands ready to engage in that process and we now expect the Mayor to use his offices to bring the parties back together and broker a new talks process that homes in on the core issues of safety and finance at the core of this dispute."
The Mayor's office has yet to comment.
Reader Comments:
Views expressed in submitted comments are that of the author, and not necessarily shared by Railnews.
RMT and ASLEF surely need to remove their collective heads from the sand, and recognise that we are now in the 21st century. Inconveniencing the good citizens of Liverpool and the tens of thousands of visitors to the city for it`s biggest sporting event of the year - broadcast to hundreds of millions of viewers worldwide - for a politically motivated strike is disgraceful beyond belief.

A modern inner suburban metro system simply doesn't require guards to operate the doors nowadays, a quick trip on many city metro type operations worldwide clearly prove this to be true. So the sooner RMT and ASLEF can accept times really have changed and start negotiating meaningfully the better for our railways future

The new trains for Merseyrail have been purchased by the PTE - Merseytravel - and it is they who have stipulated DOO as part of the deal. Therefore, whilst Mayor Anderson may be in a position to mediate in this dispute, surely Mick Cash should be demanding talks with Liam Robinson, chair of Merseytravel, not Merseyrail who are merely running the service and. in so doing, are following the instructions as contracted to Merseytravel.