Posted 3rd March 2017 | 13 Comments
Electrification plans in doubt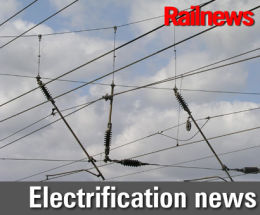 GOVERNMENT must learn from serious failings in the design, planning and cost-estimating of the Great Western route modernisation programme, the Commons Committee of Public Accounts has said.
A new report says the GWML programme remains uncertain, and that 'it is still unclear whether the Great Western electrification project can be delivered to the revised target of December 2018 and budget of £2.8 billion'. The report is also casting doubt on the need for further electrification at all in some cases, saying schemes should be funded 'only where worthwhile benefits for passengers could not be achieved otherwise at lower cost'.
Network Rail has told the Committee that 'every single part of the programme is absolutely on the limit', according to the report.
The Committee has also warned that the significant flaws identified in the project 'raise concerns about the ability of the Department for Transport and Network Rail to manage similar projects in future'.
These include electrification of the Midland Main Line and Transpennine routes, although the scope of schemes like these as well as Great Western has been cut back significantly because of budget limitations which first became clear in 2015.
The estimated cost of the Great Western Main Line electrification programme alone rose by £1.2 billion in just twelve months – an increase described as 'staggering and unacceptable' by the Committee.
PAC chair Meg Hillier said: "Mismanagement of the Great Western programme has hit taxpayers hard and left many people angry and frustrated.
"This is a stark example of how not to run a major project, from flawed planning at the earliest stage to weak accountability and what remain serious questions about the reasons for embarking on the work in the first place."
Network Rail chief executive Mark Carne said: "I very much welcome the PAC's conclusions. The modernisation of the Great Western line was always going to be a hugely complex job. Yet in 2009 it was committed to, then started, long before the scale of the work was properly understood.
"Network Rail and Department for Transport have learnt the lessons from the poor early planning of this project. Today we do not take forward major projects until they are properly scoped, properly planned and we have a robust estimate of what the cost will be."
Reader Comments:
Views expressed in submitted comments are that of the author, and not necessarily shared by Railnews.
Electric trains are generally more efficient than diesel trains (certainly for commuter lines), but not by much once the impact of power generation and distribution is factored in. Modern internal combustion engines and the use of hydrogen and/or fuel cells may well make overhead electrification redundant within the next twenty years. Ironically, the U.K. might yet bodge its way to a good outcome, if only the government could overcome its obsession with Birm-manc-leedsian bankers and redesign HS2 to serve the whole of the north. Classic example: for goodness sake enable Manchester HS2 services to stop at Crewe!

Network Rail chief executive Mark Carne said: "I very much welcome the PAC's conclusions. The modernisation of the Great Western line was always going to be a hugely complex job. Yet in 2009 it was committed to, then started, long before the scale of the work was properly understood.

"Network Rail and Department for Transport have learnt the lessons from the poor early planning of this project. Today we do not take forward major projects until they are properly scoped, properly planned and we have a robust estimate of what the cost will be."

If Mark Carne genuinely believes this, he should resign in disgrace. There are projects that have been "live" for 5 years where the scope and requirements are still not known and the hold up is with NR not being able to make decisions


Here's a thought. Build HS2 but don't electrify it. Make sure all the trains are hybrids so that when they reach the few vestiges of the classic network that are electrified they can switch to electric.

Or - even better - save even more money by ensuring HS2 stock is diesel only and run them under classic wires like Voyagers and HSTs now. By the time HS2 opens diesel will be in abundance and so cheap because no form of transport - other than Britain's railways - will be using it.

Personally all future electrification projects should be "in fills" and one that immediately springs to mind is Felixstowe to Ipswich.
Much easier to control and budget for.
Forget the grand schemes as MML and Transpenine can get along pretty wel lwith diesel trains.

There is something seriously wrong with the British psyche where rail electrification concerned. Starting in Westminster and Whitehall of course but then extending to the delivery of new schemes. We always make a pig's breakfast of them all. Compare with wires which stretch all over Europe - and indeed to Vladivostok! We are truly pathetic, and then "sage counsels," (see above,)seriously try to convince us that we really don't want any of those nasty wires here in the pure air of the UK anyway! Well I for one demand that this attitude be reversed. A small country like ours is totally suitable for electrification if we can only get some sensible people in charge, both in London, (but of course - that's where the rot starts,) and out on the sites.

Through simple incompetence, preceded by political and civil servant dithering, the electrification programme in the UK has been mismanaged for years, partly due to the on-off, on-off snail-like pace of electrification down the years, not least by almost no wiring at all between 1997 and 2009 under Labour Governments. The mess we are in today is due to this on-off attitude and the consequent loss of skilled engineers during the lean years. However no matter how much it now costs THROUGH THIS STUPIDITY, there must be NO let-up in the electrification programme, for the UK deserves to have electrified lines just as much as the rest of Europe ALREADY HAS!!!! Why are we to be deprived of the modern systems all of Europe has? This would be intolerable. (E.g. Italy has 70% of its routes wired.)

My Guess is that Battery Development will make all overhead Electrification redundant within 15 years. The modified Class 379 Electrostar can run at 50mph for 43 miles without a top-up is in service, and is surely a harbinger of the future.

I think that it's now clear that, at least in the beginning, Network Rail were not even close to being competent in the management of mainline electrification programs. That's hardly surprising considering the dearth of such endeavours after the completion of the ECML scheme in the early '90s.

What really makes me laugh is that we now have the usual gaggle of blow-with-the-wind politicians that want to cancel the electrification plans. Why is it that governments always wait until the worst part of major capital programs is done and the money has already been (over-)spent overcoming the R&D and learning curve difficulties, before cancelling the order to ensure that the country doesn't reap the benefits? We see the same thing happen with military procurement programs, where unit numbers get culled just as the cost per unit (including share of R&D costs) starts to fall to reasonable levels.

I predict that we'll see the whole cycle repeat itself when oil prices next start to rise and a new generation of politicians "discover" the benefits of electrification enjoyed by railways across the Channel (if they can still see that far). By which time, all the hard won experience from the current program will be lost and have to be expensively relearnt.

I won't even get started on IEP, which history will note as the last of New Labour's disastrously poor value for money PPP programs. Or perhaps not, as it always seems just too tempting for governments to buy short term political points using the national credit card, without giving a damn about the overall repayment costs. Perhaps as a nation, we deserve it, for letting the same groups of clowns get away with it time after time.

Just as well the Hitachi IEP trainsets were ordered as 'hybrid' (electric and diesel) sets then, otherwise the country would have just taken ownership of dozens of useless trains! Having said that, not having the infrastructure ready for the new trains to use primarily electric running on the GWML is a pathetic joke, considering how long this programme has been dragging on for. It is my understanding that on an electrified GWML / ECML, that with slightly modified signalling the new trains could go motor along at 225 km/h - a little taste of HS2 before the real thing would be nice, wouldn't it?

Certain parallels could be drawn with the tram-train here in Sheffield. The factory in Spain built, shipped and delivered all seven of the sets on time. Stagecoach have taken ownership, done them up in their colourful livery and have conducted necessary tests on the existing Supertram network, and, and... now, they're gathering dust in some warehouse in Attercliffe, because Network Rail have failed to even start the rail works, let alone be anywhere near finishing them.

Or maybe we could think about the MML electrification. Promised for years, and apparently funded, but now its future seems in considerable doubt. Sure, it'll go to the great metropolis of Corby, but how about some of the other villages on the route? You know, Leicester, Nottingham, Derby, Sheffield; those unimportant places.

So what exactly have Network Rail achieved in the last few years? As anyone who has had the dubious pleasure of reading my comments / rants before, I am all for renationalisation and think there are strong arguments for doing away with the semi-privatised mess we have now, but Network Rail at the moment seems to be doing its best to undermine those arguments. Dear dear dear.

Diesel power is unsustainable and environmentally damaging, both with regards to emissions and noise pollution. Wonderful though the HST's have been these last 40 years, they are worn out now and in need of replacement.
Electrification is the ONLY answer with todays proven technology, and so we need to press on regardless. Costs have spiralled for whatever reason, as they have a habit of doing with many major projects outside our industry.
If planning is an issue, bring in planners from the NW scheme which seems to have been relatively trouble free. If cost is the issue, find the extra from elsewhere, HS2, East-West rail, overseas aid, wherever, but find it. We need to fix the leaking roof before spending money on the conservatory. What is not acceptable is to defer electrification again and allow performance to deterioate further through worn out rolling stock.

What about the Midland Main Line. Will the electrification take place on the Midland Main Line north of Bedford to Sheffield, Nottingham, Derby and most of East Midlands region.
(Apart from Bedford-Kettering-Corby there are no firm plans now. CP6 possibly -- just possibly. --Editor)

When will the individuals at the DfT responsible for this unbelievably incompetently managed project be named & shamed & held to account ?
More importantly, removed so they can stop inflicting this chaos on the railway industry.
The fact that the new IEP train fleet was ordered with a set delivery date before Network Rail had even had a chance to design the electrification will mean these trains running along many, many more miles of non electrified railway than they were designed for.The power to weight ratio of the 5 car IEP on diesel is vastly lower than the 40 year old HST it is replacing. I have a feeling that the next disaster headlines on the GWML electrification will come from the fact that on many IEP operated routes the journey times will have to increase. £5 billion well spent?
Why do we continue to run our railway in this way when it causes so many problems?