Posted 26th September 2016 | No Comments
Dyan Crowther to leave Govia Thameslink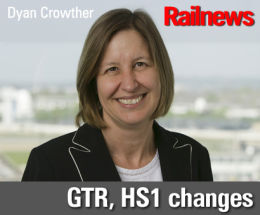 THE chief operating officer at Govia Thameslink Railway is moving to HS1 after two and a half years.
Dyan Crowther, who was previously LNW route director at Network Rail, moved to GTR during the months of mobilisation in mid-2014, and was one of the franchise's original team of senior directors when it was launched in September of that year.
She will be replaced at GTR in November by Nick Brown, who until recently was managing director of two Transport for London divisions, London Underground and Rail. He will report directly to GTR managing director Charles Horton.
Dyan is expected to join HS1 as chief executive officer in January. She is the replacement for Nicola Shaw, who left the high-speed concession-holder in May. Chairman Rob Holden has been acting as CEO of HS1 since Nicola's departure, and will continu e to do so until Dyan arrives.
Charles Horton said: "Dyan carries with her into her new venture with HS1 my warmest congratulations and grateful thanks for her significant contribution to GTR over these past two years."
He also welcomed her replacement, saying: "We're delighted that Nick is joining GTR. He has a first class pedigree in the transport industry, a wealth of experience and a strong track record of leading businesses in the rail and bus sectors.
"Nick's broad experience and intimate knowledge of the sector makes him ideally placed to help us achieve our business goals and deliver a better railway and excellent service for our customers. I know he'll add real value to the business."