Posted 22nd September 2016 | 7 Comments
RMT calls new autumn walkouts on Southern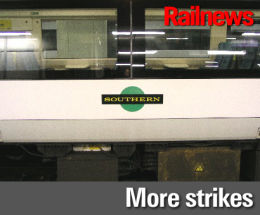 COMMUTERS on Southern face a new series of mostly three-day strikes this autumn, as the dispute between Govia Thameslink Railway and the RMT over driver-only operation continues.
The RMT described the lack of progress in negotiations as 'disgraceful', while GTR responded that the union's action in calling new walkouts was 'shameful'.
The RMT and ASLEF reached agreement this week with ScotRail over planned extensions of DOO north of the border, and under the proposals in Scotland, which have yet to be confirmed by the union membership, trains on electrified lines in the central belt will always carry a conductor who will remain responsible for closing the doors and dispatching the train.
Southern wants the unions to accept a compromise, so that although all trains will normally carry an on-board supervisor, it would be possible to work a service with only a driver on board in 'exceptional circumstances', a provision which unions have refused to accept.
RMT general secretary Mick Cash has unveiled a new list of strike dates. They are 11-13 and 18-20 October, 3-5 and 22-23 November, and 6-8 December.
He said: "Yet again our members are being forced to take industrial action in a bid to maintain a safe and secure service on Southern. Govia Thameslink and the Government have made it clear that they have no interest in resolving this dispute. Instead they have begun the process of bulldozing through the drive towards wholesale DOO without agreement and without any concern for the impact on safety, security and disability access.

"Last week there was a train derailment near Watford that involved two trains. The Guards on both trains played a vital role in protecting the passengers and the trains in what were extremely frightening circumstances. If the train had been DOO and without a Guard the consequences would have been far worse.

"This week we reached a deal with ScotRail that we are recommending for acceptance in a referendum of our members, that guarantees a fully competent Conductor/Guard on every new train. This agreement protects passengers, and guarantees a second safety trained member of staff on board a train, who can assist if there is an incident such as we recently saw near Watford.

"If an agreement can be reached on ScotRail, then an agreement can also be made on Southern. In the light of these recent developments it is disgraceful that neither the company or the Government are prepared to engage and are continuing to attempt to impose DOO in the interests of putting profit before safety. We call on them to get round the negotiating table as an urgent priority."

In response, GTR passenger services director Angie Doll said: "The RMT's desire to heap yet further travel misery on the public and affect the every day lives of so many people is shameful. A comprehensive and fair offer has been on the table for weeks and the union leadership's claims about jobs, pay, safety are trumped-up make believe. This scaremongering by the RMT union is a contrived attempt to gain public support when it knows its spurious arguments about jobs, pay, accessibility and safety have been demolished by independent experts and analysis and are falling on deaf ears.
"As a responsible operator, our priority is to make our services more accessible, not less, and we will not be shaken in that commitment. We care deeply about those of our customers who are less mobile and help thousands of elderly and disabled customers week in, week out, to travel with us. We will do everything we can to ensure those needing help getting on and off our trains receive our care and attention to get them where they want to be, promptly and hassle-free.
"We've always said we are ready, willing and able to sit down and discuss how best we implement our modernisation plans and give our customers the services they expect and deserve. The RMT has to stop being the problem and get on board - finally - and be part of the solution. Everyone is sick and tired of the union's posturing and it has to stop, and stop now. It's what the public want."
Paul Plummer, the chief executive of the Rail Delivery Group, added: "More strikes will only cause more misery for thousands of passengers. We know that there are no risks to jobs or pay, and drivers have been opening and closing train doors safely elsewhere on the railway for decades.
"The proposed changes would mean a better on-board service for customers and less disruption to services when problems occur. The rail industry must modernise to deliver the better service today's customers expect and deserve."
Reader Comments:
Views expressed in submitted comments are that of the author, and not necessarily shared by Railnews.
The railways are busier than they've ever been so we need more staff on trains - not fewer!
For the purposes of safety, security and customer service every train should have at least one member of staff on board other than the driver.
How would a single driver be able to cope with being able to supervise a full emergency evacuation on a train carrying several hundred passengers?
Let the guard deal with looking after the passengers and the platform train interface and let the driver concentrate on driving and deal with the railway operational side of things.
Do you really think train fares are going to reduce as a result of increasing DOO or do you think the extra savings they make will go into increasing their profits??
[It should be noted that Southern (GTR) is trying to carry out part of its franchise agreement. The DfT wants more DOO because it is under pressure to reduce railway costs. There are no 'profits' in passenger railways. Google "railhub rail unveiled" for more.--Editor.]

This strike was inevitable once Scotrail caved in to union bullying the RMT were always likely to attempt a similar technique to achieve victory on Southern

As I said on another comment, the whole Railway Industry is out-of-date, and the Unions are the most backward. The Railways are not customer focussed, - they are employee orientated. The Railways need staff to help Customers, - buy Tickets, get the Right Train, calm nerves when things go wrong, help Disabled and those with Children, have the Authority to over-ride rules and say order a Taxi when the Railway fails. This is difficult and should not lead to any loss of staff or decrease in Railways. Trains can run themselves as the Victoria Line and Docklands Light Railway prove. I despair at the attitude of many Railway Staff. There are some I have met which are concerned with the Customer - but they are few and far between, - and dare I say it - they have all been female.

Seems to me the arguments on both sides are posturing and the real motivator is power. With DOO, the RMT loses one of its biggest bargaining chips in the form of guard strikes.

This dispute is either a cynical attempt to curb the power of workers to get a better deal, or a cynical attempt to protect the power of union bosses, depending on how you look at it. Pick your side if you must, but don't pretend this is about safety or increased efficiency.

Good luck to the guards.

DOO is corporate penny pinching and a complete disgrace. Those who want more DOO should hang their heads in shame - you care nothing about safety, customers or security - merely profit - most of which seems to go abroad these days.

Gosh, mick cash and his fellow unionists must be keeping dummy (as in childrens comforters) factories in business, as he keeps spitting his out. Does anyone really believe anything he says and if so why? Is it a lack of intelligence? I mean there are train derailments multiple times a day that require a guard. And how could trains run without them? My goodness. Imagine having conductors working in the train, talking to passengers etc. Disgusting!! And where are these passengers that want guards? Out of the 12 people i have spoken to about this matter 12 dont care or dont even know what this is all about.