Posted 25th July 2016 | 2 Comments
Converted Underground train could be running soon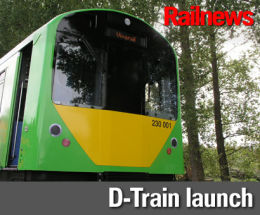 AN unusual project to convert retired London Underground District line cars into diesel-powered units may be about to pay off, after London Midland announced that a 'D-Train' could enter service on its local route between Coventry and Nuneaton this year.
The line has been in the news after attempts to cater for sports crowds at the Ricoh Stadium in Coventry with hired rolling stock failed to pay their way, with fans being advised to use road transport instead because the usual single-car unit on the line would not be able to cope.
London Midland had also said that there were no guarantees that more rolling stock would necessarily be available on match days unless it was specially hired, and so it was reluctant to advertise extra services.
The three-car 'D-Train' may help to solve the problem, and also provide more capacity for regular passengers. It has been developed by Warwickshire-based Vivarail, which has bought redundant D78 stock from London Underground.
The former Underground cars are stripped and refitted internally, and have gained new automotive diesel engines which generate power for the existing electric motors in two of the cars in a three-car set. They also include a wheelchair-accessible toilet.
A deal between Coventry City Council, Warwickshire County Council, West Midlands Combined Authority, the Coventry and Warwickshire Local Enterprise Partnership and London Midland means that the prototype Class 230 could be running on the line and serving events at the Ricoh Stadium by Christmas, assuming that it gains final approval for use on Network Rail infrastructure. As well as Coventry Arena, which serves the Ricoh Stadium, another new station has recently opened on the line at Bermuda Park, while there is an ambition to extend the service beyond Coventry to Leamington Spa, via a new station at Kenilworth.
London Midland said the D-Train could triple regular capacity. It would offer space for more than 200 people rather than the 70 or so which can be carried on a single-car Class 153 unit.
The pilot will run for 12 months to gain experience with reliability and running costs, and also to test the reactions of passengers.
Councillor David Welsh, deputy cabinet member for jobs and regeneration at Coventry City Council said, "I'm delighted that we have been able to work with local partners to trial this new train. Anything we can do to boost the number of people that can travel to the Ricoh by train has got to be good news.
"We all know that the NUCKLE [Nuneaton-Coventry-Kenilworth-Leamington Spa] project aimed to link people to jobs – but local people want the option to leave their car at home and travel to the Ricoh by train. The current single carriage train once an hour is woefully inadequate to serve events – and it's not what we wanted for the city. The new Class 230 will boost the event day service and make it a credible and reliable option.
"As soon as possible we will be talking to both Wasps and Coventry City Football Club to encourage them to join us is making this happen.
"The trains are a really innovative solution to the shortage of diesel trains, and this is a really good example of local people feeling the benefits of the city being part of the West Midlands Combined Authority."
Transport for West Midlands, which has replaced Centro and is the transport arm of the new combined authority, is sharing the leasing costs with the Coventry and Warwickshire Local Enterprise Partnership.
London Midland passenger services director Tom Joyner said: "This is an innovative pilot approach to try and improve capacity. London Midland has been working hard with Coventry City Council and Transport for West Midlands to make this possible and we will be doing all we can help them make a success of this trial."
Adrian Shooter, who is CEO of Vivarail at Long Marston near Stratford-upon-Avon, is 'delighted'. He said: "We are proud to be a local company and to have created new jobs in the area, so it is exceptionally pleasing that the first passengers to ride on our trains will be from Coventry and Warwickshire."
Reader Comments:
Views expressed in submitted comments are that of the author, and not necessarily shared by Railnews.
Despite all the moans about getting 'old London' the reality is you either have an insufficient 1 carriage train or a train with 3 carriages able to cope with what are limited peaks in demand when events are held.

It's worth remembering that many times passengers have thought they had new trains when the trains are refurbished something that works well with EMUs .

Perhaps once these trains actually enter service and passengers get to see what the 230 trains are like then maybe some might be used to bring forward removal of 2 car pacer trains with new DMUs to follow in a few years time.